When talking about the brand of AUVIO, most of us will think about electronics products with affordable price and so-so quality. I had the feeling when I reviewed the AUVIO Bluetooth portable speaker.
That was the first edition of AUVIO portable speakers and honestly I was not impressed at all. I played music on the device for just a few hours because its quality is below average in my view.
Despite the average quality, this speaker was selling quite well as its price is almost the lowest in the category (other portable speakers like Beats Pill cost no less than $150). Therefore, I was so curious when RadioShack offered the updated version of that speaker for review. Let's check out the AUVIO PBT1000 portable speaker.
Design
The AUVIO PBT1000 keeps a similar design as its predecessor. We still see the gorgeous grille with contoured wave pattern covering speakers inside. The control buttons are kept on top but their layout was redesigned. The buttons include Play/Pause/Answer Call button, skip buttons and volume rocker buttons. All of them are now placed on a diagonal line and the top looks much more elegant and neater. The glossy surface on top is also replaced with a matte one that is scratch and fingerprint proof.
Another noticeable change is on the front and back surfaces, they are tilted backward and make the whole speaker much more impressive. There are also some changes on the back. We can spot some new ports, switch and a rear port tube to enhance the bass sound.
Check a look at some product images: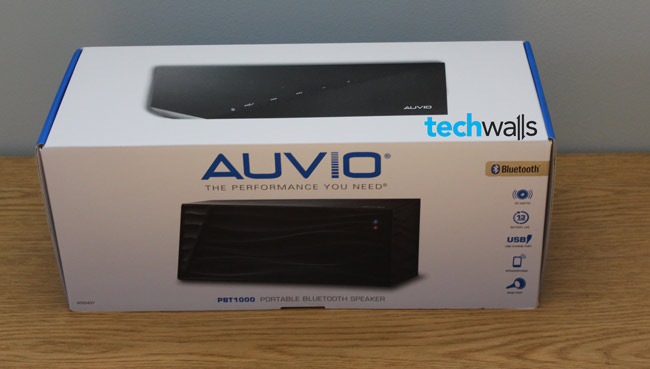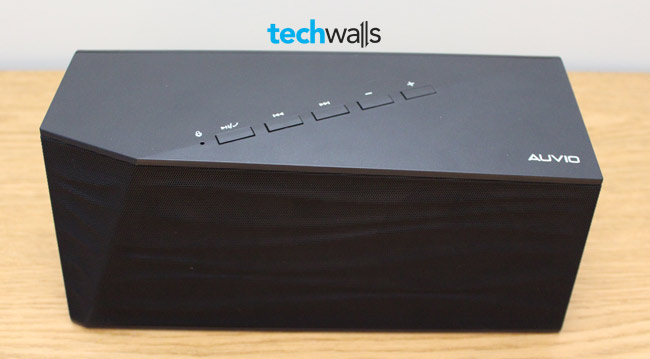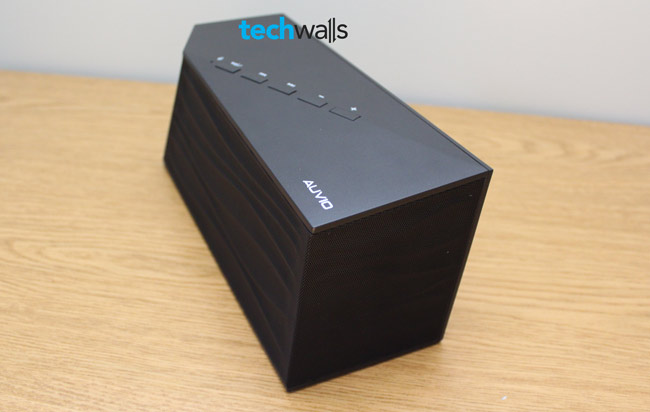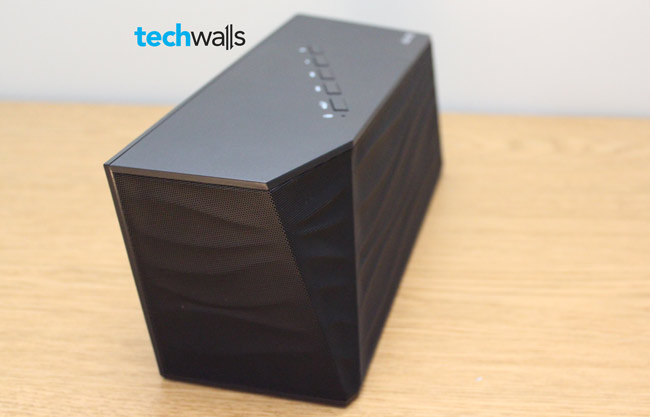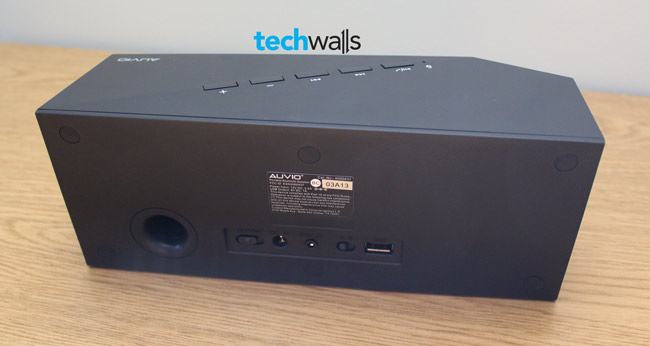 The only issue is its size as it could be too big to carry around. You absolutely don't want to add 2 more pounds of the big box to your backpack.
Sound Quality
The AUVIO PBT1000 is significantly bigger than its original version, therefore, I expect a lot in its sound quality. Check out the video I recorded below, it is just for reference because the sound can't be reproduced accurately after being recorded on my camera.
As opposed to the original AUVIO Bluetooth speaker which can produce just 4W of sound, the PBT1000 is much louder with 20W (RMS) of room-filling sound. AUVIO has improved the quality of their products dramatically, I hate to listen to broken sounds or distortion and amazingly they don't appear on the speaker. The sound is quite warm and rich.
Although the sound is so loud and the bass is strong, I am not really impressed. I couldn't feel immersive as the sound still has a lot of limitations compared to my other speakers, and moreover, the bass is not deep enough and midrange is not so clear.
Other Features
The speaker features much longer battery life. The capacity of 4000 mAh allows us to use this speaker for up to 13 hours and it takes about 5 hours to fully charge the speaker. As there is a USB port on the back, you also can use it as a backup battery. You can charge your smartphone or tablet when there is a power outage. Make sure to select A for Apple devices and B for others on the A/B switch. The port is compatible to 5V/1A devices.
Like other Bluetooth speakers, we also can use the AUVIO PBT1000 as a giant speakerphone to make and receive phone calls. I have no problem in syncing the speaker to my device and the Bluetooth range is quite good although it could be better.
Pros
Impressive design.
Solid and loud sound.
Battery life is enough for a whole day.
Cons
Long charging time.
Sound is not clear in the midrange.
It could be too big to be portable.
The AUVIO PBT1000 is being sold by Amazon for less than $100 and it's well worth the price in my view. Although the sound couldn't satisfy my needs, I will still recommend it if you are looking for a solid Bluetooth speaker.
Disclosure: As an Amazon Associate, I earn from qualifying purchases. The commission help keep the rest of my content free, so thank you!