Beats by Dr. Dre has been quite famous for its headphone products that you can see everywhere now. Many people don't know that Beats is selling portable speakers as well.
While with headphones, Beats promises to provide people with listening experience just like what artists hear and we can listen to music the way we should, could their speakers impress us in the same way? Let's check out my review on the Beats by Dr. Dre Pill Wireless Speaker.
Beats Pill is being listed on Amazon for around $150, check it out if you are interested.
Design
In terms of design, Beats simply doesn't have competition. The version I get is the red Beats Pill and it looks awesome, from the package, accessories to the speaker itself.
The product is shipped with the Pill speaker, 1.5m audio cable (3.5mm to 3.5 mm), a USB cable, a carrying case with carabiner and a charger. All the product uses just the red and a little black color, the combination makes the whole design look so beautiful.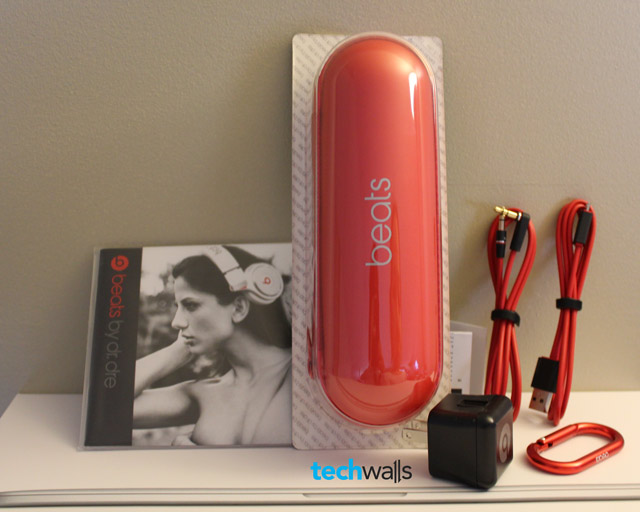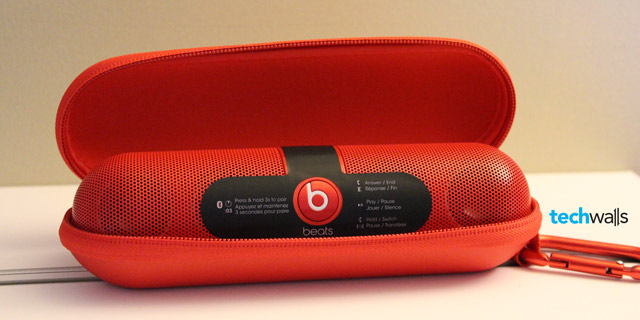 It has a bold minimalist design in the shape of a capsule. Although the Pill weighs just 10.8 ounces, it feels so premium and sturdy when you hold it in your hand. It is also small enough to fit in any bag or even your pocket, therefore, the speaker could be carried with you anytime.
The front of the cylindrical speaker is mostly the metal grille and Beats logo, we can see through the grille and there are four speakers inside.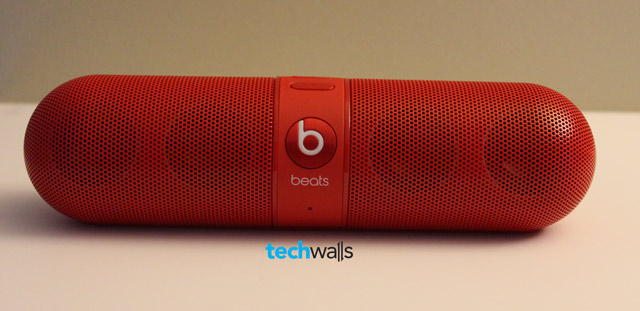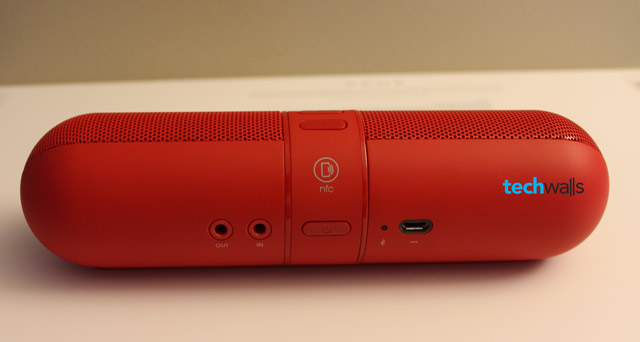 In the middle, there is a soft-touch band with volume rockers, Beats button, NFC tag and power button. The Beats button will light up when the power is on, we can also use the button as Play/Pause, Answer/Ignore Calls and Bluetooth pairing button.
Audio Quality
I expected a lot in the sound quality of the Beats Pill because it is advertised to deliver soaring high and deep bass. However, it met just around 80% of my expectation.
The sound from the 12-watt speaker is so crispy, clear, detailed and loud. However, there is still distortion and crackling sound when I turn the volume up to maximum, it is easy to recognize when I play some heavy-bass tracks.
The only thing I am not satisfied is the lack of bass. I don't say it can't reproduce bass, it is just not strong enough to make me jaw dropping. However, this is understandable because the speaker is so small. In fact, the bass is still much better than most other portable speakers I tried. To improve the bass problem, you can place the Pill close to the wall or corners.
Check out the sound of the Beats Pill in the video below. The video can't reproduce accurately because it was recorded through a camera's microphone, but you have the idea.
Other Features
As the Pill speaker has both In and Out port, you can use the audio cable to connect it to non-Bluetooth devices and the output to use it as a Bluetooth receiver. This is an interesting feature because the speaker can work as a wireless receiver, you can stream music from your mobile device to your home theater system.
This speaker is NFC compatible, and it worked seamlessly in my test. I just tapped my smartphone to the connection is automatically established, I don't have to turn on Bluetooth on both devices and search for the speaker anymore.
The last feature I tested is the speakerphone and I had no problem with it. There is latency sometimes but it is acceptable.
The Bluetooth range seems great as I tried to block the transmission in many ways and there was no interruption at all. This is so important because I had the Bluetooth issue with the AUVIO speaker.
Battery life of the speaker is good enough to be used in over 6 hours and charging takes around 2 hours.
Pros and Cons
Pros:
Awesome design.
Full of accessories.
NFC compatible.
Good audio quality.
Impressive Bluetooth range.
Cons:
No buttons to change tracks.
No voice command.
Distortion at high volume.
Sound is too thin, lack of bass.
High price
TechWalls Rating
Design & Features - 9
Sound Quality - 7.8
8.4
Good
A great wireless speaker with beautiful design. The price is a little expensive.