I didn't know much about the Cambridge Audio brand until I received the Minx Go for reviewing. That's understandable because Cambridge Audio doesn't have a long history like others and it is based in London, UK.
I only researched more about the company and its products after seeing solid build on the Minx Go. It is so different to what I imagined before. For the price of around $149, I thought this would be a cheaply made speaker with a so-so sound. However, it is not and in fact, this speaker has won some prizes for the best product of the year 2013. Let's check out my review for more details.
Design and Features
Below is the unboxing video of the Minx Go.
I'm really impressed with the clean and modern design of the Minx Go. Although most components are made of plastic but it doesn't look cheap thanks to the solid build and sturdy design. I'm not sure what are housed inside but the speaker is quite heavy compared to other comparable wireless speakers, it weights around 2.4 lbs.
There are just 3 control buttons on top, including the Power and volume controls. On the back, there are an USB port which could be used to charge your phone, a 3.5mm input and power. At the center of the rear, where the logo Cambridge Audio sits, you can see there is a rectangle area and this is actually a bass radiator to enhance deep bass response. We will talk more about effect of the radiator later.
As the speaker is quite thin and the base is narrow, it is equipped with a swivel-out foot to make it stand upright. Actually it still can stand without the foot but you will need it to avoid unexpected drops.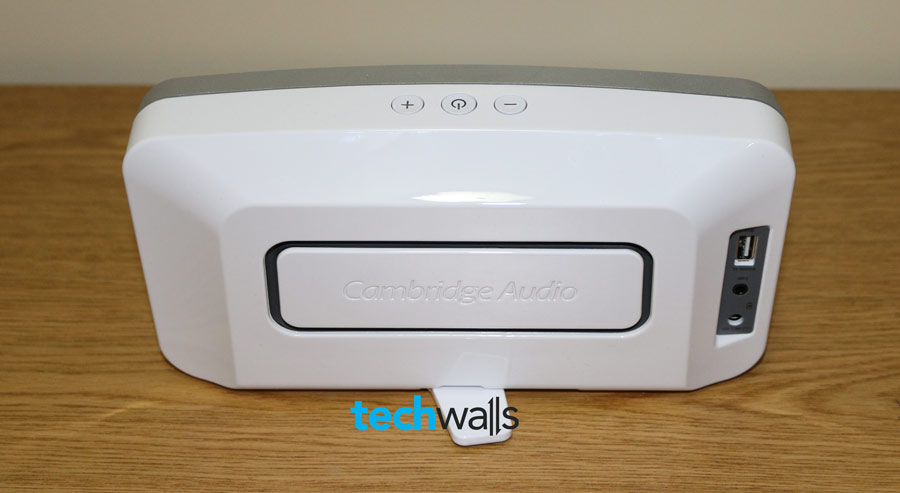 The front of the speaker looks beautiful with a curved metal grille. Behind the grille, there are two 2″ woofers and two 3/4″ titanium dome tweeters.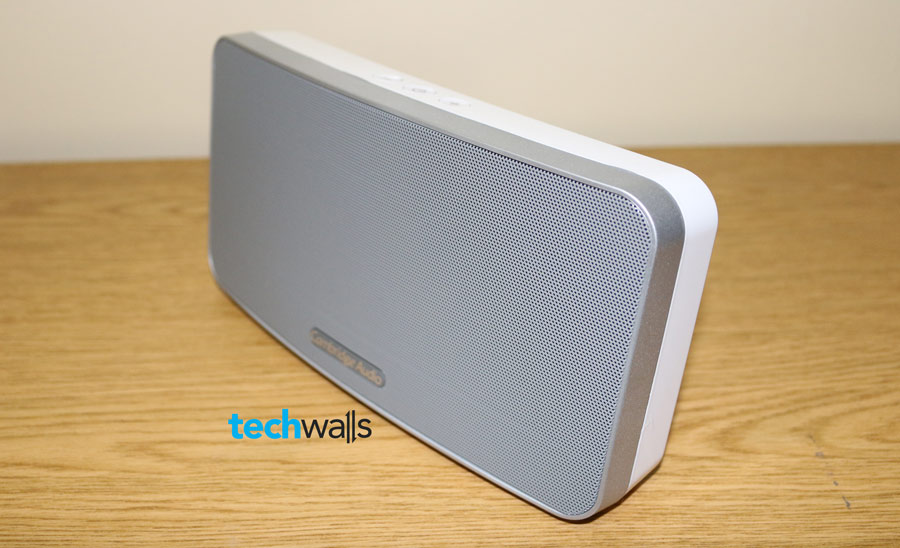 An important feature of a wireless speaker is battery life and you won't be disappointed. In my test, I used the Minx Go for over 15 hours without charging, the performance is far better than almost all similar speakers out there. The charging speed is also impressive, it takes just around 2 hours for a full charge.
The problem of the speaker is its Bluetooth range. It is advertised to reach 30ft but I started losing signal in just around 10ft. My music tracks even got interrupted occasionally when I placed the speaker next to my phone. I really don't know why the Bluetooth range is so horrible, or is it just my unit?
Sound Quality
Firstly, check out the video below to see how the Minx Go performs. The reproduced sound can't be accurate because it is recorded via my camera, but you'll get an idea of the overall sound.
I must say this is a very powerful Bluetooth speaker, it can easily fill my room with immersive sound. I'm even more impressed with its bass response, this is the best bass sound I've ever listened from small wireless speakers like this. This is the result of the bass radiator on the rear of the speaker. Overall, I really love the radiator, it has done a fantastic job to enhance the bass. However, it has a disadvantage as well. If you watch the video above, you can see the radiator vibrates very strongly, especially at low responses. And the speaker was actually moving on my table, even when I opened the foot. I can't find out any way to stop it, so you will have to be extremely careful or the speaker could drop anytime.
The mid-range sound also performs very well and the vocals are very crispy and well-balanced. There is no distortion when I turn the volume to maximum. I just don't like the sound when it reaches high notes because it loses some details and the treble sound is not really clear. I also heard some complaints about the muddy sound on this speaker. Even though, the sound is still much more enjoyable than the more expensive Logitech UE BOOM.
Pros
Solid build and sleek design.
Awesome battery life.
Impressive bass sound.
USB port to charge other devices.
Cons
Treble sound is not clear and loses some details.
A little heavy.
The unit won't stay still when there is strong bass.
Average Bluetooth reception.
Despite some cons, the Cambridge Audio Minx Go is still a great choice for the low price range. It is currently available for $179 on Amazon in Black and White color. Will you opt for one?