Although the Samsung Galaxy S5 was just rolled out for over a month, there have been a lot of debates over the new Samsung's flagship. Many consumers criticized this phone as a cheap product with no innovative changes. The situation was so bad that Samsung's chief of mobile design resigned in early May. However, a recent sales figure suggested that the Galaxy S5 is even selling faster than its predecessor. Specifically, there have been more than 11 million units sold in the first month.
So why does this smartphone receive mixed review from critics and consumers, and why is it still selling like hot cake? Let's take a closer look at the new Samsung Galaxy S5, my review unit is the White version for T-Mobile.
Unboxing Video
Design and Build Quality
The Samsung's new flagship is by no means an ugly device, however, many consumers were disappointed with the phone's plastic casing (instead of more luxurious materials like aluminum). Most complained that Samsung failed to overhaul design of the phone and people still have the same cheap feeling while holding this phone. The most obvious change is its perforated back cover which was brought to comparisons with a golf ball or band-aid. This is a good change in my opinion because the small holes along with matte finishes can provide better grip compared to the slippery Galaxy S4. In case you don't like the back case, you can use the leather-like S-View cover.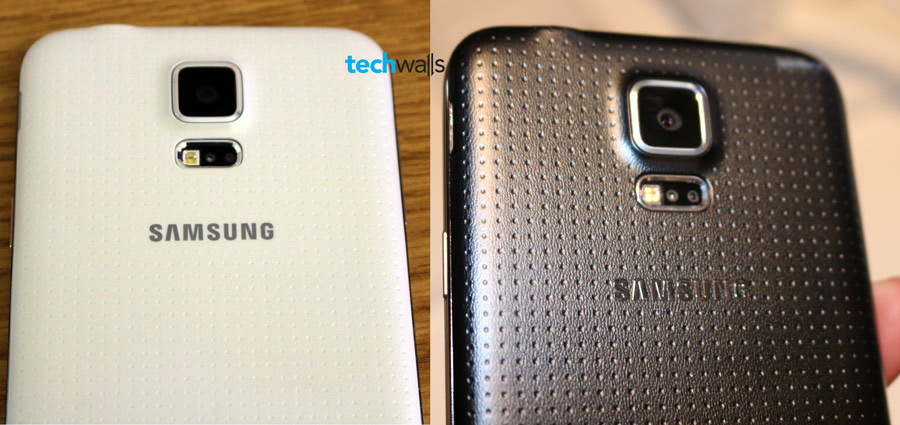 With regard to the plastic back panel, I actually like the material instead of the vulnerable aluminum on iPhone 5S or HTC One M8. I had some nicks on the M8, I had to apply a case on the phone and it almost ruins the gorgeous aluminum unibody design. The back panel on S5 is much more durable and you can replace it any time.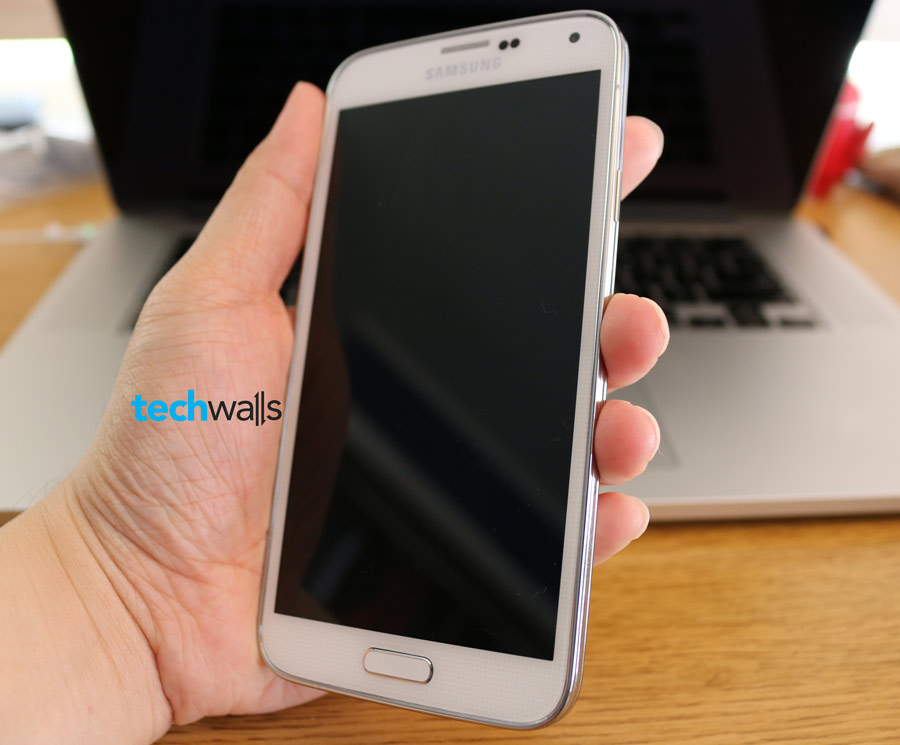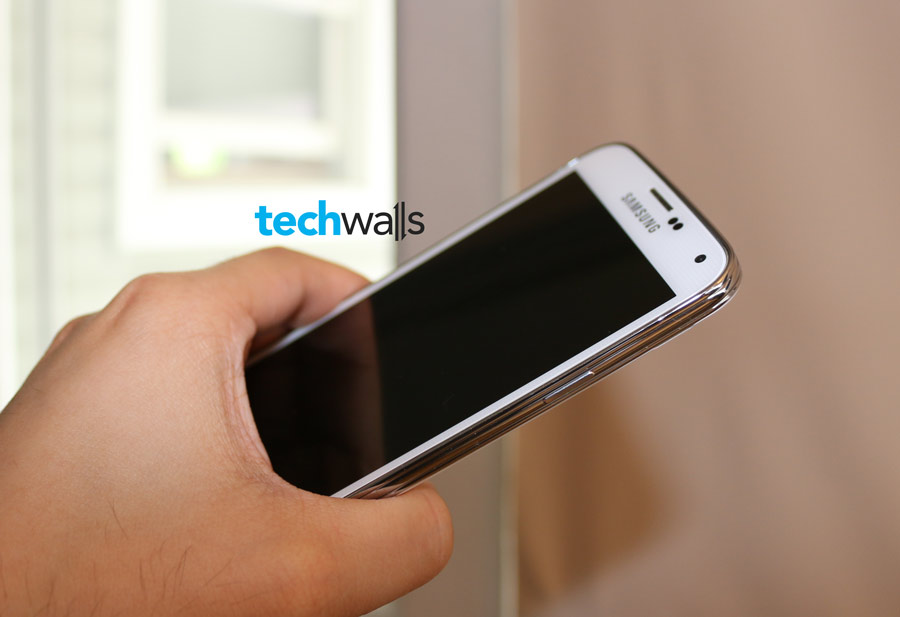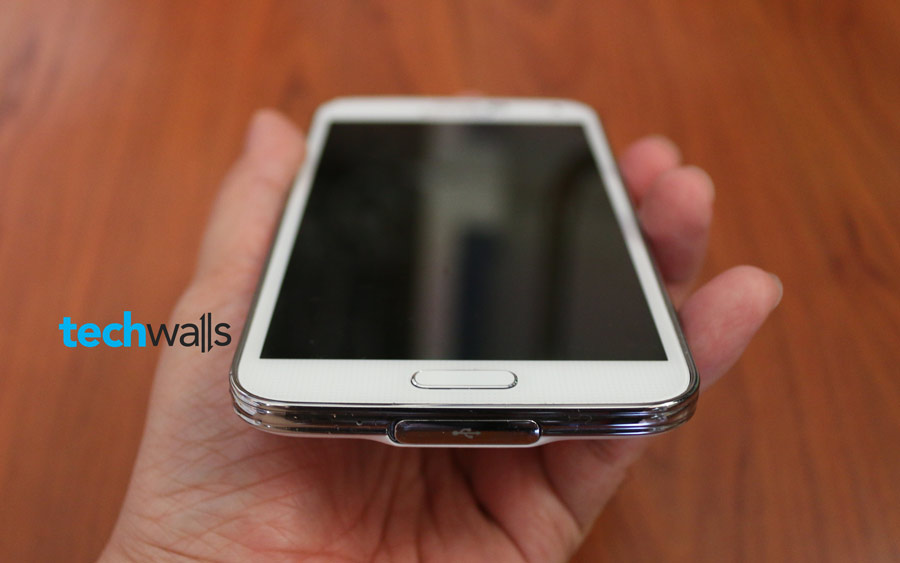 Another important update is the IP67 water and dust resistance certification. The S5 can be protected from dust particles and also can dive into water depth of 1 meter for 30 minutes. I really appreciate the additional durability feature because I had to throw away a phone 2 years ago just because of a heavy rain. To make the phone water resistant, Samsung put a rubber gasket on the inside of the back panel to protect battery and other components, you will also find a cover for the microUSB/MHL port. The headphone port doesn't have a cover because it is coated internally to avoid water damages. Watch the video below to see the water resistant feature.
Interface and User Experience
The Galaxy S5 runs on Android 4.4 with TouchWiz interface. I'm quite impressed with the new TouchWiz as it shows Samsung's efforts to make the UI cleaner and simpler. The drop-down notification panel is more flattened, it still includes shortcut to full settings, shortcut to all quick setting keys, quick setting keys, S Finder (a universal search) and Quick Connect (share content with other devices) functions, Brightness bar and a list of notifications.
Samsung takes use of circular icons more than ever, you can easily see the change in full settings menu. The layout looks very modern and you can easily change between grid view and list view.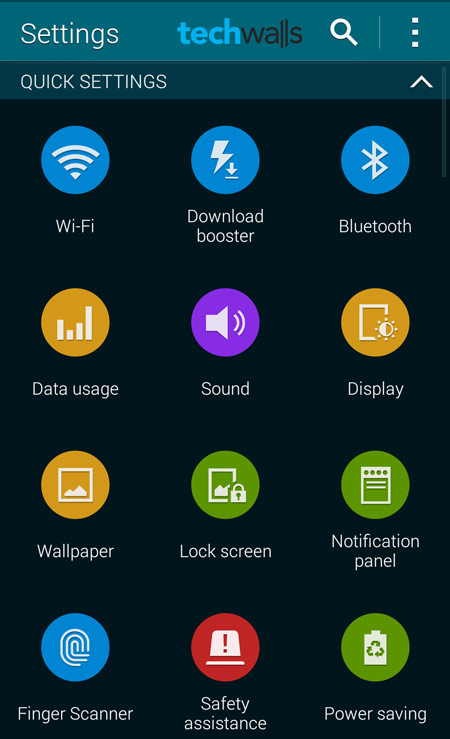 Samsung also implemented some changes on the lock screen. Now there is a camera button for quick access to camera app, this is very helpful as we don't have to unlock the screen to use camera. However, I prefer the quick camera access by holding the phone horizontally and pressing volume button on HTC One M8.
The home pages now include My Magazine, a news aggregator that appears by default. The feature is powered by Flipboard but this is a shame. I turned it off on the first day because it gives limited customization and it is very slow updating the news.
The most expected feature on the S5 is fingerprint scanner. This seems to become an important security layer after the successful launch on iPhone 5S, however, I was quite disappointed with the fingerprint scanner on Galaxy S5. Firstly, it is much slower as I have to swipe my thumb on the home button, instead of just pressing the button. And more seriously, it can recognize my thumb just about 80% of the time, and even when I registered another fingerprint using the same thumb, it still failed quite oftenly. The fingerprint scanner can be used to pay with Paypal, unlock the phone or log in to Samsung account. Its promises are great but Samsung should improve its poor performance first.
Another emphasized feature of this phone is the heart rate monitor. Samsung added a dedicated heart-rate sensor beside camera flash on the back. This seems to follow the fitness trend on wearable devices, however, it is like a gimmick in my opinion. I just use the heart-rate monitor a few times. Although it is well integrated into the S-Health app, I am really not sure users would really use it. Putting the sensor on fitness bands like Samsung Gear Fit makes more sense.
In terms of performance, the Samsung Galaxy S5 is unbeatable with its 2.5GHz quad-core Snapdragon 801 processor and 2GB of RAM. The smartphone is super fast and I hardly see a lag, even when playing games.
Audio and Display
I was a little disappointed when moving from HTC One M8 to Samsung Galaxy S5 because the sound output on this phone is not really impressive. The S5 doesn't have front-facing speakers, the only speaker is put on the back and it is not better than what we had on Galaxy S4. The phone also doesn't have a dedicated amp, so probably audiophiles won't be satisfied even when wearing a good headphone. I feel the bass is not punchy enough and the mids are quite weak.
The S5 features a bigger 5.1-inch 1080p HD AMOLED display, this is the brightest screen I've ever seen on a smartphone and it is also extremely colorful. Samsung really doesn't have competition in the display technology. I am pretty sure you will enjoy reading and watching videos on the phone.
Camera
Again, this is another category that the Galaxy S5 shines. The camera app includes a lot of new features like Selective Focus (with options of Near Focus, Far Focus and Pan Focus), real-time HDR (preview HDR photos and videos before taking the shot), phase detection autofocus (faster autofocus at around 0.3 seconds), and a clean camera settings menu. However, I'm impressed the most with the 16MP camera sensor itself. I must say iPhone 5S has lost its crown and this is the best phone camera I've used so far. The pictures will say themselves. Take a look at the sample pictures and videos captured with S5's camera. Notably, the camera also supports 4K UHD video recording at the resolution of 3840×2160 pixels.
Battery Life
The Galaxy S5 is powered by a 2,800 mAh battery, a full charge will take around 1 hour and 45 minutes. This is not the highest-capacity battery on a smartphone but its performance is brilliant. In the first test, I used the phone mostly to check email and set up the phone, amazingly the phone could last for nearly 4 days and still has 2% left. Then I charged it to 100% and tested with heavier tasks. I made phone calls, read news, watch Youtube videos, take pictures and record videos. The result is still very impressive, the phone lasted for over 2 days and still had 9% left.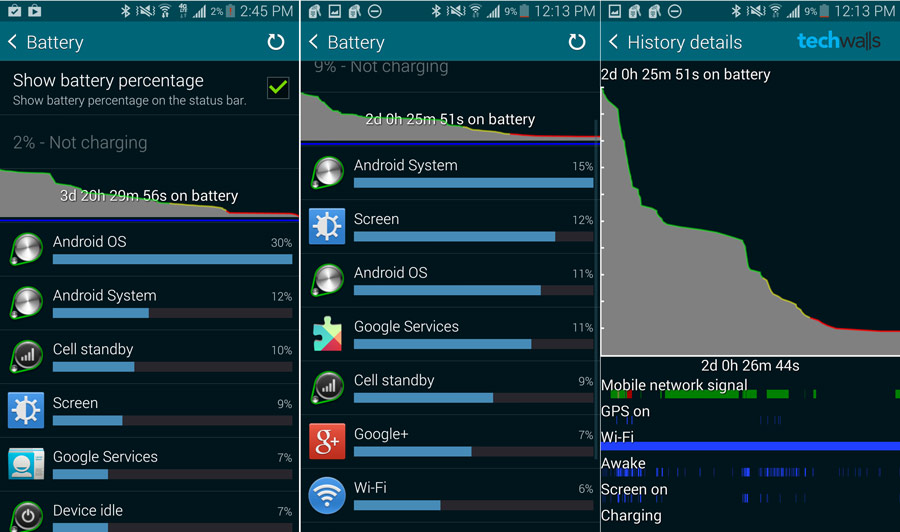 I also tested the new feature called Ultra Power Saving mode and it worked like advertised. The mode simply turn your screen to grayscale, give access to just a few essential apps, restrict network speeds to 3G or lower, turn off mobile data when the screen is off and turn off Bluetooth and Wi-fi. When I had just 9% left, I turned on this mode and it helped me last for more 20 hours. This is a great mode and I think Samsung should improve it further. At the moment, we can't program the mode so that it is automatically turned on when battery is low.
Conclusion
Pros
Great build quality with durable materials.
Removable back cover.
MicroSD card slot for expandable storage.

IP67 water and dust resistance.

Clean and simple interface.
Powerful processor providing fast and smooth performance.
Best-in-class display.
Brilliant camera.
Long battery life.
Cons
No significant changes in design.
Audio output is disappointing.
Fingerprint scanner doesn't perform well.
Still some gimmicky features.
The Samsung Galaxy S5 is not an innovative product but Samsung is trying to complete its products. Undoubtedly the S5 is a great upgrade and now I can understand why it has huge sales in just one month. Although there are still some areas to improve, this is the safest choice when you consider a new smartphone. It is available with or without contract on Amazon now. I totally recommend this product, especially when its price is lower than competitions like HTC One or Xperia Z2.
Disclosure: We might earn commission from qualifying purchases. The commission help keep the rest of my content free, so thank you!