While iWatch is still in development, Samsung is taking all advantages to dominate the wearable market. However, the Samsung Galaxy Gear released last year was a big disappointment and nobody wants to buy it with the price of around $200. At MWC 2014, Samsung introduced a new line of smartwatches, including Gear 2, Gear 2 Neo, and Gear Fit.
Among them, Gear Fit is the most promising device and I am not surprised when it is awarded the best mobile device at MWC, not the much expected Samsung Galaxy S5. We took a hands-on look at the Gear Fit a few days ago and let's see why it is the most gorgeous and innovative new mobile device this year.
Hands-on Video
Design
Undoubtedly Gear Fit is the most intriguing device I've seen in a while. I really love the natural design and of course, the screen is an important selling point here. This is the first wearable device with curved Super AMOLED display. You may think a curved screen is not necessary on a smartwatch or fitness tracker, but it looks awesome. The display is wide enough and it follows the contour of your wrist, so you will feel very comfortable. It measures 2.3 x 0.9 x 0.47 inches and it is very lightweight at 0.95 ounces.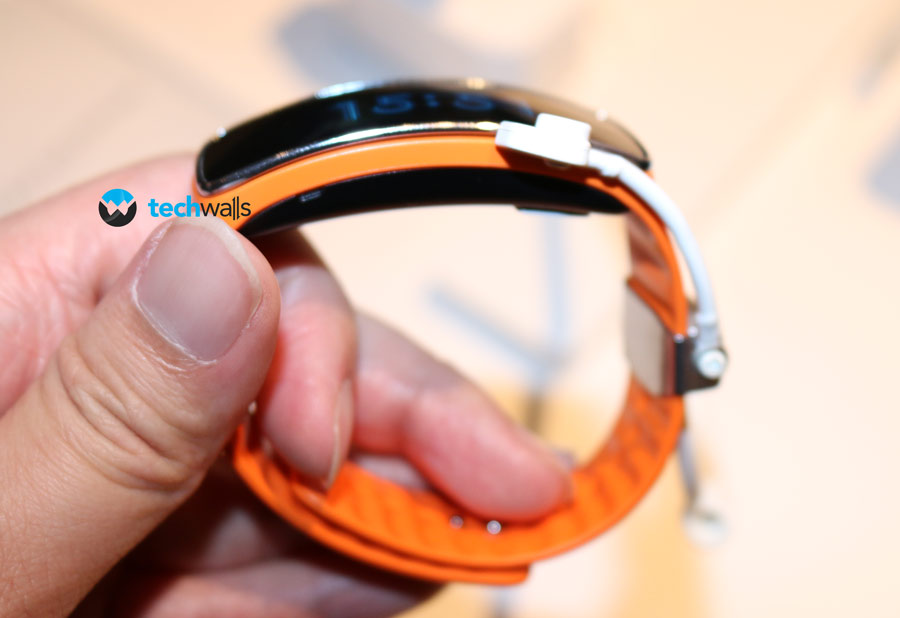 On the rear panel of the device, there is a built-in heart rate sensor and you can see how it works in the video above. The Gear Fit comes with a detachable wrist band and there are some choices of colors like Black, Orange and Mocha Grey. My favorite color is orange.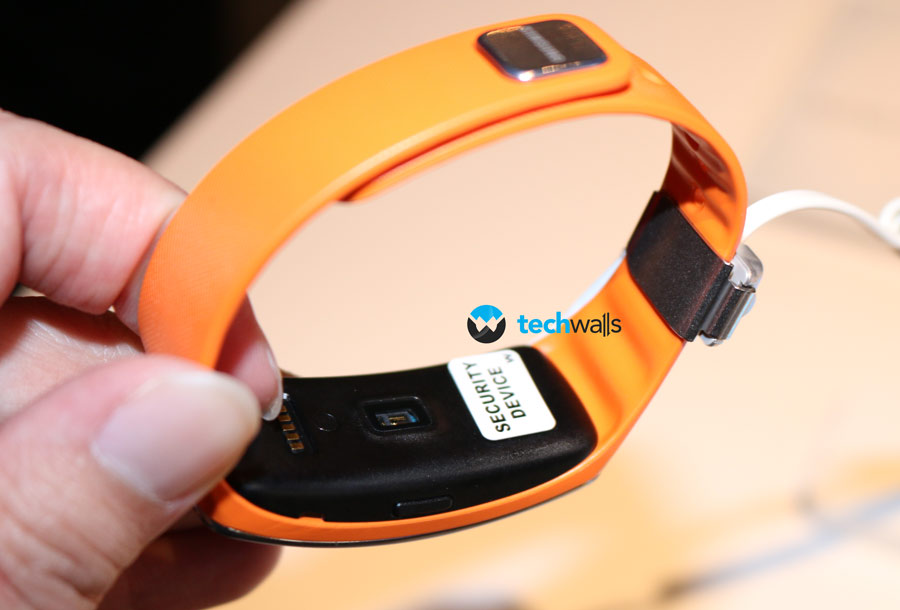 Tech Specs & Features
The focus point for Gear Fit is its beautiful curved 1.84-inch 432 x 128 Super AMOLED display. The wide screen is perfect for gestures like swipes or taps. I found it very easy to swipe left or right to navigate through menu and apps.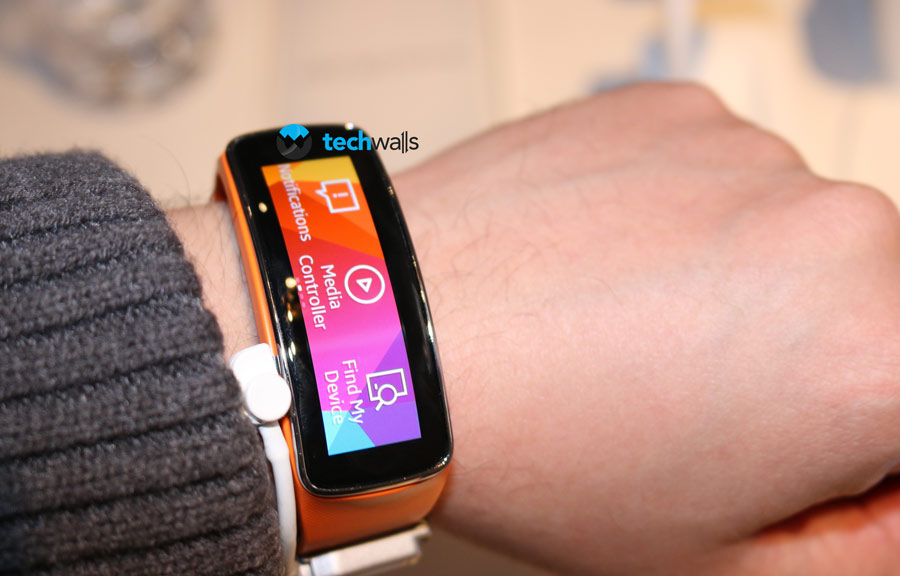 As this is the convergence between a smartwatch and an activity tracker, Samsung tried to improve it compared to the Gears. The Gear Fit runs on a proprietary Samsung embedded OS, not Android or Tizen like many other websites mentioned. The OS is simpler and more importantly, its battery will last longer. The 210mAh battery could power the Gear Fit for about 3 days in a single charge. As an activity tracker, this is an important improvement but I really hope they could increase it further. Another notable enhancement is the dust and water resistant feature, it is IP67 compliant, which means it is protected from dust and can be protected under water to the depth of up to 1 meter.
The device is connected to your Samsung smartphones via Bluetooth 4.0 LE, so you will be able to receive notifications like phone calls, SMS, emails, alarms or from third-party apps. At the moment, Gear Fit is compatible with 20 different Samsung smartphones like Samsung Galaxy S3, S4, S5, Galaxy Note 2, Note 3, etc. As this runs on a simple OS, Samsung won't release SDK for developers to make apps run directly on the Gear Fit. Developers just can use a SDK to modify Android apps on Samsung smartphones to send notifications to the smartwatch. This is a drawback compared to Gear 2.
Another downside is that the Gear Fit does not include built-in microphone and speaker, therefore, you won't be able to receive and answer phone calls on this device. You will still see incoming calls, but you just can reject and reply with a preset message.
Some other features of the Gear Fit include media controller and Find My Device app, the app will ring your phone when you can't find it around. We also can't forget the neat features as a fitness tracker. There are Pedometer to count your steps and calories burned, Exercise to track your exercise routines like Walking, Running, Biking or Hiking by using its internal accelerometer and GPS on your phone. The Exercise app is also a coach providing personalized advice and recommendations to help you achieve fitness goals. The Heart Rate monitor works very smooth and it can capture the data within a few seconds. All those data can be shared to S-Health app on your Samsung Galaxy smartphones, so you will have a good look at your exercises.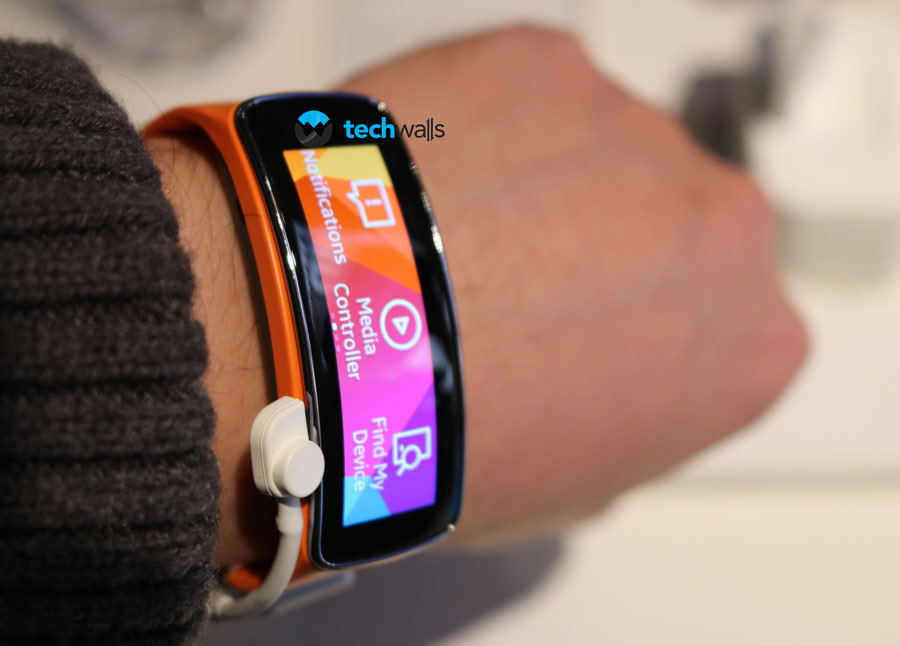 Conclusion
Overall, this is one of my favorite gadget this year and absolutely I will give it a try when it is released on April 11th. The price tag hasn't been disclosed yet but I expect it will be around $149. How are you interested in the Gear Fit?
Pros
Beautiful design with curved display.
Very lightweight.
Water and dust resistant.
Easy to connect and share data with Samsung's smartphones.
Built-in heart rate sensor is helpful.
Cons
Battery life is improved but still too short for an activity tracker.
Can't receive phone calls.
No SDK to create apps on the Gear Fit.
Disclosure: We might earn commission from qualifying purchases. The commission help keep the rest of my content free, so thank you!