HTC One M7 was among the best Android smartphones in 2013. I reviewed the M7 last year and really loved the phone because of its beautiful design and clean UI. The HTC One M8 was introduced in March and I've used it for nearly a month now. Let's see if the new HTC One could meet our expectations and compete with other flagship smartphones like Samsung Galaxy S5 or Sony Xperia Z2.
Unboxing Video
Design and Build Quality
The new HTC One comes with the 3 color choices, which are Glacier Silver, Amber Gold and Gunmetal Gray. The review unit comes in Gunmetal Gray color and in my opinion, this is the most good-looking version because it has a brushed metal pattern. HTC still keeps its aluminum unibody design and even adds more metal into the body, besides, the brushed metal pattern contributes to a more premium feeling. The new pattern also makes the phone free from fingerprints and grease. HTC creates a thinner construction and replaces sharp edges with more curves, the curved shape is supposed to fit our hands better.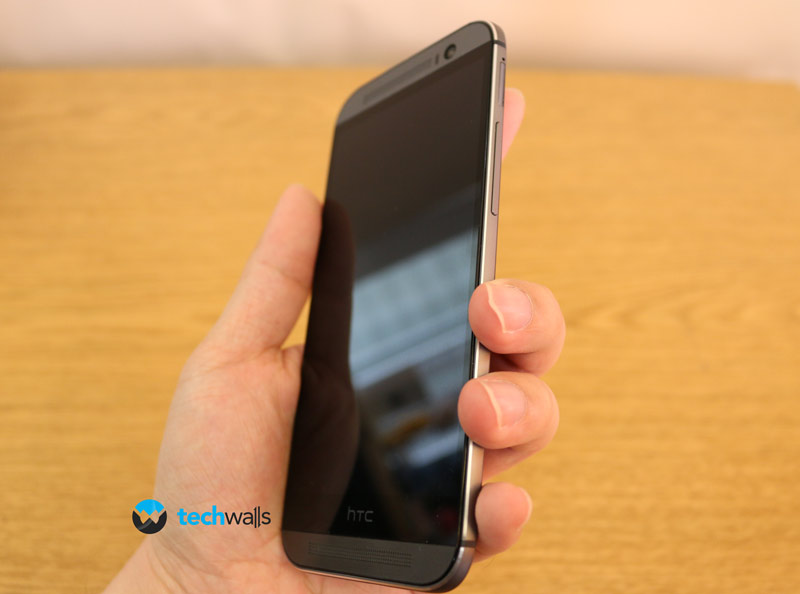 However, the new design doesn't work really well for me. I feel more comfortable when holding the phone but it is very slippery and actually I dropped the phone once. As the 2 sides are quite thin and bezels are reduced significantly, part of my palm always touches the screen and causes accident taps. Therefore, you'd better hold the phone carefully or apply a case to make it thicker and sturdier.
Some other changes include a Duo Camera, nano Sim, microSD card tray, more pronounced volume rocker, dual-LED flash, big IR blaster on top and a 5-inch Corning Gorilla Glass 3 display. Besides, the M8 is a little taller and heavier than its predecessor, particularly, it measures 146.36 x 70.6 x 9.35 mm and weighs 160g.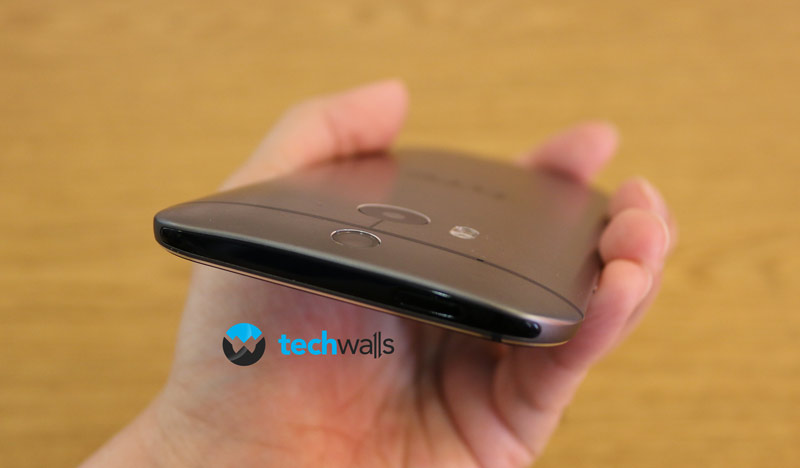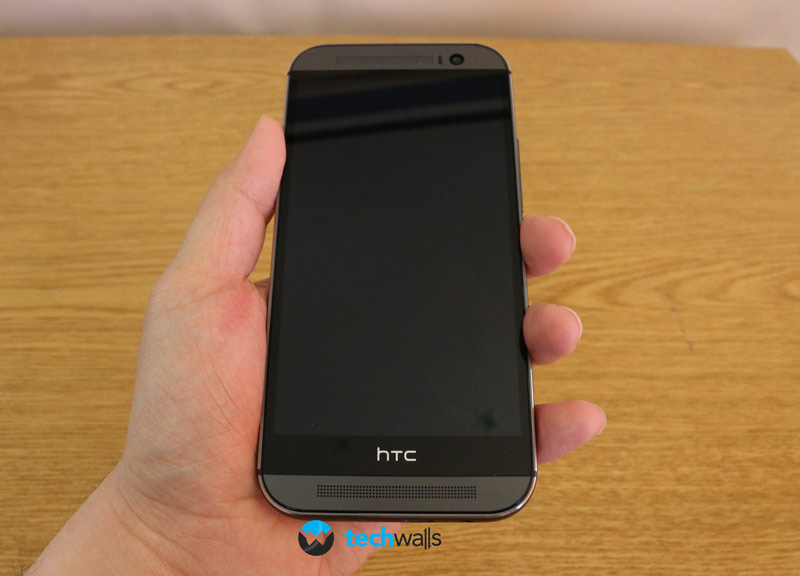 Unlike the M7 which had bad build quality, the M8 has a solid build with larger metal frame and there is no more gap between metal and plastic like we saw before. Besides, the SIM now fits perfectly and I don't have the no sim card error anymore.
Interface and User Experience
The M8 runs on HTC Sense 6.0, the custom UI on top of Android 4.4.2. This is my favorite UI apart from the stock Android UI because it is very clean and uncluttered. There is almost no learning curve if you switch from another Android device.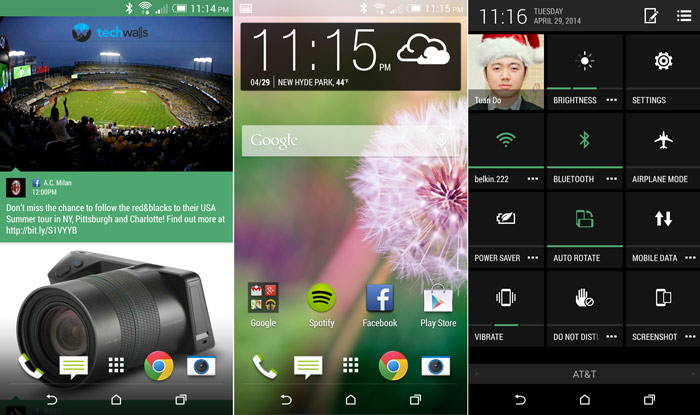 I find the BlinkFeed more useful as I can add any content and the BlinkFeed can be turned off completely now, or you can assign the standard Android screen as your home screen. The notification menu is also cleaner, but it would take you 1 more tap on a button on the right corner to access quick settings. I access the quick settings very often, so this is quite inconvenient for me. Most other UI like TouchWiz or LG's UI always show quick settings on top of notification menu. If you want to access the quick settings faster, you can just swipe down from top using 2 fingers, it is similar to what you did with stock Android.
HTC added a nice feature to the M8 and they call it Motion Launch. You can wake up the phone by lifting it up in portrait orientation and double tapping on the screen. This is quite similar to the Knock On feature on LG G2 or LG G Flex, however, you won't be able to put it to sleep with a double tap on blank space. The camera app can also be launched very fast by lifting up the phone in landscape orientation and press the volume rocker. Besides, you can make a call with Quick Call by lifting the phone in portrait orientation and swiping down. I like the Motion Launch feature but it would be better if HTC could include options like a double tap to turn off screen or allows us to wake up the phone without lifting it up.
The new HTC One is powered by the powerful Qualcomm quad-core 2.3-GHz Snapdragon 801 processor, 2GB of RAM and Adreno 330 GPU. This processor delivers the best experience on Android smartphone, I hardly see a lag or slow response on the M8. Every app is opened instantly and heavy 3D games can be played at very high frame rate.
Audio and Display
Regarding speakers for smartphones, the HTC BoomSound front-facing dual speakers have no competition. The new speakers are even louder than HTC One M7's and they include a new digital signal processor in place of Beats Audio engine to deliver a crisper and clearer sound. The speakers are not jaw dropping but it is enough to beat all other smartphones' speakers.
The HTC One M8 feature a bigger 5-inch Super LCD 3 display. This is a full HD 1080 display with the resolution of 1920 x 1080 pixels. It has a lower pixel density than the M7 due to the bigger display, however, you will hardly see the difference. The display still looks amazing and the colors are even more vibrant. Viewing the screen is a very pleasant experience because we now have a wider viewing angle and everything like photos, videos, text, icons looks so crisp and clear. The display is bright enough for outdoor viewing and reproduced colors seem to be very accurate.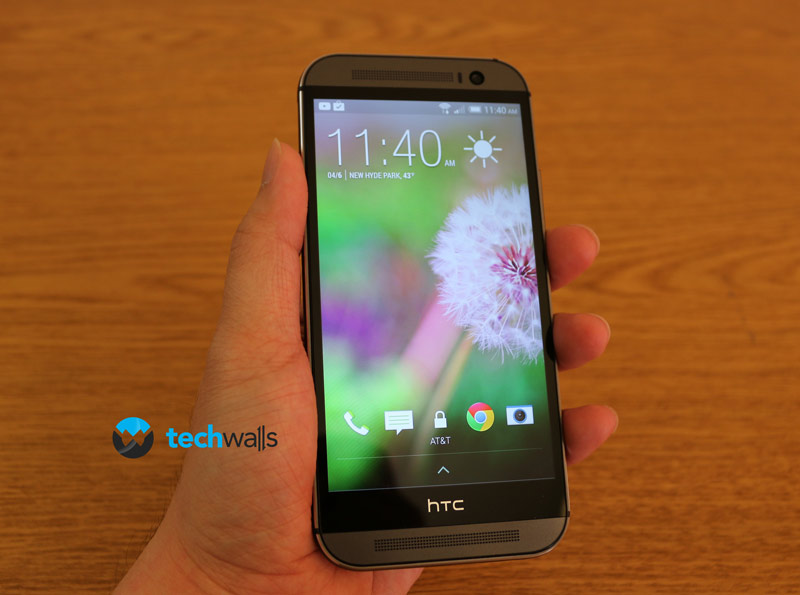 Camera
The HTC One M8 comes with 2 rear cameras, one is the 4MP UltraPixel camera and the new Duo Camera to capture depth information. A dual-LED flash is also included to produce more natural illumination for our pictures. The Duo Camera is helpful if you want to change focus of an image after taking picture or see some 3D effects on your photos. Unfortunately, the features are not always working and actually I was a little disappointed. You can see all image effects, including UFocus, Dimension Plus and Foregrounder, in the video below.
Till now, I still don't understand why HTC didn't include a better sensor for the camera. It is still stucked at 4MP and it is not close to the camera on Samsung Galaxy S5, iPhone 5S or Xperia Z2. It even doesn't include OIS (Optical Image Stabilization) and totally rely on digital image stabilization. The camera can take beautiful images in daylight, however, you wouldn't want to zoom in because the images have quite low resolution. In low light environment, the camera is quite disappointing, it can capture more light but there are a lot of noises. I also notice the noises even in good light condition, when I turned on 4 light bulbs in my room. Below are some image samples taken with M8's camera.
An advantage of the camera is that it can capture images very fast. On the other hand, its video quality is not bad at all, particularly in good lighting. Take a look at the video sample.
Battery Life
The battery life on HTC One M8 is improved but still not satisfying. This is a 2600 mAh battery, it can last for a full day with normal usage. This is actually a good battery, you just need to make sure to charge it at the end of the day. A full charge will take more than 2 hours.
You might be disappointed if you switch from other Android phones like Samsung Galaxy Note 3 or LG G2 which can last for 2-3 days easily. You can slightly improve the battery life by turning on the power-saving mode which will turn off vibration feedback, put data connection to sleep why your device sleeps, reduce screen brightness and conserve CPU usage. In some extreme cases, you can also turn on the extreme power saving mode which can help your device last for up to 1 day with just 10% of battery left.
Conclusion
Pros
Great unibody aluminum design with solid build.
Clean and easy to use UI.
Blazing-fast performance.
Display produces rich, vibrant and accurate colors.
BoomSound speakers are amazing.
MotionLaunch is a helpful extra feature.
Camera app is very fast in capturing photos, it also includes interesting HTC Zoe and a lot of effects.
Cons
Slippery due to too many curves.
The phone is too tall and it makes the power button difficult to reach.
Accident taps due to thin bezels on 2 sides.
Camera has low megapixel count and no OIS
Mediocre battery life.
While other Android smartphones like Samsung Galaxy S5 or Sony Xperia Z2 failed to impress consumers, the HTC One M8 now becomes the best choice thanks to its premium design and build quality. The HTC One M8 is available for $150 on contract or $700 for unlocked version. If you can accept its outdated camera and some other minor downsides, this absolutely should be your next smartphone.
Disclosure: We might earn commission from qualifying purchases. The commission help keep the rest of my content free, so thank you!