Update: The trick also works on the HTC One M8, One M9, and HTC 10.
The HTC One is a beautifully designed device and this is almost the first time we see a device that overcomes Apple's iPhones in terms of design. I couldn't understand why the HTC One couldn't sell as much as the Samsung Galaxy phones but now I totally get it.
Apart from the defects I mentioned in the HTC One review, I just figured out another issue with the phone. It is another manufacturing issue.
The One worked well in the first 2 weeks but then suddenly I got the no SIM card error. The phone couldn't detect my T-Mobile SIM card even though I placed it very carefully on the SIM tray.
I tried removing and inserting again but it didn't work. Then I followed some guides on the Internet, I turned off the Fast Boot option, then restarted, still no SIM card detected. Another guide told me to reset the device, I did but it didn't solve the problem as well.
Although those solutions didn't work, they helped me figure out that the problem is probably caused by the connection between SIM card and the device. I used a brand new T-Mobile SIM card and insert to the HTC One but it still can't detect the SIM card.
Then I remembered a trick I did on my old phone when it had the same issue. Amazingly, it solved the No SIM card error immediately. Here is what I did: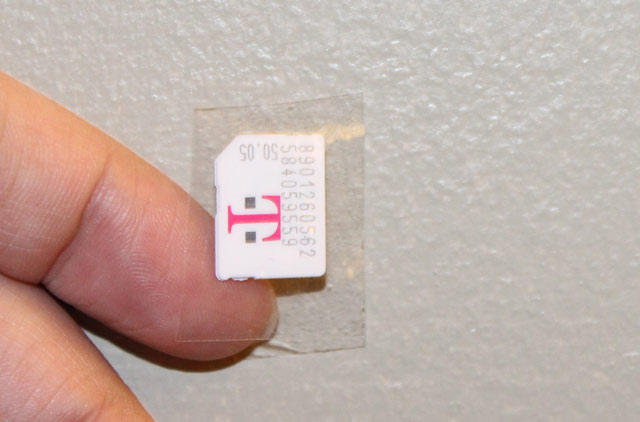 I applied a layer of transparent tape (or two, depends on its thickness) on top of the SIM card, then I cut the tape so that it fits the card. Insert to the HTC One and the SIM card is detected now.
It is that simple. The problem is caused by the loose connection between the SIM card and its contacts on HTC One.
This is really a significant build issue and I am very disappointed with the HTC's flagship phone. HTC's phones always have problems in quality control and I saw a lot of complaints about this error.
Hopefully, you guys will find this post useful. Let me know if you have the same problem on your HTC One.
Disclosure: We might earn commission from qualifying purchases. The commission help keep the rest of my content free, so thank you!