Logitech is well-known as the leader in accessories for PC and tablets and there is no doubt that consumers love its products. I used many Logitech products before and I've never been disappointed. They are all well made and priced reasonably.
I've used the Logitech Wireless Trackball M570 for nearly 3 years and honestly I never want to replace it. Now as I receive a new mouse for review, I have to put my oldie aside. The mouse I'm reviewing today is Logitech Wireless Anywhere Mouse MX, let's see if it could stay on my desk.
Unboxing and Testing Video
Design
The Anywhere MX has a clean, yet strong design. This is a mouse with compact design. I think it is more suitable for laptop users because it is easier to carry around, a travel pouch is also included in the box. It is quite small compared to my current M570, so I don't feel really comfortable using this mouse. Moreover, it is quite heavy, especially when you insert 2 batteries inside.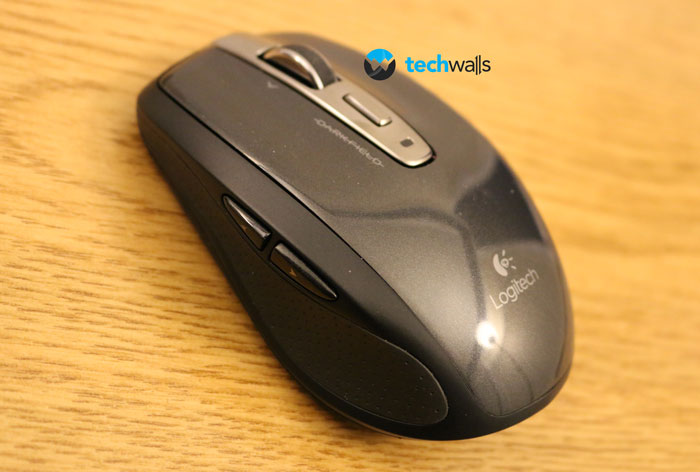 There is a programmable button and scroll wheel on top, dual-thumb buttons on left side and the Darkfield Laser Tracking with on/off switch on the bottom.
You can slide off the battery cover on the bottom to insert batteries, there are two battery slots inside. The tiny Logitech Unifying receiver can also be found here. As I've already got the receiver on the M570, I don't need to take it out because 1 receiver can be used for up to 6 compatible devices.
Features and Performance
There are a lot of features to like on the Anywhere MX. I really love its scroll wheel with dual-mode and 4-direction scrolling features. You can scroll horizontally as well as vertically with this wheel. And with just 1 click on the wheel, you can change between smooth (hyper-fast) and ratcheted (click-to-click) scrolling. The hyper-fast scrolling is very helpful for me because it could help me scroll faster when reading books and long documents.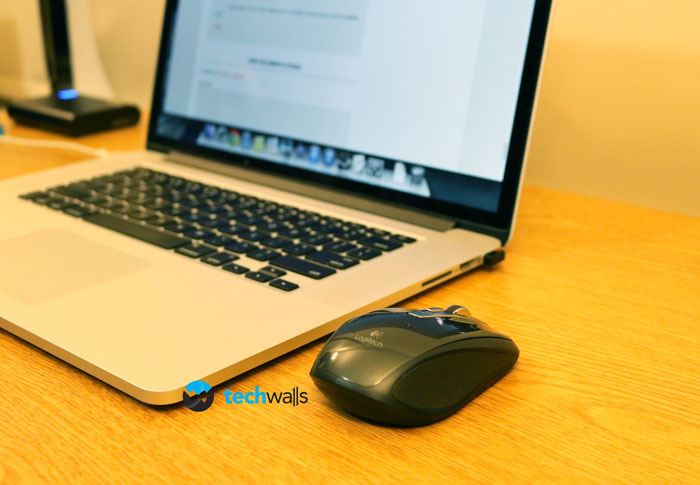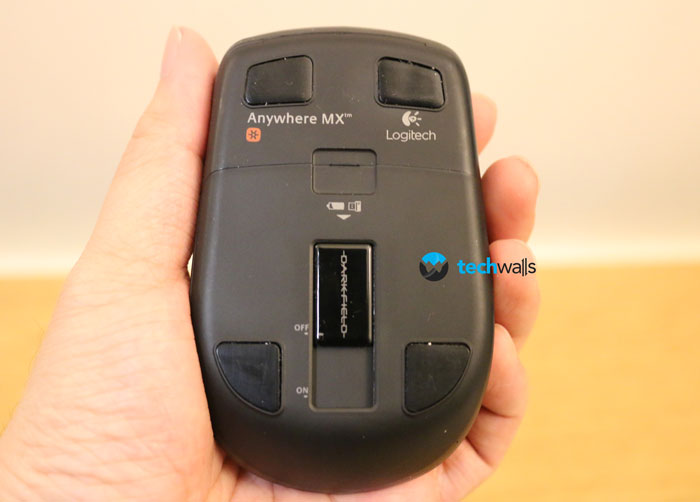 Another impressive feature of the mouse is the Darkfield Laser Tracking technology. This technology is said to give us freedom to work anywhere without a mouse pad. I tried using the mouse on wood and glass tables and it worked really well. There is no difference in cursor accuracy when I used it on different surfaces.
I haven't had enough time to test battery life of the mouse yet, Logitech said that it could last for about 3 months with 2 AA batteries. As the mouse is quite heavy, I am using just 1 battery and I hope it could last for around 6 weeks. I will update this post by then.
Update: The battery is dead after 3 weeks, so the battery life is shorter than I expected.
I have no complaint about the connection as I never lose it during the first week.
However, I had some problems setting up the mouse on my Macbook running Mac OS X 10.9.2. My Mac didn't detect the mouse automatically and I had to install the Logitech Unifying software to pair it with the receiver.
I also tried to install the Logitech Control Center for Mac so that I could try some features such as assigning buttons or checking battery life, but it didn't work at all. I received this message when opening the app:
 "Please connect your Logitech cordless mouse Mini Receiver in a USB port and restart this program."
Another issue is that the dual-thumb buttons are working as left mouse button and as I couldn't run the LCC software, I have no way to reassign those buttons. Hopefully Logitech will fix the bug soon.
Conclusion
Pros
Portable design.
Useful scroll wheel modes.
Works on any surface.
Reasonable price.
Good connection.
Cons
Heavy with 2 AA batteries.
Its software is not working on Mac OS X.
Uncomfortable due to small size.
Battery life is short.
This could have been a great mouse if it didn't have some problems on my Macbook. I tested it on Windows and it worked perfectly, so if you are using Windows, I totally recommend this mouse. It is listed on Amazon for just $39 now.
Disclosure: As an Amazon Associate, I earn from qualifying purchases. The commission help keep the rest of my content free, so thank you!