Honestly I had no idea what a trackball is until I got my hands on the Logitech Wireless Trackball M570 that I received for review. For anyone hasn't noticed about the accessory, trackball is an input method using a ball hold in a socket to detect movements. You can imagine it is like a ball mouse but the ball is controlled by our thumb.
Unboxing Video
First Impressions
The Trackball M570 with Leave-In USB Receiver was introduced last year and this has become one of the best trackball on the market. I am very impressed with its design, a heavily sculpted shape that fits your hand perfectly, I feel very comfortable and hold the trackball very easily.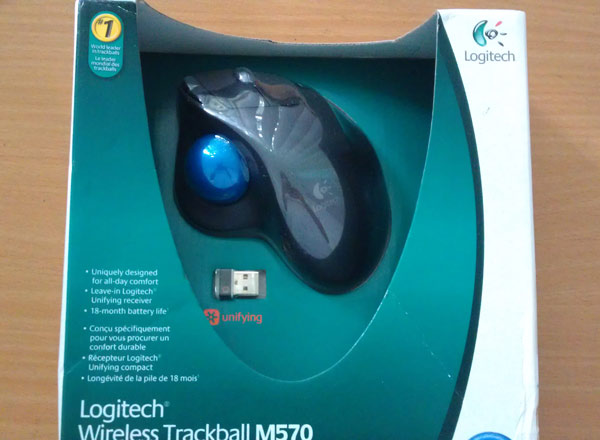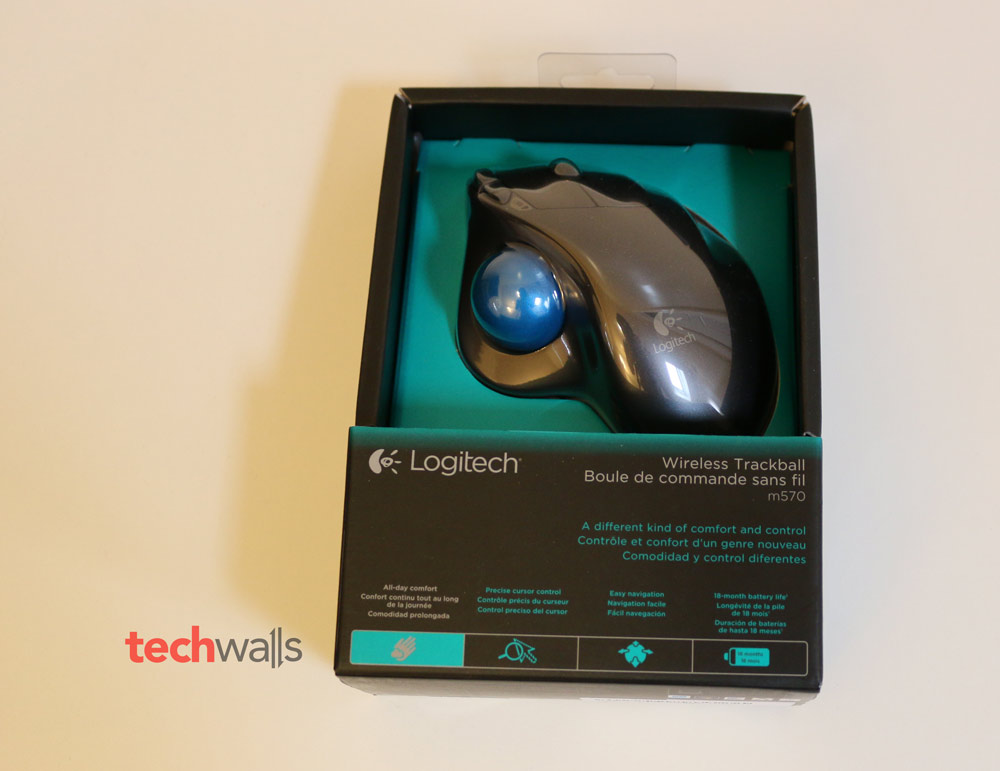 The M570 is designed like a traditional mouse with 2 mouse buttons and a rubbery scroll wheel at the between. There are also back and forward buttons for quick navigation in web browsers, they are very convenient but they seems to be placed too far from my fingers, sometimes I need to move my hand to reach the forward button.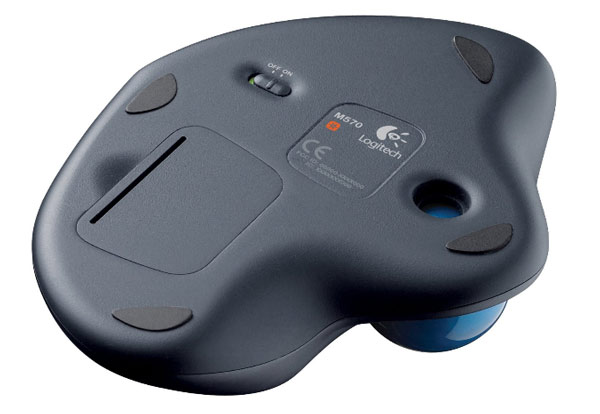 As this is a wireless trackball, Logitech provides it with a unifying receiver, it is so small that you can leave it on your laptop even when not in use. The tiny receiver is very helpful if you are using other wireless devices from Logitech, it can connect up to 6 compatible devices at the same time.
The device uses only a single AA battery but its battery life could go up to 18 months without battery change. The battery indicator light will remind you when the power is running out.
Performance
This is maybe the problem that many people are concerning, how this is working compared to the traditional mouse. In the first few hours using it, I was very confused and even held the trackball to move it on the table sometimes, I also had problem with the precision as it was very difficult to control the ball to an exact point. This is understandable because I had used mouses for all my life and it must take a little time to get used to another device.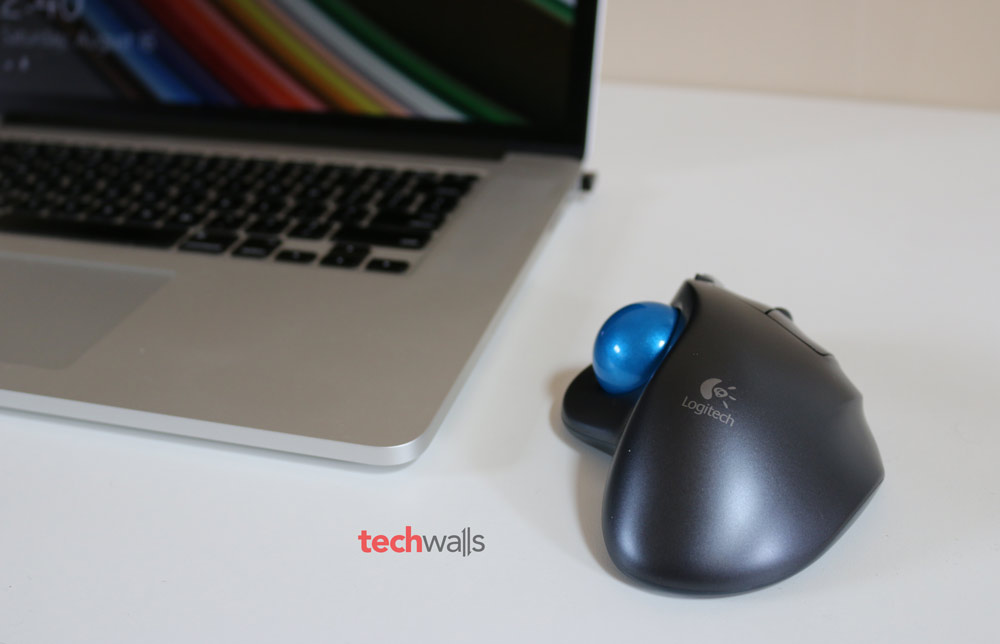 After 3-4 days using the M570, I am now more than satisfied and I decided to throw out my old Gigabyte mouse. Getting precise cursor control is much easier now when I got used to it.
If you are on Windows, you should install the Logitech SetPoint Software as there are a lot of options to customize the trackball, for example, assign buttons to specific commands, adjust trackball movements, check battery status or customize settings for games. I tried playing a game with the M570 and it is really not bad, although it hasn't been as easy as mouse but I believe I could control it better over time.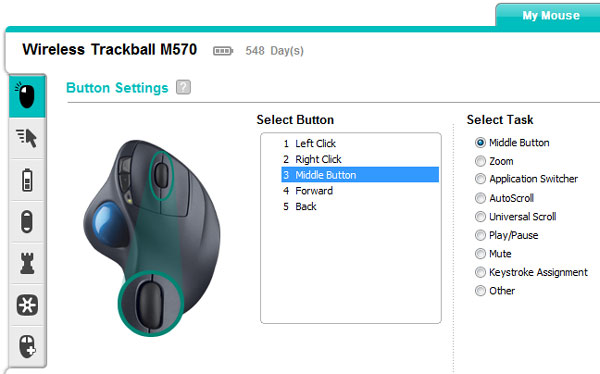 If you are on Mac, you can install the LCC connection utility. It will create a Control Center option in your system preferences and you will see something like this.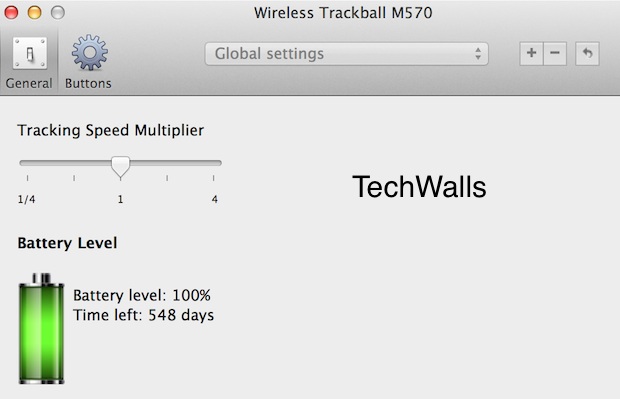 In my view, this is really a great replacement for mouse because of its awesome advantages. Here are the overall pros and cons of the Logitech cordless trackball M570.
Pros
Comfortable over a long period of time, users won't need to move their hands, arm and shoulder like they do with mouse.
Precise cursor control: some people think the feature is impossible with a trackball but in fact, it is possible.
Works on any surface: we can lay down on sofa or bed and use it without any problem.
Long wireless range: you can control your computer from up to 30 ft away, I tried to stand out of my room with closed door and amazingly it still worked.
Long battery life, you almost can forget about changing the battery as you just need to do it once in a whole year. Besides, you won't have to turn it off.
Cons
It takes some time to get used to using the trackball.
Browser buttons are placed far from users' fingers.
The buttons make relatively loud clicking noises.
Update: I used the M570 for 3 years until I had some problems with its left button as it didn't respond to my click sometimes. I came back to a normal Logitech mouse and really it didn't have the comfort as when I used the trackball. Therefore, I understood that there is almost no alternative and I decided to bought a new M570 trackball. Fortunately, it is still available on the market.
Overall, I think the Trackball M570 is a great device to have and it deserves a better place on the market. It is currently available on Amazon for less than $40.
Disclosure: We might earn commission from qualifying purchases. The commission help keep the rest of my content free, so thank you!