CES is finally wrapping up, meaning I can catch up on some relaxation over the weekend. With the end of CES, this also means that it's now time to predict what the iPad 3 will include for 2012. There are even reports that the iPad 3 was spotted at CES, something we can't confirm but doubt. Nevertheless, there's no doubt that the iPad will be Apple's focus for the upcoming spring season. So what will the upcoming model include? Will the next iPad have Siri, or possibly an even better camera? Will it even be called the iPad 3? We will cover all of this and more now, so let's go.
Expected Date and Price
Let's get right into it. When will you expect all of the excitement of the new iPad? Let's first do some narrowing down. First, we know that spring is iPad time. So we can definitely rely on a February or March announcement. The iPad could hit stores about two weeks afterwards in North America and other countries. The exact announcement date has some significance this year more than ever. With the recent death of Steve Jobs, a possible date on his birthday could be possible.
As for price, we can definitely say that Apple will stay safe with prices. Look for the entry level iPad 3 priced at $499, 32GB at $599, and so on. There will be 3G options available through AT&T, Verizon, and now possibly Sprint, now that it's joined the iPhone bandwagon. More on price, some have said that there will be more affordable options for individuals interested in an iPad. I personally have two predictions on this. Apple will either follow the iPhone route and have a tiered system. Currently, once an iPad is released, the older model is discontinued. As for the iPhone, the previous version (as seen with the 4 and 3GS) are still for sale without storage configurations for a lower price. This would be a smart move for Apple, offering the iPad 2 for $399. I doubt the iPad original would be available if this option is done.
My second prediction with a cheaper iPad option would be an iPad will less features. This has been dubbed by some as the iPad Mini. This would feature a smaller screen and simpler features.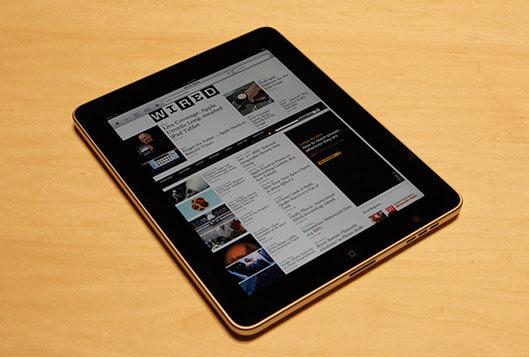 The iPad 3: Inside
This is probably what you've been waiting for, what will the iPad 3 include. We can heavily bet that a new processor will be included with the iPad 3. Why? Because we have another prediction of Siri with iPad 3. If there is Siri with the iPhone 4S, it's certainly possible with the iPad 3. Just like how the iPhone required an improved processor for this to happen. With a better processor might possibly require a better battery life, so look for this to come out with the iPad 3 as well.
Video and Photo
We would love to say that the new iPad 3 will sport the same camera as the current iPhone, especially since we expect Siri like the new iPhone 4S has. But we can't say that will happen, at least without partially dreaming. We expect the iPad 3 to include a better camera, but not an 8 megapixel one with 1080p video. If Apple does include an 8 megapixel rear camera, something we can expect to be a 52% chance, than we would then expect 1080p to float right along with it. But six megapixels and 720p seems like the case.
The iPad 3: Outside
The iPad 3 is expected to finally have a Retina display, like the iPhone 4S. To allow space for a better battery, screen, and better features, this may make the iPad 3 a little fatter in width. We don't expect it to be noticeable, but still there. Obviously, there will be both white and black option. If Apple does go the iPad mini route as well, we can expect a noticeably smaller screen, somewhere around 7 inches. This model could include both the white and black options. Apple will most definitely have the front and rear cameras in their same place with the iPad 3 and iPad mini. We expect the front form to be the same as well.
What's in a Name?
Apple had the iPad and the iPad 2. But will there be an iPad 3 or possibly another name? Very rarely does Apple keep the number name going past 2 without adding a better or so. While this isn't that important, we will keep the iPad 3 naming going for all reporting purposes until an official name is given. Possible names include iPad 3, iPad HD, iPad 3S, and some others. Have a possible name you thought of yourself? Let us know in the comments, and also tell us your favorite possible feature of the iPad 3.
Disclosure: We might earn commission from qualifying purchases. The commission help keep the rest of my content free, so thank you!