We are on the last days of 2011 and the rumors of the next generation of Apple iPad hasn't stopped yet. Although it is too early to identify detailed tech specs of iPad 3 but from the latest information, we already know some basic features and design of the new tablet. Let's check them out.
Design
The new iPad is said to be very slightly thicker than the iPad 2 to fit the Retina display. The iPad 3 is also expected to have a smaller dock connector. Some rumors even claimed that the iPad 3 would feature a major change in design, this could be an iPad Mini with a 7.85-inch screen to compete with smaller, cheaper tablets like Amazon's Kindle Fire. The iPad Mini could be the iPad 3 or a new product that will be released in late 2012.
Last year, Apple hired an expert in carbon fiber, and there is a rumor that the iPad 3 will be produced with lightweight carbon fiber. It will create a more durable tablet and also allow manufacturers to add colorful designs. So there are probably more than just the 2 colors, black and white.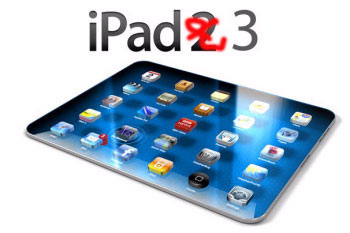 A6 Quad-core Processor
In the 2 generations of iPad, Apple always released new processor for the devices. Therefore, we can believe that the iPad 3 will also be powered by the new A6 Quad-core processor to make the tablet as powerful as any high-end laptop.
Kevin Krewell, a Linley Group senior analyst, said that the A6 will be a quad-core ARM Cortex-A9 design, which would be strong enough to beat any mobile processor in 2012. iPad 3 will be the first device to get the 28nm A6 processor then. Linley Gwennap, another analyst from Linley Group, believes the A6 will still be a dual-core processor and it will be more power-efficient. However, with the release of NVIDIA Tegra 3 quad-core processor which has been already available on Asus Transformer Prime, I don't think Apple will use a dual-core chip for the iPad 3.
Retina Display Screen
An important feature that all users are expecting from the iPad 3 is the Retina display with the resolution of 2048×1536 pixels, which is twice the resolution of current iPad 2. That would put the iPad 3 display as the best screen of all tablets, reaching 264 PPI (the iPad 2 is 132 PPI), and 550 nits.
iPad 3 Camera
Contrary to the iPhone, iPad's camera has never been improved. In fact, the first generation iPad even didn't have an integrated camera. However, it is time for Apple to know the importance of camera on tablets and upgrade camera for the iPad 3. This could be an 8MP camera as the one on iPhone 4S and will come with LED flash.
4G LTE
Both the 1st and 2nd iPad come with 3G, so all users are hoping the iPad 3 will be equipped with 4G LTE technology. The download speed of 4G LTE is theoretically 5 times faster than 3G network. Therefore, the LTE-enabled devices will be able to play HD video content online smoothly.
iOS 5
The iPad 3 will come with the new iOS 5, which includes multi-touch gesture technology, iCloud technology and the voice-driven personal assistant Siri. Siri on iPad 3 will be brought to the next level as it will increase user experience and overall functionalities. It will also make iPad 3 stand out of other tablets as users can search information easily and input texts without typing on virtual keyboard.
Release Date
A recent report from Taiwanese suppliers gave us good news that Apple begins iPad 3 production and it will be released some time in the next 3 to 4 months. It is very possible that Apple is preparing for the iPad 3's launch on February 24, the birthday of Steve Jobs. This is also a Friday, the favorite day of Apple to announce a new product. Update: iPad 3 will be announced on March 7.
Price
Apple rarely raise the price of its new product, but the limited number of products created a craze in the market on the first days selling. Therefore, according to the price of previous generation of iPad and other Apple products, iPad 3 is assumed to cost about 600-615 USD.
What other features are you expecting from the iPad 3? Let us know by commenting below.
Disclosure: As an Amazon Associate, I earn from qualifying purchases. The commission help keep the rest of my content free, so thank you!