In another decade or so, humans will command all its movements with full use of technology. Such a situation is bound to arise if things like this happen. Coming to the news – if you are a Google Glass owner and planning to buy a good car, i would recommend you to go for Hyundai.
Google Glass owners who will be buying a new Hyundai will have the privilege to control all the basic functions of a car straight from the Glass.
Yesterday itself Hyundai announced that they will be launching a next-generation car named the Genesis. This new range of Hyundai cars will mark the integration of Google Glass in Hyundai cars and all the vehicles after this can be controlled with the Google Glass using an app that will be released alongwith the Genesis sedan. If you are a proud owner of Google Glass and if you will be an owner of the Genesis sedan range of Hyundai, there are some extraordinary features that you will get like –
You will be able to locate your vehicle amongst the crowd of vehicles in a parking lot. All thanks to Glass.
You will be able to start the car automatically.
You will be able to feed your in-car GPS system the address you want to go or locate.
Hyundai will also make sure that the Glass pushes a notification alert to its wearer that when the vehicle will be due for maintenance.
Last but not the least, you will be able to lock and unlock windows using this app and Glass.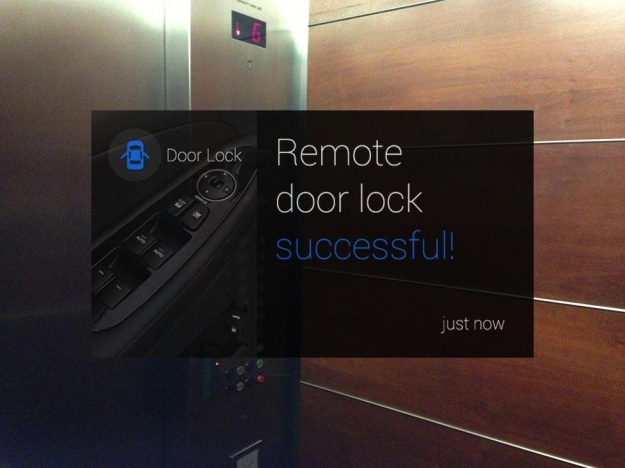 But this will be the end of the road as there wont be any more notifications or control that Hyundai wants to add, just to make sure that there are no unnecessary distractions while driving. Having so, Hyundai sees a lot of applications in this integration concept and can project a powerful and potential future of this as a unit. Executive Director of Hyundai, Barry Ratzlaff said –
"Wearable's are a great way to extend the experience outside of the vehicle by leveraging these small screens to quickly access remote features and deliver timely vehicle information."
In the recent past, Google Glass has evolved like anything and though it's not thoroughly available within the population still it's attracting big giants like Hyundai to work on it. On a judgemental note, Google Glass will be the product of 2014 considering the hype it will generate among the public. Coming to the Glass app of Hyundai, it will be another simple app like Hyundai's existing Blue Link app which offers similar features in iOS and Android systems. But this adoption of Glass and integrating it with car systems was real fast. I think such amazing vehicles will need good amount of time to develop its system before it can some out in the market – may be another 2 to 3 years or so.
Disclosure: As an Amazon Associate, I earn from qualifying purchases. The commission help keep the rest of my content free, so thank you!