I am using the Windows 8 laptop, the Asus N56VZ, and it was running very well until a few days ago. I had hibernated the machine and when I came back after a few hours, suddenly it couldn't boot into Windows 8 again.
The blue recovery screen stopped me with the following boot error message:
Your PC needs to be repaired

The Boot Configuration Data file is missing some required information.

File: \Boot\BCD
Error code: 0x0000034

You'll need to use the recovery tools on your installation media. If you don't have any installation media (like a disc or USB device), contact your system administrator or PC manufacturer.

The problem is that I don't have the installation disc or USB because I installed it online through the Windows Upgrade Assistance. I should have created a recovery USB but I forgot doing the important backup.
I spent a whole day to solve the error as new issues kept rising. Therefore, I write this tutorial so that any person that has the same problem could fix their PC quickly. Microsoft's customer support can't help you and they even can show you the wrong way that you have to pay some more money.
If you have this issue, just try implementing the following steps. All you need is just another computer and a USB flash drive.
Step 1: Back up your data
You absolutely don't want to lose your pictures and other important documents. There are many ways to do the data backup and I can't cover them all. I used the PartedMagic tool included in Hiren's BootCD because it is easy to use with intuitive user interface.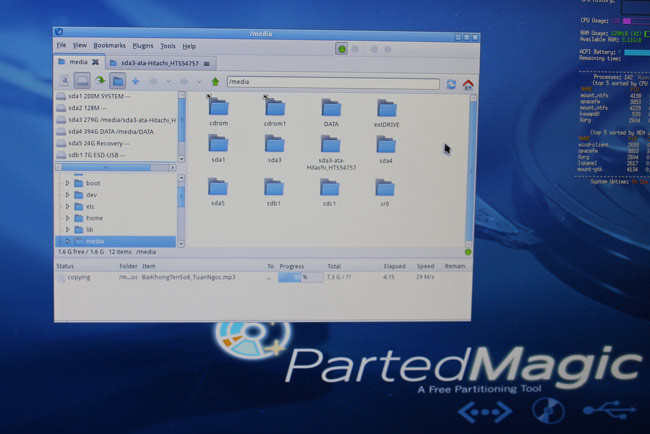 Step 2: Create Windows Installation USB/Disc
It will be easier if you have the installation disc already. Otherwise, you must be extremely careful in this step.
In my case, I mistakenly created the 32-bit Windows 8 Installation USB whereas what I need is the 64-bit Windows 8. So, follow this guide to download the correct ISO file of Windows 8 and create a bootable USB flash drive from it.
Step 3: Re-install Windows
I had to re-install Windows because the options to repair Windows did not work at all. I tried their tools like Refresh your PC, Reset your PC or Automatic Repair but none of them could work. They gave me the error:
The drive where Windows is installed is locked. Unlock the drive and try again.
Then, I decided to do a clean install on my hard drive but there is another error when I choose the partition:
This is due to my disk is GPT-based and I had to remove the GPT disk partitioning system to continue installing Windows. After that, we can proceed setting up Windows 8 like normal.
Notice that if you install with the upgrade product key, you will need to implement the workaround to activate Windows 8 because you did the clean installation.
This is a simple process but it took me the whole day to figure it out. Hopefully you will find it helpful and let me know if you have any more error during the process.
Disclosure: We might earn commission from qualifying purchases. The commission help keep the rest of my content free, so thank you!