2012 is considered as the beginning of the 'new era' of the software giant Microsoft. The highest achievement that Microsoft has accomplished is named as 'Windows 8' which will completely reinvent and change the face of modern tech era, as reported. As per recent statistics, almost 90% computers in the world run a version of Windows. With such a dominating success rate worldwide, Microsoft will surely look to build upon it. Windows 8 is a firm step taken by Microsoft, keeping in mind the touchscreen era of mobiles and tablets with low power needs. Certainly it is going to change the experience for Windows user's big time. So what's so amazing about Windows 8? Let's check it out.
What is Windows 8?
Windows 8 is a complete afterthought and overall makeover of older Windows. Its working is quite different from any Windows made before till date. The main target before making Windows 8 was to make a touchscreen friendly OS which would work efficiently in both tablets and home PC's.
Windows 8 Software
Microsoft is cognizant about the continuously growing importance of 'mobile personal computing'. Unlike Apple, Microsoft does not stand strong regarding Tablet and mobile software's. Windows Mobile phones (old and new) are almost out of the market.
Microsoft knows that they are at the top when it comes to computer OS (laptops and PC's). So keeping that in mind, they built Windows 8 to hold on to the advantage they have in PC market and also to create a strong mark in the tablet world while at the same time re-making their core Windows according to the need of today's world.
User Interface
The brand new UI of Windows 8 is named as 'Metro'. Its interface is actually more or less similar to the tile-based Windows phone interface. You can launch apps just by touching (clicking) the respective tiles (app tiles will cover the whole screen). The basic Microsoft apps are still there but modified. The old-fashioned pull down menus are removed and replaced with glossy, big clear labels. The function menus are available just with a right click or swipe.
One thing that is really great about Windows 8 is its switching between normal mode and Metro mode. Whenever you need that 'legendary' Windows look, always remember you are just a click away from getting that. Yes it is that much simple to switch the new 'Metro' Windows 8 interface to the old Windows look and vice versa. You can also keep 'Metro' switched off forever. Metro is all about tiles format, replacing the traditional 'file, folder and icon' format of Windows (which is also available on Windows 8).
There will be multiple displays in Metro. But Windows 8 will feed it with a single display only (the main touch-enabled display). The rest of the displays will be the traditional one.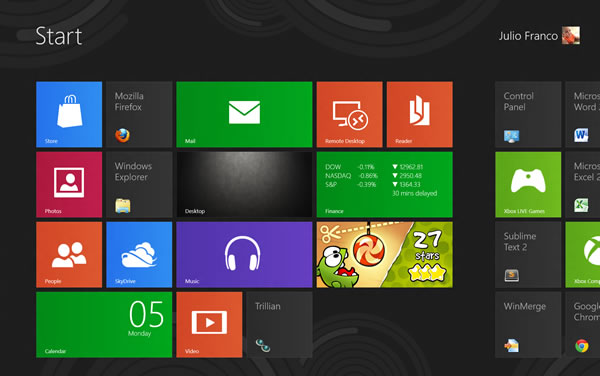 Metro Apps
Metro apps look quite different and unique in the appearance. Windows 8, as we all know is meant for Easy Sharing and these Metro apps feeds the OS that there is something to share via a 'contract'. When Windows recognize this contract, it will add the app's icon to the share menu. All the social networking sites like Facebook, Twitter, LinkedIn and many more are available in the form of apps. Contracts also works well with search as it will show the relevant search results in the search menu if the user tells the OS that the contract has a searchable content.
Windows 8 – A tablet experience
To be spot on, a user will enjoy Windows 8 functional ability to the fullest in a tab, starting with Surface for Windows RT and Surface for Windows 8 Pro. In Apple, they have one OS for iPad and one for Mac computers. Here there is no need to buy both tablet and PC to experience the UI of Windows 8, as both of them have the same UI (with the tablet having a touchscreen, you will enjoy UI of Windows 8 more). Considering this aspect, Windows 8 is a bit ahead of Apple's OS.
Though Win8 has a natural and user-friendly interface, its interface with mouse and keyboard lacks a bit of common sense.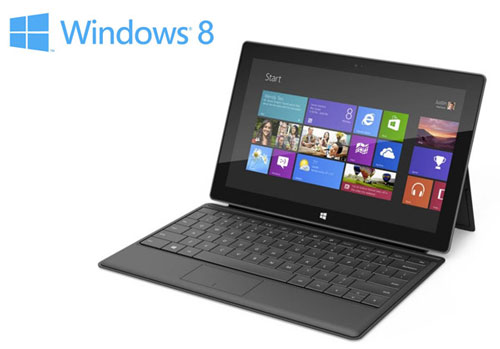 Clouding via Windows 8
Windows 8 can be synced easily with your Windows Live account and all your personal details and preferences are synced to the device via cloud. Even if you log into from a different PC, you will get all your apps, bookmarks and other preferences via clouding until you log out. You can store upto 25GB of files via 'SkyDrive'. Windows 8 is welcomed with a new feature of multiple devices login. Microsoft says that it will allow simultaneous login from five different deices so that families can share a single account in between them. You can also boot Windows directly without installing if you have a Windows 8 USB key. It sounds much more amazing than iCloud, isn't it?
Windows 8 Xbox Live
Microsoft has apps for music, videos and Xbox Live in their default Windows 8 desktop. The Xbox live Companion will let you play Xbox games on your desktop also and stream video directly to your Xbox. That is really cool.
Windows 8 Office
Microsoft said that they are working on a 'New avatar' (named as 'Office 15') of Office which is tailored both for Metro and desktop mode of Windows 8.
Windows on ARM
'Windows on ARM' (WOA) is a master plan of Microsoft when it decides to make a single Windows work on all devices. Windows 8 is the outcome as they re-coded Windows for machines that generally work on chips based on ARM architecture (mainly mobiles).
This WOA, or Windows RT, will differ a bit from the older Windows but the traditional desktop will remain the same. The best part is that the power hungry 'x86' chip architecture of Intel and AMD is left out. So with this new ARM architecture, there is possibility of extreme low power mode which lets a tablet to stay in standby for weeks.
It is heard that Microsoft is retooling Windows phone, so that most of the softwares of Windows 8 are compatible with Windows CE (mobile Windows OS).
Requirements to run Windows 8
Processor: 1 GHz or more
Hard disk space: 16 GB (for 32-bit) or 20 GB (for 64-bit)
Graphics card: Microsoft DirectX 9 or higher
RAM: 1 GB (for 32-bit) or 2 GB (for 64-bit)
Additional requirements
In order to use touch, you need a tablet or a monitor with multitouch facility.
To access Windows Store, you need screen resolution of at least 1024 x 768 and an active internet connection.
To run apps, you need a screen resolution of at least 1366 x 768.
Wrap-Up: Expectation's sky-high- So just Wait and Watch
After reading the whole story above, any Tech-savvy person will keep a high expectation from this new Windows OS- which is loaded with great features and a brand new Metro UI. If Microsoft is really able to achieve such a grand concept of 'comprehensive ecosystem' comprising of tablets, desktops, laptops and phones that run solely on Windows 8 (i.e. one single OS), I must say it will change the total face and structure of apps and will mark a start of a new-era. It will be very easy to port Windows 8 PC apps to Windows Phone and vice versa, if such happens. All in all, the prospect of Windows 8 looks strong with its versatile functionality, UI and its accessories. Hope it can live upto the buzz that it created during this pre-launch period and do not disappoint us with another form of 'lagging' Windows Vista.
Disclosure: We might earn commission from qualifying purchases. The commission help keep the rest of my content free, so thank you!