When Sony introduced its new Xperia Z2 a few months back at MWC 2014, I was so excited because I thought Sony could make an almost perfect smartphone finally. I was waiting a few months for the phone to be available in the North America market but it keeps being delayed for no reason.
I was so confused, but after I got the chance to use the Sony Xperia Z2 global LTE version (D6503), I understand one of the reasons. The phone is not ready yet. Keep reading my review of the Xperia Z2 for more details.
Unboxing Video
Design and Build Quality
I totally love design of the Xperia Z2. I am using the purple one and it looks so gorgeous. Sony still keeps its OmniBalance design philosophy on this phone by using minimalistic form. It looks quite similar to predecessors, you can still find tempered glasses on the front and back, beautifully-crafted aluminum buttons on right side, softened edges and aluminum frame running along edges.
This is an appealing design, some people even asked me when I am testing it on the streets. The product images below will tell it all.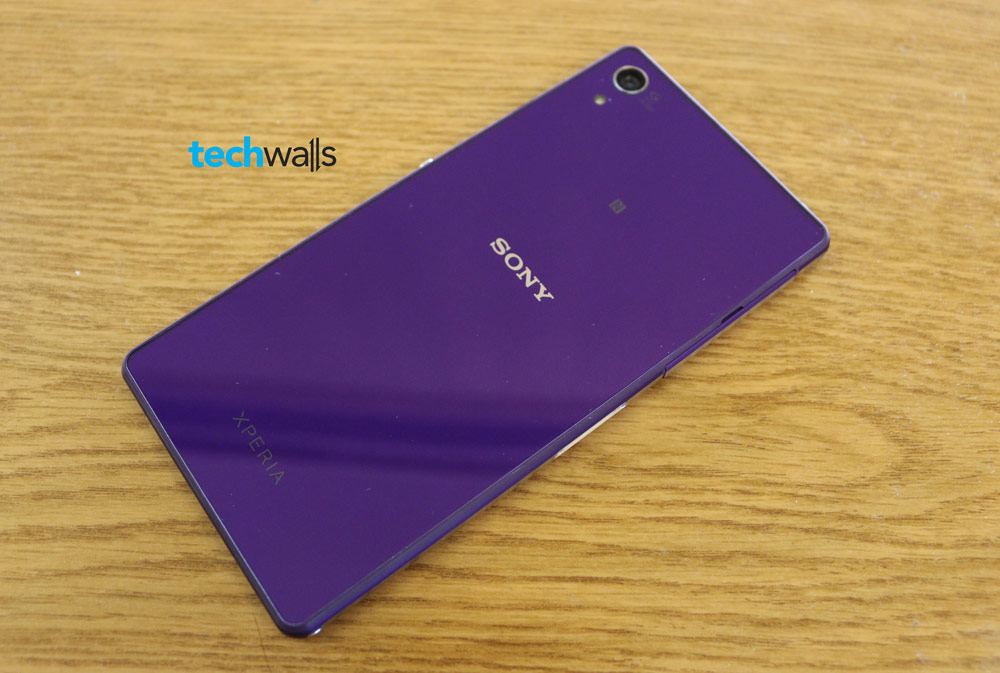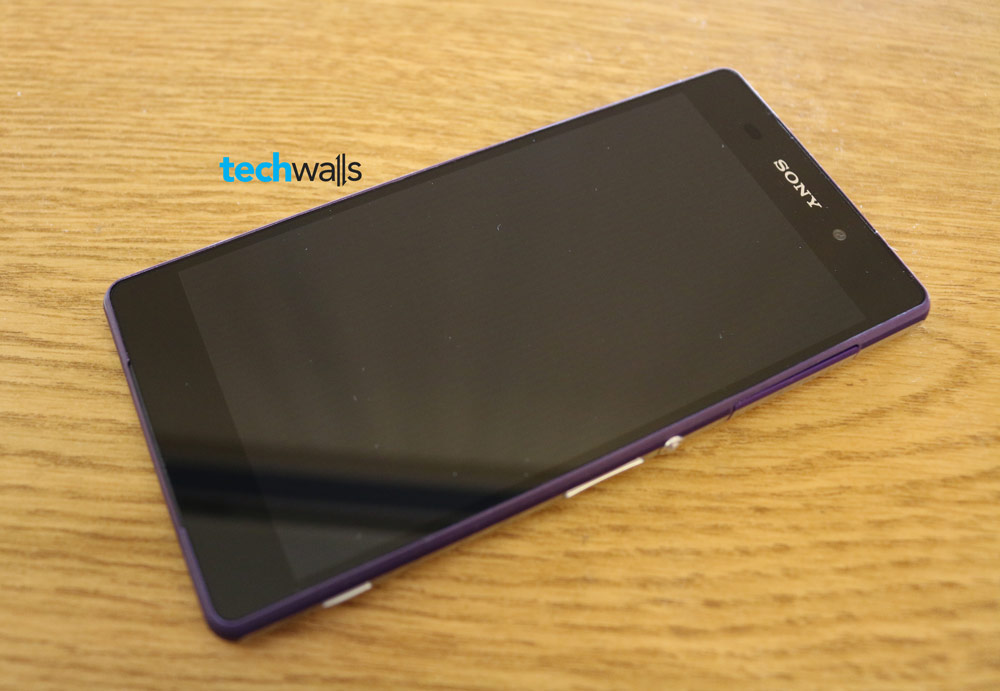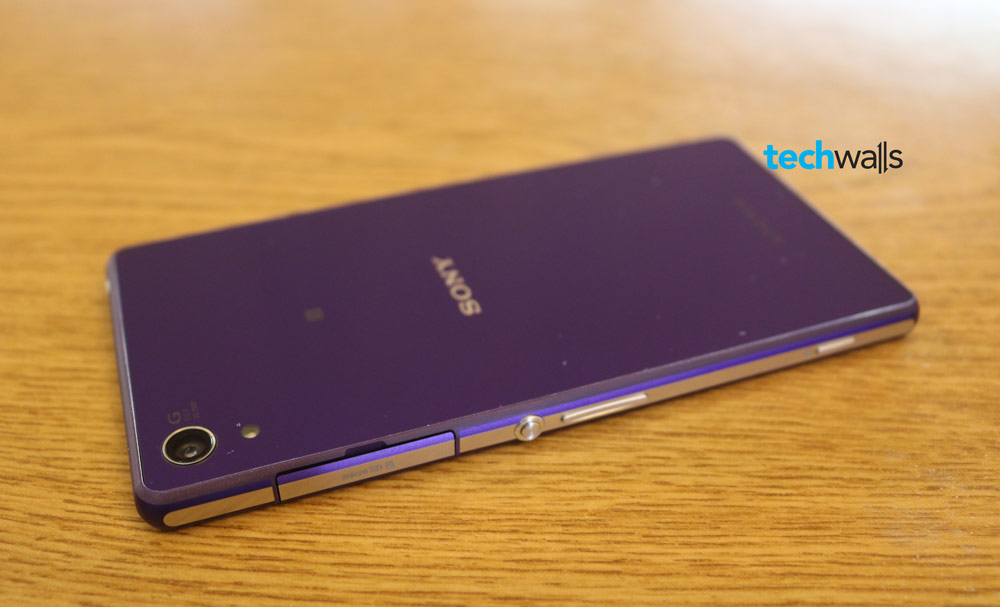 Actually this is my first phone in the Xperia Z line, and I'm very surprised with its build quality. This is a solid phone and the joins between glass and metal are seamless. There is also no more anti-shatter film on the screen. Moreover, the Z2 is a completely waterproof phone with its IP55/IP58 rating, this is even better than the Samsung Galaxy S5, so you can take photos and videos underwater (up to 1.5m depth).
The only problem with the design is that the corners are not rounded enough, so I feel a little uncomfortable when holding the phone, especially when this phone is quite big.
I was more tempted to get this phone because it comes with some interesting accessories like a noise-cancelling earphone and a charging dock. However, while the charging dock station works great, I am very disappointed with the included earphone because it is not a noise-cancelling one. I got the mediocre MH410 stereo earphone instead of the MDR-NC31EM.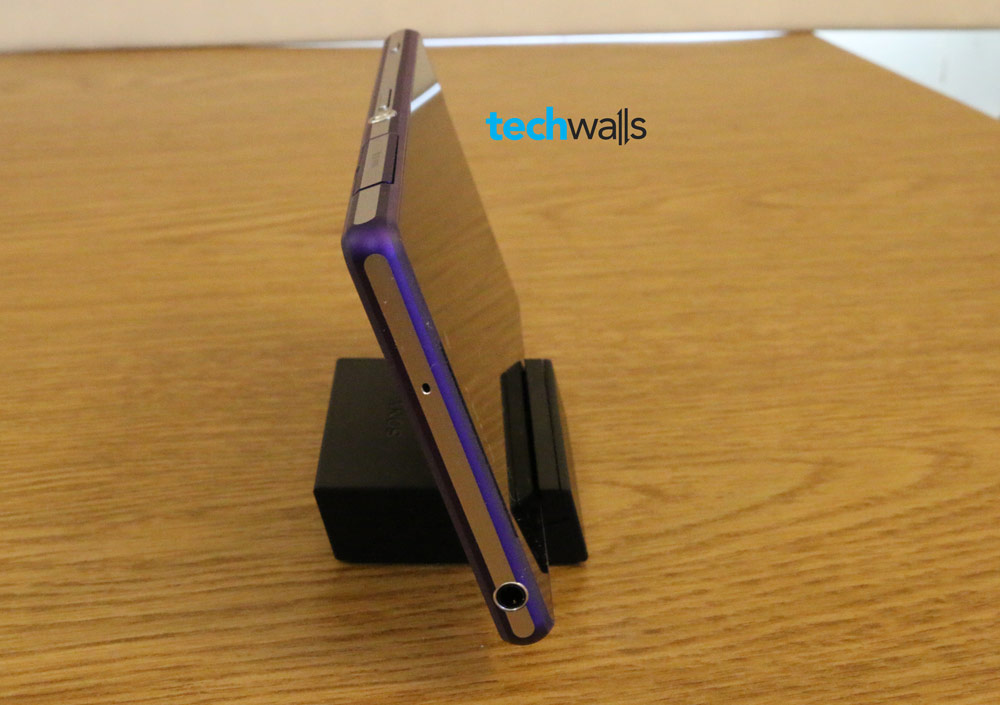 Interface and User Experience
The Z2 uses the refreshed Xperia UI on top of Android 4.4.2. It works similar to other Android phones out there, and Sony also tries to adds its own apps and services like Walkman, Sociallife News, Music and Video unlimited streaming services (for extra costs) but those services are really junk in my opinion. All I want is just a clean and pure Android, manufacturers are making it worse with their customized UIs. I only used the Xperia Lounge service once when I tried to get free storage from Box and redeem 6 free movies. That's all. Otherwise, I never thought about moving to the Sony's content ecosystem.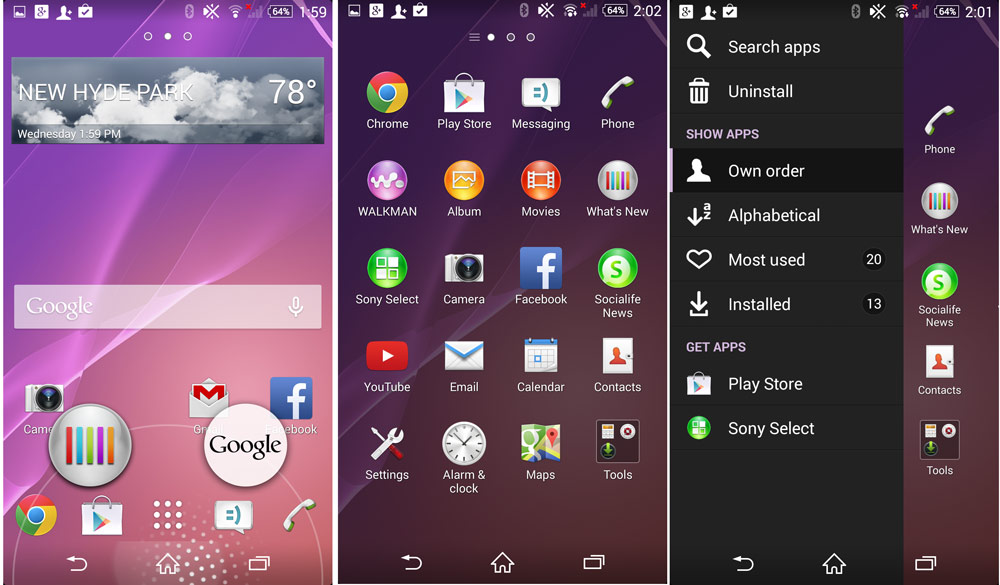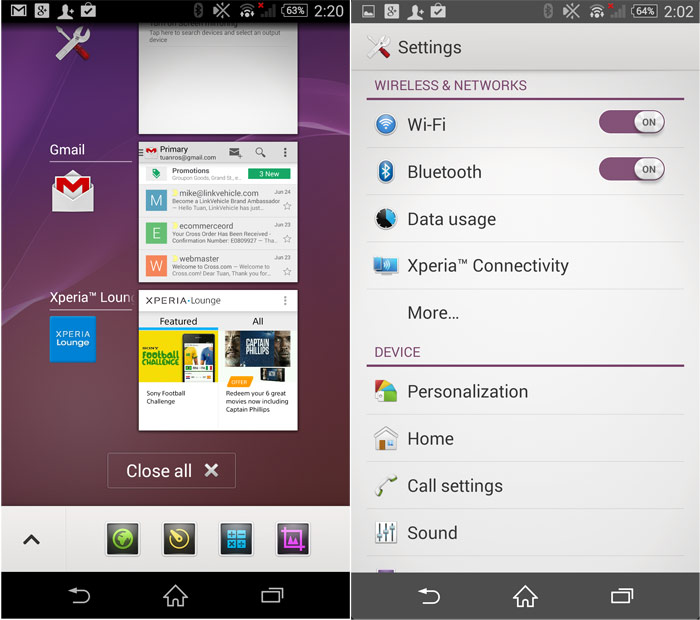 Thanks to the powerful quad-core 2.3Ghz Qualcomm Snapdragon 801 processor and 3GB RAM, the phone runs very smoothly and I hardly see any performance hiccup. I really can't imagine how phones could be more responsive and faster in the future. The performance is on par with its rivals like Samsung Galaxy S5 and HTC One M8.
Signal Reception
This is a new section I've just added when reviewing phones. I never thought about it until using the Xperia Z2. Its signal reception is horrible for both Wi-fi and cellular networks. At the time of writing this article, I have no signal on this phone and it says "emergency calls only". When I use the phone on AT&T network, I have no signal at all although the coverage is said to be moderate in my area. The problem never happened before. Even when I changed to T-Mobile, the signal is still very weak and I had some dropped calls actually.
The Wi-fi connection is not better. In fact, this is the worst reception on all smartphones I've used. The Wi-fi connection is so weak that I have only 1 bar in my house and it often takes a few more seconds to connect to server when I browse web or watch Youtube. This is totally unacceptable for a smartphone released in 2014.
Audio and Display
The Xperia Z2 boasts an IPS LCD display with 1080p resolution. The screen is very crisp and clear with Triluminous technology being used on Bravia TVs. However, I don't really like the display because it is not really vibrant and bright enough. Moreover, the viewing angle is very narrow, so I almost can't see the screen when tilting it to the side.
Sony tried to improve audio audio experience by using stereo front speakers, however, the speakers are not just at the same level as the ones on HTC One M8. It is also not better than the mono speaker on Galaxy S5. I haven't got a chance to try noise-cancelling feature because the earphone is not bundled in the box. Audiophiles might also be interested in the USB support for portable DAC.
Camera
Until before using the Xperia Z2, my favorite phone camera is the one on Samsung Galaxy S5 as it is simply the best. My thought still hasn't changed but it is not because the Z2's camera is bad. Actually, this is a brilliant camera and even better than S5's camera in some aspects. The camera app comes with some interesting features like Defocus, Slow-motion video, 4K video or AR Effects. You can check them out in the video playlist below:
I'm just a little disappointed with the autofocus feature when recording video. The camera keeps readjusting focus and you will find it very annoying. It happens more often when I film in low light environment.
One more problem is the placement of the camera module, it is placed on the top left corner, so it is so easy to be blocked by your fingers when you turn it horizontally to take photos.
I really love the dedicated camera button because it could help launch the camera app faster with a long press, and it is also easier to take picture instead of tapping on the screen.
With regard to taking photo, I've seen many complaints about the image quality. And I agree with them, the Z2's camera sucks particularly in auto mode (intelligent mode). The images in auto mode are clear and have a lot of details, however, I don't like their cool tone. More seriously, the images are easily overexposed when taking photo outdoor. Moreover, the images are limited to 8MP when you are using the intelligent mode. To take full advantage of the 20.7 camera, you need to take photos in manual mode. Then you will see the huge difference, you can set the white balance to take warmer pictures, and of course, with more details. Take a look at some image samples:
Battery Life
The battery life of Xperia Z2 is so impressive. A full charge takes 2 hours and 45 minutes. For normal usage, the phone can easily last about 1 day and a half. It can be extended longer when I turn on the STAMINA mode and low battery mode. With the STAMINA mode, the phone can make it through 3 days and with the low battery mode, you can have more 20 hours with just 9% of battery left. The STAMINA mode will restrict hardware performance and disable Wi-fi and mobile data when the screen is off. The low battery mode is only enabled when the battery if running low, you can set the activation level, as well as functions to turn off, such as Bluetooth, auto-sync, Wifi or GPS.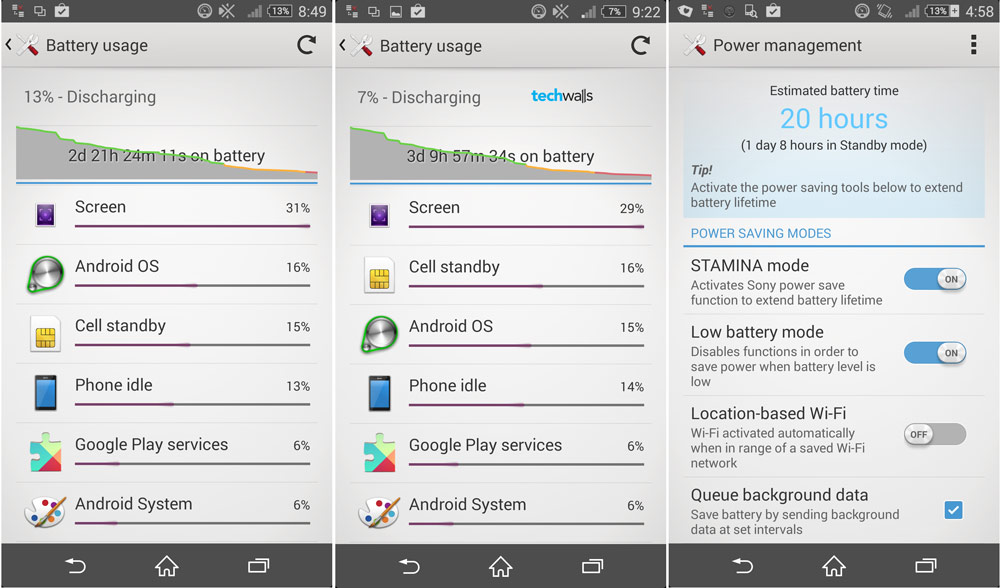 Conclusion
Pros
Sleek and minimalistic design.
Waterproof.
Earphone and docking station are included.
Brilliant camera.
Long battery life.
Cons
The display is dim.
The earphone is not a noise-cancelling model.
Camera module placement is not ideal, sometimes it is blocked by your fingers.
Poor signal reception for both cellular and Wi-fi connections.
Now, I can partly understand why the Sony Xperia Z2 is being delayed for U.S. release. This is a beautiful device, but it doesn't perform well as a phone, and some other minor issues will prevent you from buying it. The international unlocked version of  Xperia Z2 is available on Amazon for around $630. We are not recommending this phone at the moment.
TechWalls Rating
Design - 9
Build Quality - 9.5
User Experience - 7
Performance - 9.5
Display - 8
Camera - 8
Battery Life - 9.9
Reception - 5
8.2
Average
Beautiful phone with a lot of issues.
Disclosure: As an Amazon Associate, I earn from qualifying purchases. The commission help keep the rest of my content free, so thank you!