Before reading the post, I need to disclose that I've been a loyal Samsung user for years and I bought the phone for reviewing, so all of my opinions are completely honest.
Despite the fact that Samsung Galaxy S5 was not a successful product, there are still a lot of reasons to love it. Therefore, I expected that the new Galaxy S6 will bring some more improvements to make the phone even better. Let's see how it holds up after 1 month of use.
Unboxing & Initial Setup
Design & Build Quality
It's been a long time I didn't see such a beautiful phone. I used to love design of the iPhone 6 Plus and Samsung Galaxy Note 4 but now the Galaxy S6 has become my favorite.
There is no more plasticky feeling when holding a Samsung phone. Instead, I have a premium feeling in the first time touching the phone. Samsung no longer uses a plastic or faux-leather back cover like we saw in previous generations. The Galaxy S6 features a front and back glass surfaces on a metal chassis. They use Corning Gorilla Glass 4, so it is pretty tough but it doesn't mean it won't get scratches and damages. I'm using the protective cover clear to protect my phone and haven't seen any problem after a month. The case will be able to protect the protruding camera as well.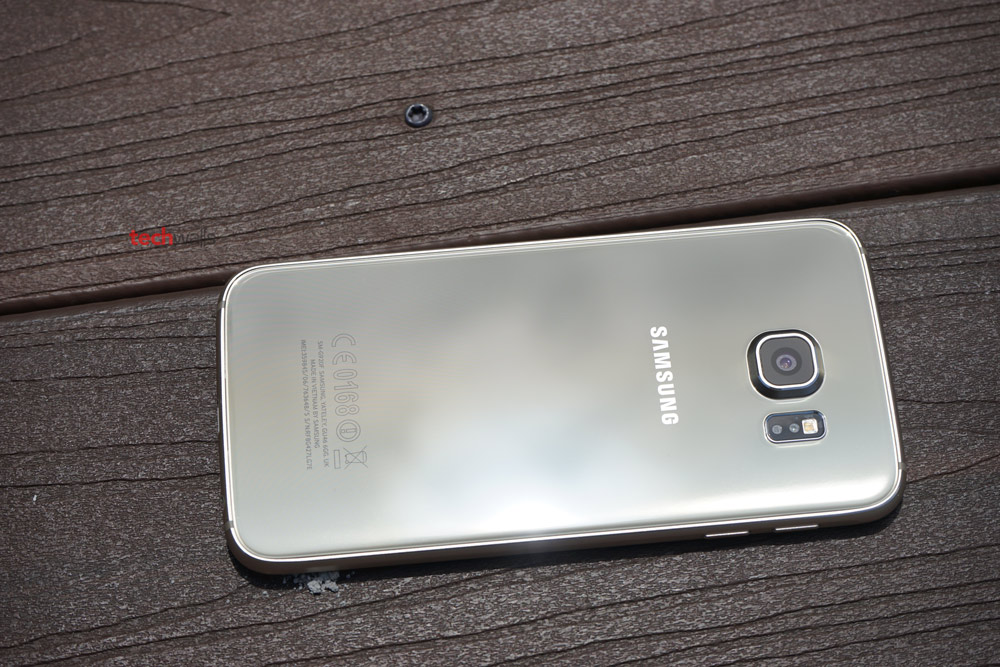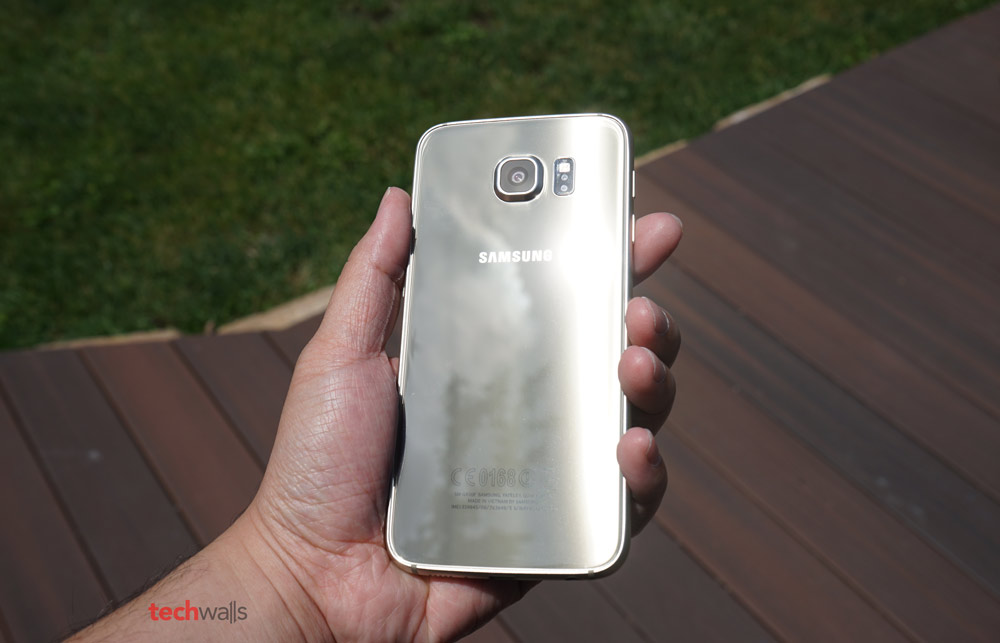 I got the Gold color and it looks quite stunning. The back glass is so gorgeous but it also can catch fingerprints easily, so you'd better clean it very often.
As I used the Galaxy Note 4 before switching to the S6, I can see that the S6 is smaller and much more manageable. It is also not as slippery as the iPhone 6.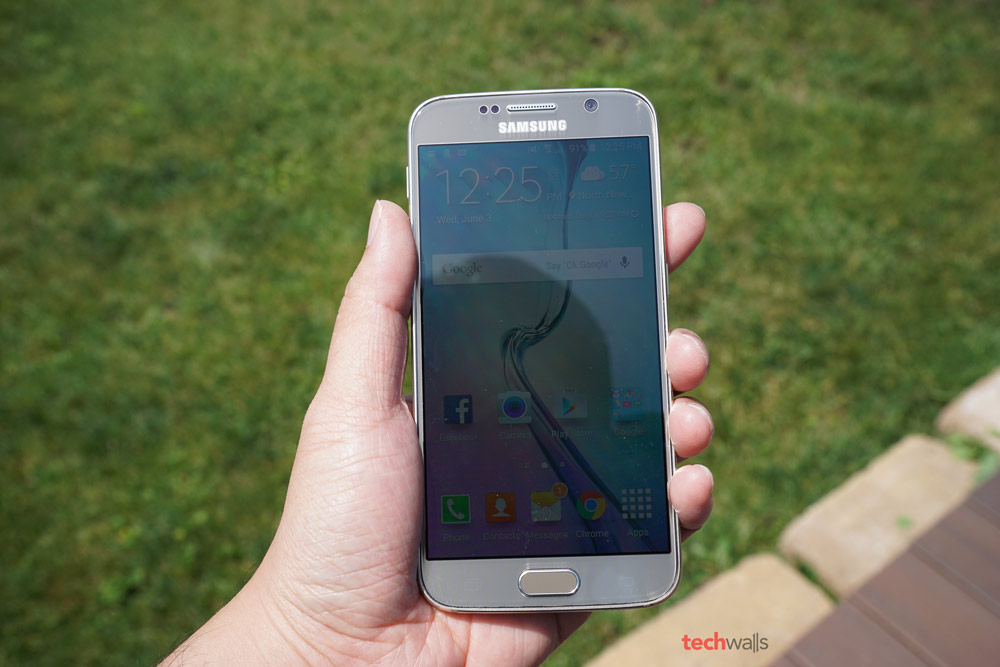 Interface & User Experience
The S6 still runs TouchWiz UI on top of Android 5.0.2. I don't know why many people hate the UI as I find it quite clean and easy to use. The new UI is even more refined with flatter icons and less clutter.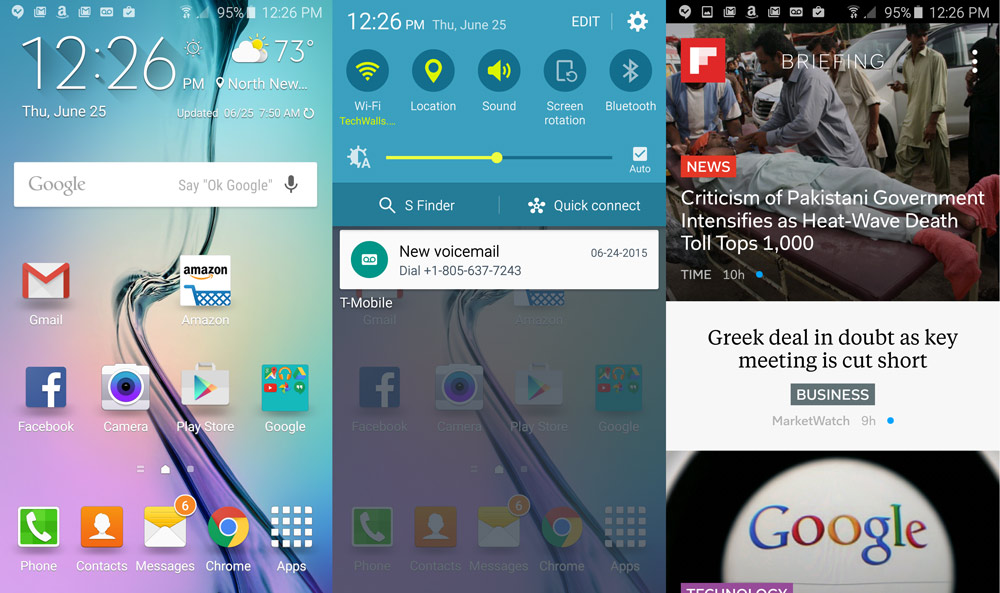 There are also some improvements that make the experience smoother. Now I can launch the camera app easily by double tapping the home button when the screen is still off, so I can capture moments much faster. I've experienced no lag on the phone, thanks to the powerful Quad-core 1.5 GHz Cortex-A53 and Quad-core 2.1 GHz Cortex-A57. All operations are implemented almost instantly.
I also love that the fingerprint scanner is significantly improved in the S6. I had to turn off the useful feature on my Galaxy S5 because it was so slow and inconvenient. I no longer have to swipe my thumb on the Home button, now I just need a single touch on the button and my phone will be unlocked.
Another important feature of the phone is double-standard wireless charging. While we haven't got a unified wireless standard yet, Samsung decided to support both PMA and QI, the 2 most popular standards at the moment.
Signal Reception
I'm using the factory unlocked SM-G920F version on T-Mobile and I'm a little disappointed because the signal reception is not as outstanding as on the predecessors although the phone covers all LTE bands of T-Mobile. This is what I expected because the plastic phone is much more friendly to signal reception. At least I haven't got any dropped phone call and the Wi-Fi and LTE signal are still better than on iPhones.
Display
It is not really necessary to test the display on Samsung phone because it is always known as the best in class. The S6 sports a beautiful 5.1″ Quad HD Super AMOLED display, it has the same resolution of 1440 x 2560 pixels as the Galaxy Note 4 but it is even sharper because the screen is smaller. Its pixel density reaches 577.
In theory, the screen should be more brilliant than the Galaxy Note 4 but I hardly can see the difference on such a small screen. I really think this is overkill and a waste of energy. If you don't use a Gear VR headset, you really don't need that amount of pixels.
Camera
Finally I have found out the best camera phone ever. It features a front-facing 5MP camera and a rear 16MP camera with Optical Image Stabilization and auto HDR. I wouldn't say much as each person has a different opinion. Just take a look at some image samples below.
The camera also supports recording 4K videos at 30fps, 720p slow-motion and fast-motion videos.
Battery Life
Most of my recent phones like iPhone 6 Plus or Galaxy Note 4 have decent batteries and they can last more than 1 day and can reach 2 days sometimes. Unfortunately, the Galaxy S6 has a smaller 2550mAh battery and it is running out of juice pretty fast. The non-removable battery can last just 1 day, basically I always have to charge my phone at the end of the day.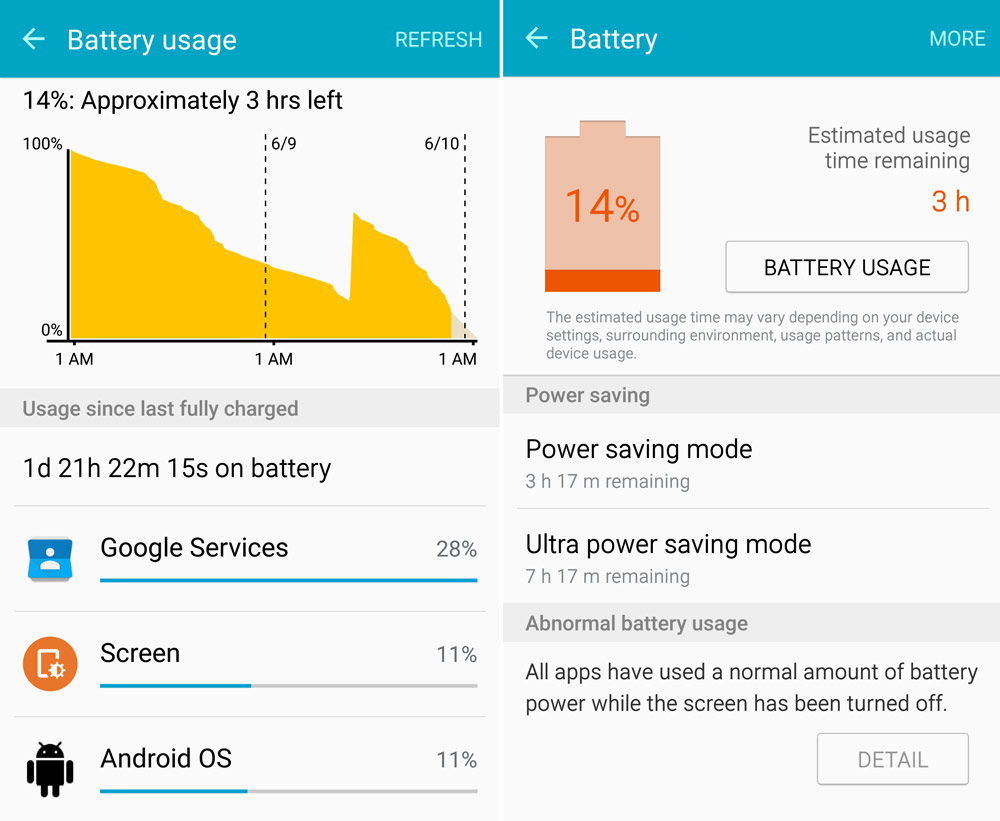 The good thing is that the S6 has the fast-charging feature, and it can charge to 50% in less than 30 minutes. A full charge takes around 1 hour and 20 minutes.
Conclusion
Pros
Awesome design and build quality
Best phone camera
Less-cluttered UI
Responsive
Cons
Mediocre signal reception
1-day battery life
The Samsung Galaxy S6 Factory Unlocked is available on Amazon for more than $500. This is a great price for such a flagship, but if you already have the Note 4 or iPhone 6 Plus, this is not really a necessary upgrade.
Disclosure: We might earn commission from qualifying purchases. The commission help keep the rest of my content free, so thank you!