Samsung introduced some new versions of the Galaxy S series in early 2019. Among those versions, the Galaxy S10 is considered the standard version as it has the right balance of features, usability, and price point.
The S10 features a large 6.1-inch display with Quad HD+ resolution but the size is still manageable thanks to the Infinity-O design with almost no bezels. Some other important features of the S10 include an ultrasonic in-display fingerprint reader, up to 512GB of internal storage, 8GB of RAM, Fast Wireless Charging 2.0, Wi-Fi 6, and Wireless PowerShare. The camera setup of the S10 is quite impressive with an ultra-wide 16MP camera with a 123-degree field of view, a wide-angle 12MP camera, and a telephoto 12MP camera. They are capable of capturing 4K video in HDR10+.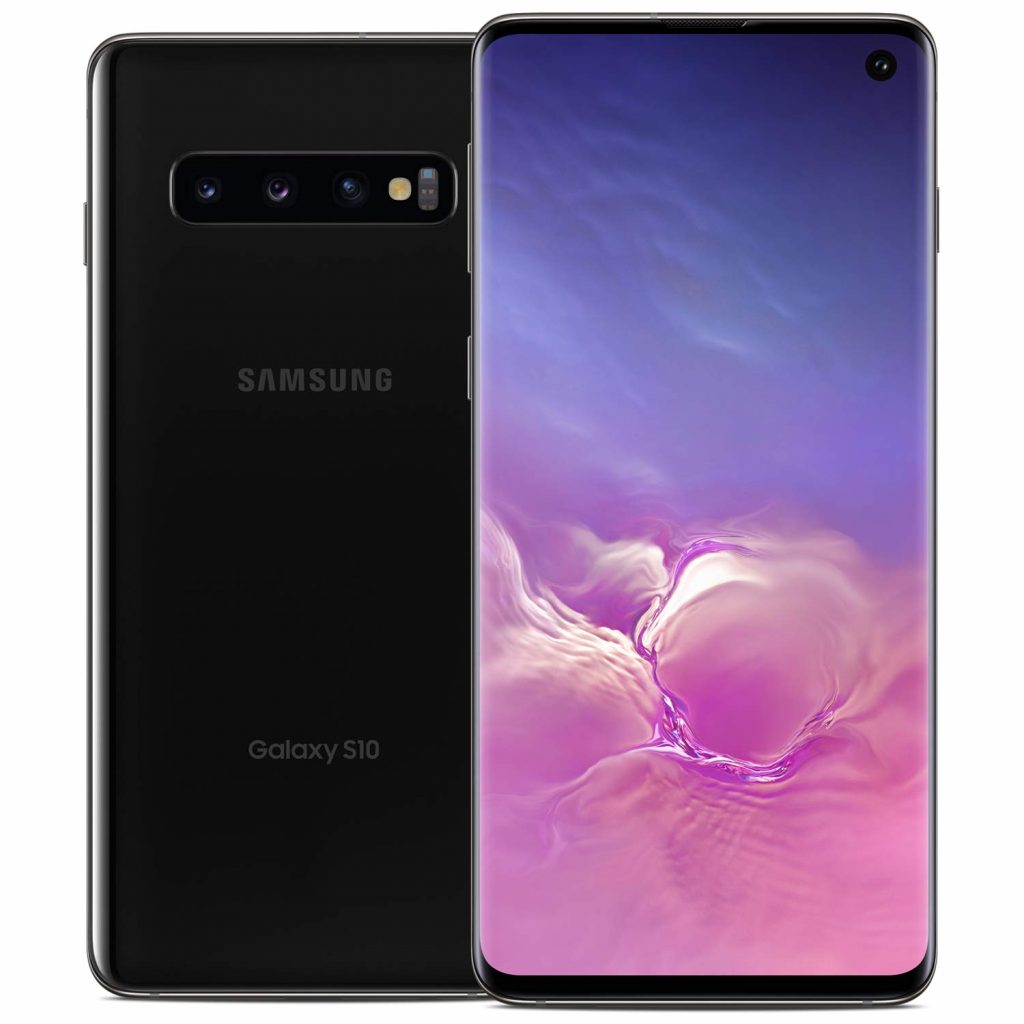 The Galaxy S10 is powered by either the Qualcomm Snapdragon 855 or Samsung Exynos 9 Series 9820, depending on your country/region. You will need to check the model number to know the processor and network connectivity. The model numbers of Galaxy S10 start with SM-G973 and the latter characters vary depending on the color, storage option, and market. They will have different processors and cellular bands, so you should check carefully before buying a new phone.
Samsung Galaxy S10 SM-G973*
Model Number
Chipset
Carrier – Country/Region
Cellular Bands

SM-G973WZKAXAC (128GB – Prism Black)

SM-G973WZWAXAC (128GB – Prism White)

SM-G973WZBAXAC (128GB – Prism Blue)

SM-G973WZKEXAC (512GB – Prism Black)

SM-G973WZWEXAC (512GB – Prism White)

SM-G973WZBEXAC (512GB – Prism Blue)

SM-G973W

Snapdragon 855

Canada




– Bell Mobility

– Rogers

2G GSM: GSM850, GSM900, DCS1800, PCS1900

2G CDMA: CDMA800

3G UMTS: B1(2100), B2(1900), B4(AWS), B5(850), B8(900)

3G CDMA: BC0(800)

3G TD-SCDMA: B34(2010), B39(1880)

4G FDD LTE: B1(2100), B2(1900), B3(1800), B4(AWS), B5(850), B7(2600), B8(900), B12(700), B13(700), B18(800), B19(800), B20(800), B25(1900), B29(700), B30(2300), B66(AWS-3)

4G TDD LTE: B38(2600), B39(1900), B40(2300), B41(2500), B46(5200)

SM-G9730

SM-G9738

Snapdragon 855
China

Hong Kong

Brazil

2G: CDMA 800, GSM 850/900/1800/1900

3G: CDMA2000, TD-SCDMA 1900/2000, UMTS 850/900/1900/2100

4G FDD LTE: B1(2100), B2(1900), B3(1800), B4(AWS), B5(850), B7(2600), B8(900), B12(700), B13(700), B18(800), B19(800), B20(800), B25(1900), B26(850), B28(700)

4G TDD LTE: B34(2010), B38(2600), B39(1900), B40(2300), B41(2500)

SM-G973F
Exynos 9820
Europe

2G GSM: GSM850, GSM900, DCS1800, PCS1900

3G UMTS: B1(2100), B2(1900), B4(AWS), B5(850), B8(900)

3G TD-SCDMA: B34(2010), B39(1880)

4G FDD LTE: B1(2100), B2(1900), B3(1800), B4(AWS), B5(850), B7(2600), B8(900), B12(700), B13(700), B17(700), B18(800), B19(800), B20(800), B25(1900), B26(800), B28(700), B32(1500), B66(AWS- 3)

4G TDD LTE: B38(2600), B39(1900), B40(2300), B41(2500)

SM-G973N

Exynos 9820

Korea

– SKT (SM-G973NZKASKO)

– LG U+ (SM-G973NZKALUO)

– KT (SM-G973NZKAKTO)

2G GSM: GSM 900/1800/1900

3G TD-SCDMA: 1900/2000

3G UMTS: B1(2100), B2(1900), B5(850)

4G FDD LTE: LTE Cat16 700/800/850/900/1700/1800/1900/2100/2600 (Bands 1, 2, 3, 4, 5, 7, 8, 12, 13, 17, 18, 19, 20, 25, 26, 28)

4G TDD LTE: B38(2600), B39(1900), B40(2300), B41(2500)

SM-G973F/DS (Dual-SIM Unlocked)
Exynos 9820
Asia (India, Singapore)


2G GSM: GSM850, GSM900, DCS1800, PCS1900

3G UMTS: B1(2100), B2(1900), B4(AWS), B5(850), B8(900)

3G TD-SCDMA: B34(2010), B39(1880)

4G FDD LTE: B1(2100), B2(1900), B3(1800), B4(AWS), B5(850), B7(2600), B8(900), B12(700), B13(700), B17(700), B18(800), B19(800), B20(800), B25(1900), B26(800), B28(700), B32(1500), B66(AWS- 3)

4G TDD LTE: B38(2600), B39(1900), B40(2300), B41(2500)

SM-G973FZKDBTU (Hybrid SIM – 128GB – Prism Black)

SM-G973FZWDBTU (Hybrid SIM – 128GB – Prism White)

SM-G973FZGDBTU (Hybrid SIM – 128GB – Prism Green)

SM-G973FZKGBTU (Hybrid SIM – 512GB – Prism Black)

SM-G973FZWGBTU (Hybrid SIM – 512GB – Prism White)

SM-G973FZGGBTU (Hybrid SIM – 512GB – Prism Green)

Exynos 9820

UK

– Carphone Warehouse

– Vodafone

– O2

– iD Mobile

– EE

– Unlocked

2G GSM: GSM850, GSM900, DCS1800, PCS1900

3G UMTS: B1(2100), B2(1900), B4(AWS), B5(850), B8(900)

3G TD-SCDMA: B34(2010), B39(1880)

4G FDD LTE: B1(2100), B2(1900), B3(1800), B4(AWS), B5(850), B7(2600), B8(900), B12(700), B13(700), B17(700), B18(800), B19(800), B20(800), B25(1900), B26(800), B28(700), B32(1500), B66(AWS- 3)

4G TDD LTE: B38(2600), B39(1900), B40(2300), B41(2500)

SM-G973UZKAATT (128GB – Prism Black)

SM-G973UZWAATT (128GB – Prism White)

SM-G973UZBAATT (128GB – Prism Blue)

SM-G973UZIAATT (128GB – Flamingo Pink)

SM-G973UZKEATT (512GB – Prism Black)

SM-G973UZWEATT (512GB – Prism White)

SM-G973UZBEATT (512GB – Prism Blue)

SM-G973UZIEATT (512GB – Flamingo Pink)

Snapdragon 855
AT&T – US

2G GSM: GSM850, GSM900, DCS1800, PCS1900

3G UMTS: 850/900/1700/1900/2100MHz

4G LTE: Bands 1, 2, 3, 4, 5, 7, 8, 12, 14, 19, 20, 28, 29, 30, 38, 39, 40, 41, 46, and 66

SM-G973UZKASPR (128GB – Prism Black)

SM-G973UZWASPR (128GB – Prism White)

SM-G973UZBASPR (128GB – Prism Blue)

Snapdragon 855
Sprint – US

2G GSM: GSM850, GSM900, DCS1800, PCS1900

2G CDMA: CDMA800, USPCS1900

3G UMTS: B1(2100), B2(1900), B4(AWS), B5(850), B8(900)

3G CDMA: BC0(800), BC1(1900), BC10(800)

4G FDD LTE: B1(2100), B2(1900), B3(1800), B4(AWS), B5(850), B7(2600), B8(900), B12(700), B13(700), B17(700), B20(800), B25(1900), B26(800), B28(700)

4G TDD LTE: B38(2600), B39(1900), B40(2300), B41(2500)

SM-G973UZKATMB (128GB – Prism Black)

SM-G973UZWATMB (128GB – Prism White)

SM-G973UZBATMB (128GB – Prism Blue)

SM-G973UZIATMB (128GB – Flamingo Pink)

SM-G973UZKETMB (512GB – Prism Black)

SM-G973UZWETMB (512GB – Prism White)

SM-G973UZBETMB (512GB – Prism Blue)



Snapdragon 855
T-Mobile – US

2G GSM: GSM850, GSM900, DCS1800, PCS1900

3G UMTS: B1(2100), B2(1900), B4(1700/2100 AWS1), B5(850)

3G TD-SCDMA: B34(2010), B39(1880)

4G FDD LTE: B2(1900), B4(AWS), B5(850), B12(700), B66(AWS-3), B71(600MHz)

4G TDD LTE: B46(5200)

SM-G973UZKAUSC (128GB – Prism Black)

SM-G973UZWAUSC (128GB – Prism White)

SM-G973UZBAUSC (128GB – Prism Blue)

SM-G973UZIAUSC (128GB – Flamingo Pink)

SM-G973UZKEUSC (512GB – Prism Black)

SM-G973UZWEUSC (512GB – Prism White)

SM-G973UZBEUSC (512GB – Prism Blue)

SM-G973UZIEUSC (512GB – Flamingo Pink)

Snapdragon 855
US Cellular – US

2G GSM: GSM850, GSM900, DCS1800, PCS1900

2G CDMA: CDMA800, USPCS1900

3G UMTS: B1(2100), B2(1900), B5(850), B8(900)

3G CDMA: BC0(800), BC1(1900)

3G TD-SCDMA: B34(2010), B39(1880)

4G FDD LTE: B2(1900), B4(AWS), B5(850), B8(900), B12(700), B13(700), B18(800) , B19(800), B25(1900), B66(AWS-3), B71(600MHz)

4G TDD LTE: B38(2600), B39(1900), B40(2300), B46(5200)

SM-G973UZKAVZW (128GB – Prism Black)

SM-G973UZWAVZW (128GB – Prism White)

SM-G973UZBAVZW (128GB – Prism Blue)

SM-G973UZIAVZW (128GB – Flamingo Pink)

SM-G973UZKEVZW (512GB – Prism Black)

SM-G973UZWEVZW (512GB – Prism White)

SM-G973UZBEVZW (512GB – Prism Blue)

SM-G973UZIEVZW (512GB – Flamingo Pink)

Snapdragon 855
Verizon – US

2G GSM: GSM850, GSM900, DCS1800, PCS1900

2G CDMA 1x: B13/B4/B2/B5/B66

3G UMTS: B1(2100), B2(1900), B5(850), B8(900)

3G CDMA: BC0(800), BC1(1900)

TD-SCDMA: Bands 34, 39

4G FDD LTE: B3(1800), B7(2600), B8(900), B18(800), B19(800), B20(800), B26(800), B28(700)

4G TDD LTE: B38(2600), B39(1900), B40(2300), B41(2500)

SM-G973UZKAXAA (128GB – Prism Black)

SM-G973UZWAXAA (128GB – Prism White)

SM-G973UZBAXAA (128GB – Prism Blue)

SM-G973UZIAXAA (128GB – Flamingo Pink)

SM-G973UZKEXAA (512GB – Prism Black)

SM-G973UZWEXAA (512GB – Prism White)

SM-G973UZBEXAA (512GB – Prism Blue)

SM-G973UZIEXAA (512GB – Flamingo Pink)

SM-G973U1

SM-G973U

SM-G973XU (demo unit)

Snapdragon 855
Factory Unlocked – US

2G GSM: GSM850, GSM900, DCS1800, PCS1900

2G CDMA: CDMA800, USPCS1900

3G CDMA: CDMA2000, EV-DO: 800, 1900 MHz

GSM 3G/3.5G: UMTS, HSPA+: 850, 900, 1700, 1900, 2100 MHz

4G LTE: 1, 2, 3, 4, 5, 7, 8, 12, 13, 14, 17, 18, 19, 20, 25, 26, 28, 29, 30, 38, 39, 40, 41, 46, 66, 71 Bands