2019 is an exciting year for Sam fans as they have 4 different versions of Samsung Galaxy S10. We have the Galaxy S10e, S10, S10 Plus, and S10 5G with the model number SM-G970*, SM-G973*, SM-G975*, and SM-G977* respectively.
Each of the versions has some different model numbers with the same prefixes and you can check out all of those models my following posts: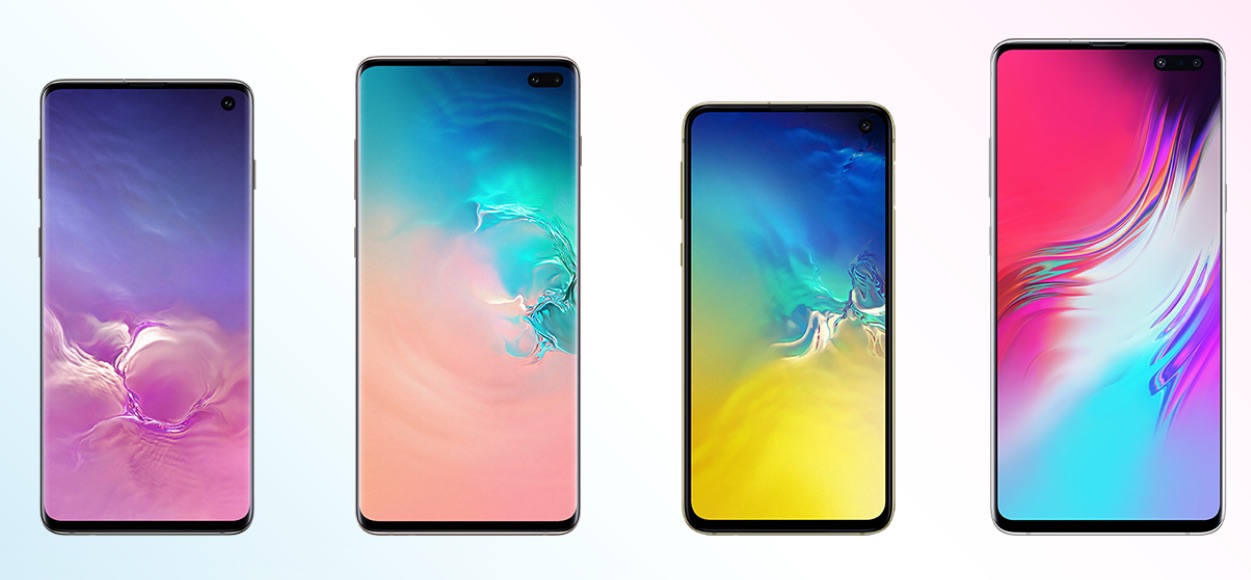 They vary depending on colors, storage/RAM options, markets, and network carriers. Some models are powered by the Qualcomm Snapdragon 855 while some have the Samsung Exynos 9 Series 9820 processor. The two chips have different specs but similar performance on these S10 phones. In this post, we are checking out the differences between the new Samsung Galaxy S10 models.
Samsung Galaxy S10e SM-G970
Samsung Galaxy S10 SM-G973
Samsung Galaxy S10 Plus SM-G975
Samsung Galaxy S10 5G SM-G977
Display
5.8-inch, Full HD+ Flat Dynamic AMOLED
6.1-inch Quad HD+ Curved Dynamic AMOLED
6.4-inch Quad HD+ Curved Dynamic AMOLED
6.7-inch Quad HD+ Curved Dynamic AMOLED
Pixel density
438ppi
550ppi
522ppi
505ppi
Dimensions
5.59 x 2.75 x 0.27 in.
5.9 x 2.77 x 0.31 in.
6.20 x 2.92 x 0.31 in.
6.40 x 3.04 x 0.31 in.
Weight
5.29 oz.; 150g
5.53 oz.; 157g
6.17 oz.; 175g
6.98 oz.; 198g
OS
Android 9.0 with Samsung One UI
Android 9.0 with Samsung One UI
Android 9.0 with Samsung One UI
Android 9.0 with Samsung One UI
Processor
Octa-core Qualcomm Snapdragon 855 or Samsung Exynos 9 Series 9820
Octa-core Qualcomm Snapdragon 855 or Samsung Exynos 9 Series 9820
Octa-core Qualcomm Snapdragon 855 or Samsung Exynos 9 Series 9820
Octa-core Qualcomm Snapdragon 855 or Samsung Exynos 9 Series 9820
Storage
128GB, 256GB
128GB, 512GB
128GB, 512GB, 1TB
256GB
Expandable storage
Up to 512GB
Up to 512GB
Up to 512GB
No
RAM
6GB, 8GB
8GB
8GB, 12GB
8GB
Front-facing camera
– Selfie: 10MP Super Speed Dual Pixel AF, F1.9 (80°)
– Selfie: 10MP Super Speed Dual Pixel AF, F1.9 (80°)
Dual Camera
– Selfie: 10MP Dual Pixel AF, F1.9 (80°)
– RGB Depth: 8MP FF, F2.2 (90°)
Dual Camera
– Selfie: 10MP Dual Pixel AF, F1.9 (80°)
– 3D Depth: hQVGA
Main Camera
Dual Camera with OIS: 16-megapixel, 12-megapixel
Triple Camera with Dual OIS: 16-megapixel (ultra wide-angle), 12-megapixel (wide-angle), 12-megapixel (telephoto)
Triple Camera with Dual OIS: 16-megapixel (ultra wide-angle), 12-megapixel (wide-angle), 12-megapixel (telephoto)
Quadruple Camera with Dual OIS: 16-megapixel (ultra wide-angle), 12-megapixel (wide-angle), 12-megapixel (telephoto), 3D depth (HQVGA)
Battery
3,100 mAh
3,400 mAh
4,100 mAh
4,500 mAh
Fingerprint sensor
Power button
Ultrasonic in-screen scanner
Ultrasonic in-screen scanner
Ultrasonic in-screen scanner
Connector
USB-C
USB-C
USB-C
USB-C
Special features
Wireless PowerShare; water resistant (IP68); Fast Wireless Charging 2.0
Wireless PowerShare; water resistant (IP68); Fast Wireless Charging 2.0
Wireless PowerShare; water resistant (IP68); Fast Wireless Charging 2.0
Wireless PowerShare; 3D depth cameras (not for face unlock); water resistant (IP68); Fast Wireless Charging 2.0, Super Fast Charging on wired
Base price off-contract
$749
$899
$999
$1,399