The Note series of Samsung has been dominating the phablet market for years since the first Galaxy Note was released in 2011. The bad news came when Apple also released the iPhone 6 Plus phablet this year and obviously no other phone can beat iPhones at the moment in terms of unit sales.
However, does it mean that iPhone 6 Plus is better than the new Samsung Galaxy Note 4? Let's check out my review of the Samsung Galaxy Note 4 SM-N910V to get the answer.
Unboxing and Initial Setup
Design and Build Quality
You probably heard enough compliments of the new design on Galaxy Note 4. I am really impressed with recent changes of Samsung phones. Similar to Galaxy Alpha, the Note 4 also uses aluminum straight bands with chamfered edges running along all sides. Therefore, when you look at the smartphone, it can somehow remind you of the previous generations of iPhones. However, this is still not a unibody design and you can remove the rubbery plastic back cover to insert battery, SIM card and microSD card. Many users will be disappointed as this phone is not waterproof like the Samsung Galaxy S5.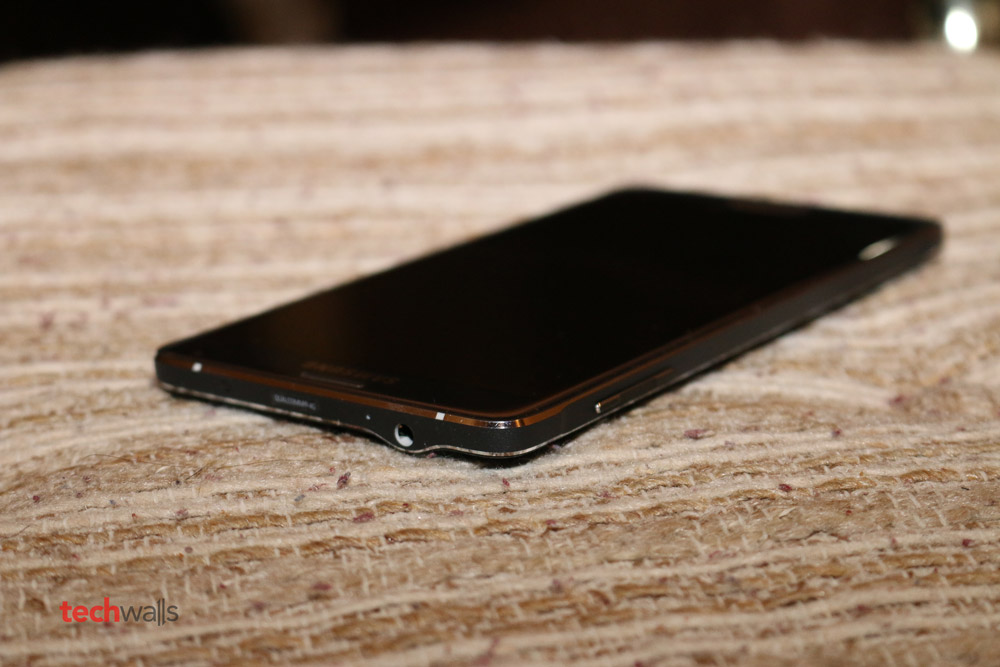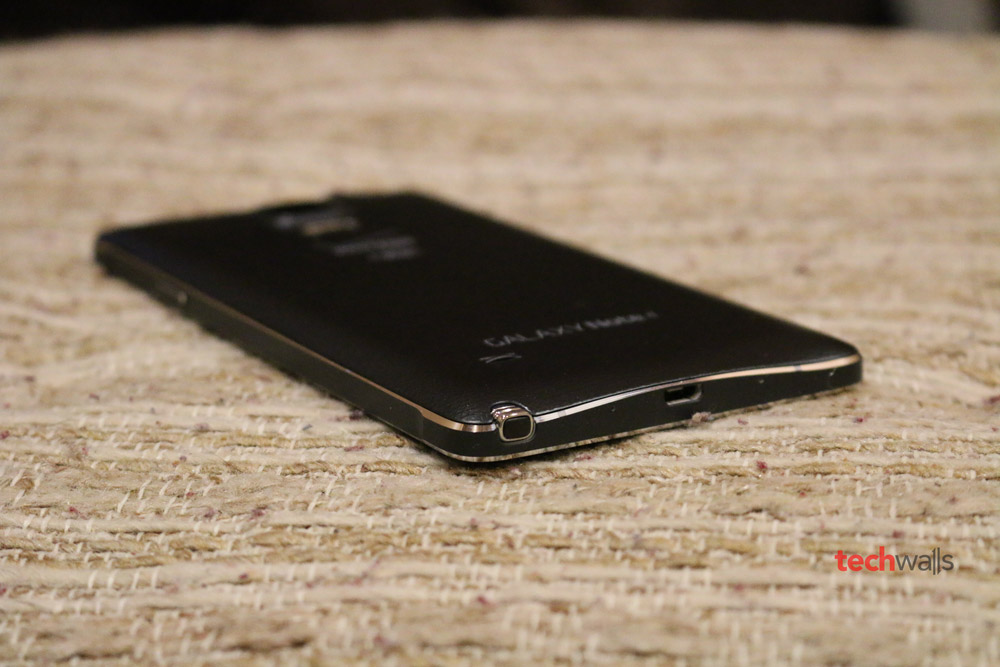 As compared to the iPhone 6 Plus, the Note 4 has a bigger screen, it is also shorter but wider and thicker. The good thing is that it is just 4g heavier than the Apple's phablet. Besides, I prefer the Note 4 because it has great build quality and I feel much more confident holding the phone. The edgy sides and textured back cover make the phone so easy to grasp and it is absolutely not as slippery as the curved iPhone.
Interface and User Experience
While most other phablets are simply just big smartphones, the Note 4 has shown users how to get the most out of the big screen. The biggest differences are the S-Pen and multitasking feature.
Samsung is still using TouchWiz UI on top of Android 4.4 Kitkat. While the skin still has a lot of problems, we can't deny that Samsung has done a great job in multitasking on the phone. It's never been easier to launch Multi Window features for multitasking. To split screens and use 2 apps simultaneously, you can long press the back button and drag apps to the screen, or tap the Multi Window icon in Recent Apps screen. You can also create a popup window by dragging from the top left of your app, the app will be scaled smaller and you can resize it easily. Moreover, you can minimize it into a floating icon and launch it whenever you need.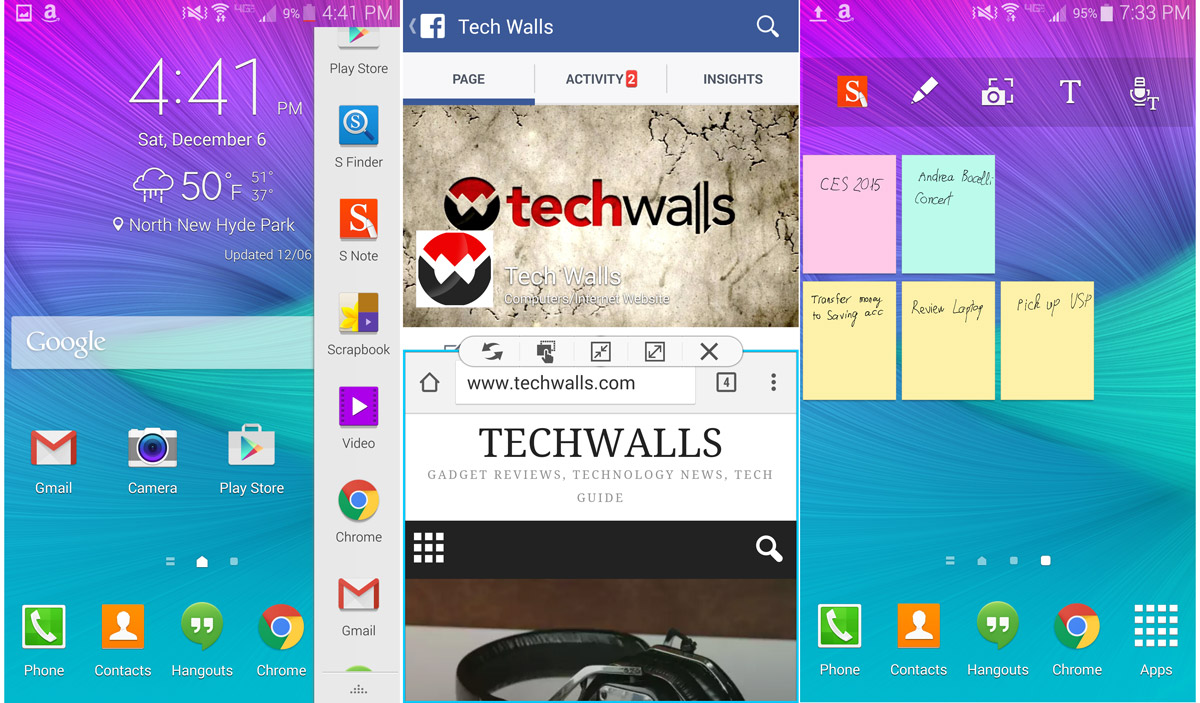 Another interesting feature is the ability to drag content between different apps. Unfortunately, there are just a few apps being supported at the moment. Now I even can't drag photos from Gallery to Gmail or Facebook.
Regarding the S-Pen, I don't find myself using it too often. A lot of its features are gimmicks and doesn't help improve our working flow. However, I find the S-Pen extremely helpful when I need to sign document and jot down notes. I can easily create a new note with a click on the S-Pen and then I can pin it on my home screen. The new S-Pen now has 2000 levels of sensitivity and much more responsive but some small delays still happen. It is definitely not as responsive as the Surface Pen on Microsoft Surface Pro 3.
The Note 4 is powered with powerful hardwares including a 2.7 GHz quad-core Snapdragon 805 processor with Adreno 420 GPU and 3GB of RAM. Therefore, the performance of the smartphone is top notch and I hardly experience any lag in games as well as normal uses. Unfortunately, I still see some lags occasionally when launching or exiting apps.
Signal Reception
Although my version is the SM-N910V for Verizon, it is unlocked out of the box and I can use it on GSM networks like AT&T or T-Mobile. Besides, the phone has LTE Bands 13/4 (700/1700 MHz), so it still works on LTE Band 4 of T-Mobile.
In the last month, I've got good cellular and Wi-Fi signals all the time and the call quality is quite good as well. There are no reception issues like I had with my iPhones.
Display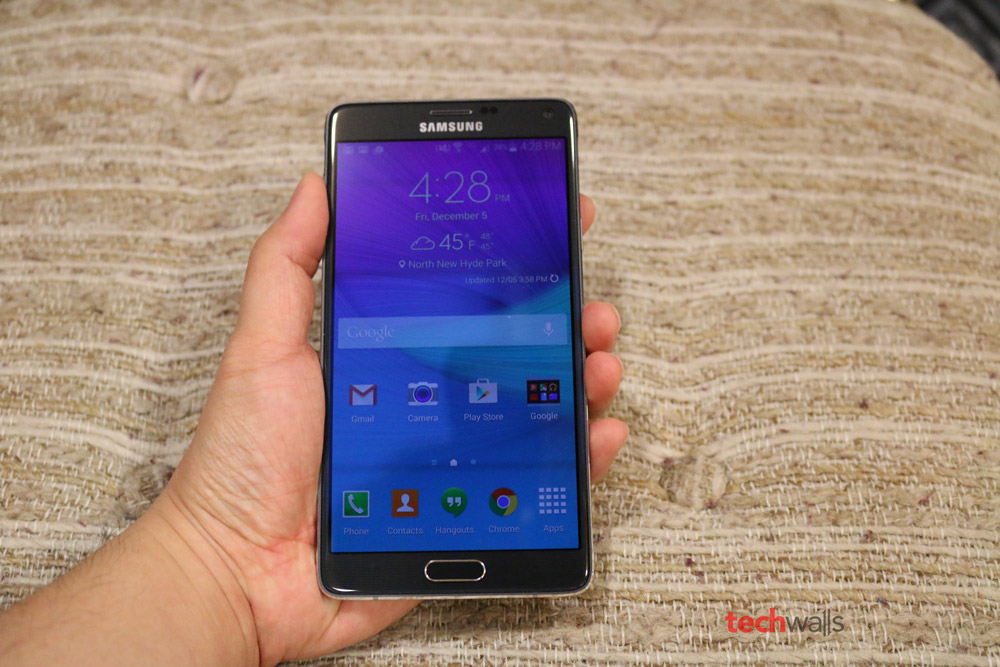 When it comes to display, Samsung simply has no competition. As usual, the 5.7″ Quad-HD Super AMOLED screen looks just awesome. It has the resolution of 2560×1440 pixels and extremely high pixel density of 518 ppi. It is so beautiful that I use it instead of my tablet to stream movies daily. All the details look fine and smooth, the contrast is amazing but the colors are a little richer than in real life. Overall, the screen is so vibrant and you might get bored with other screens very soon.
Camera
The Galaxy Note 4 features a 16MP rear camera with optical image stabilization (OIS) and its performance is impressive. The pictures look colorful, crisp and clear with great details. The OIS feature really helps capture better images in low-light conditions as well as record less-shaky videos. You can check out some image samples, 1080p and 4K videos captured by the camera below.
Battery Life
Everything about the Note 4's battery is incredible. It can easily endure for nearly 2 days for my normal uses. For more intensive uses including taking pictures, videos and streaming movies, it still can last till the end of the day. In case you want a longer battery life, you can enable the power-saving modes. The extreme power-saving mode will turn off most connections and services, it will also turn your green to grayscale and the battery life could last nearly a day with just 20% of juice left.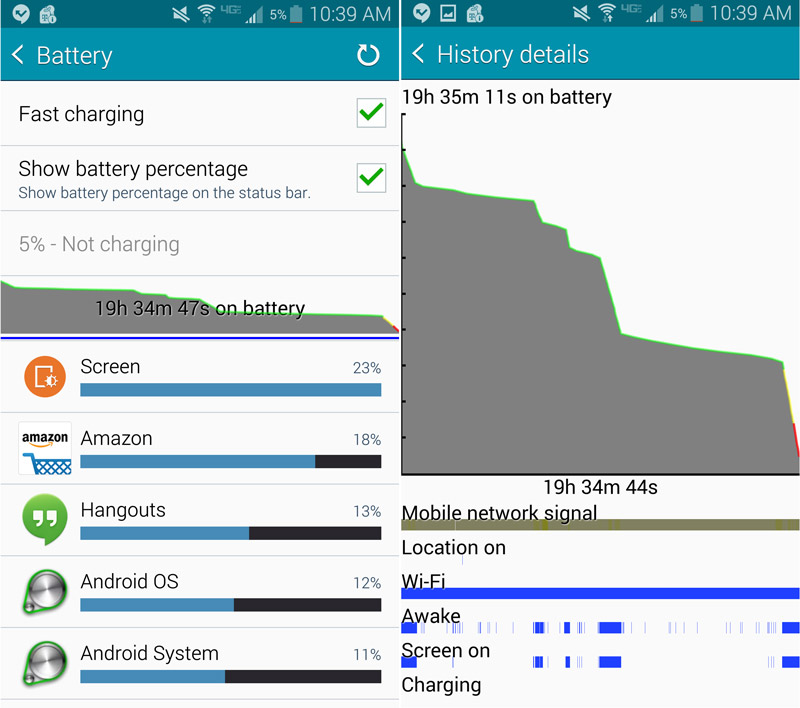 Besides, I have to mention its incredible adaptive fast charging. When you use the included charger and enable the feature, you can save a lot of time charging your device. I started charging when the phone had just 10% of power left and after half an hour, it was already half full at 56%. After 45 minutes, it reached 77% and fully charged after 1 hour 20 minutes. This is the best battery performance so far.
Conclusion
Pros
Premium design and build quality
Excellent display
One of the best phone cameras
Snappy performance
Great battery life
Cons
Still a lot of gimmicks.
Hefty price.
The Samsung Galaxy Note 4 is available for $299 with contract and over $700 for factory unlocked version. It has the same price tag as the iPhone 6 Plus but I recommend the Note 4 as it really can take advantage of the huge screen and it is better in almost every aspect.
Disclosure: We might earn commission from qualifying purchases. The commission help keep the rest of my content free, so thank you!