Samsung announced some new versions of the Galaxy Note 10 series in August 2019 and the Note 10 is the most affordable one starting at $949.
Galaxy Note10 Features
Despite being the cheaper version, the Note 10 is still a powerhouse with a 6.3-inch Dynamic AMOLED+ display with full HD+ resolution and HDR10+ certification, 8GB of RAM, 256GB of UFS 3.0 storage, and a 3,500mAh battery. It is packed with new features like the infinity-O display, an on-screen ultrasonic fingerprint scanner, a triple rear camera setup, new S Pen tricks, 25W fast charging, and more seamless desktop experience.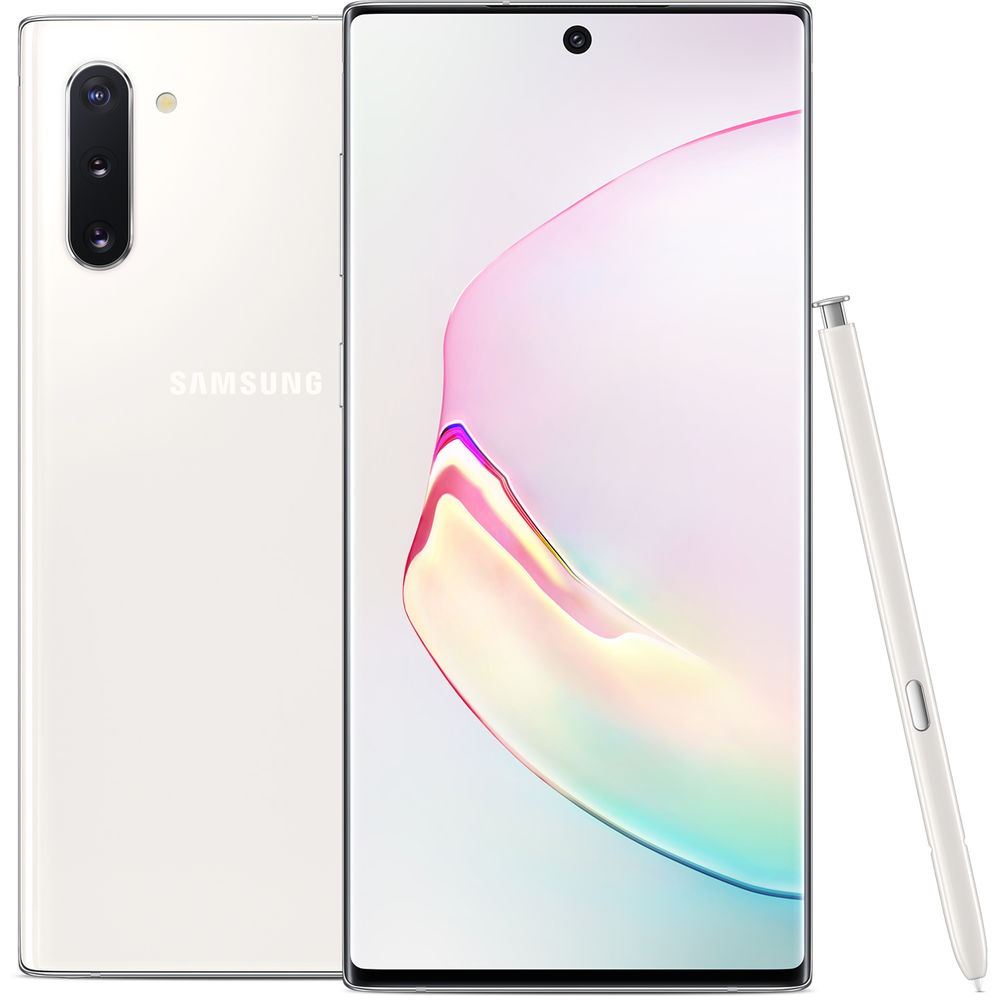 The Note 10 is powered by either the Snapdragon 855 or Exynos 9825 SoC, depending on the market. As compared to the processor on Galaxy S10, the Note 10 has the same processor for users in North America; However, users in many other countries will receive upgrade from the Exynos 9820 to Exynos 9825. The new Samsung's Exynos processor doesn't offer much in terms of performance but the 7nm EUV (Extreme Ultraviolet Lithography) process will bring improved power efficiency.
Samsung Galaxy Note10 Model Numbers
As seen in other Samsung phones, the Galaxy Note 10 comes in many model numbers for different countries/regions. All of them start with SM-N970, so you can find some model numbers like SM-N970F, SM-N970F/DS, SM-N970U, SM-N970U1, SM-N970W, SM-N9700/DS, or SM-N970N. Apart from the difference in processors, they also differ in cellular bands. Therefore, you should check carefully, especially when you don't buy the phone from an official store.
Model Number
Chipset
Carrier – Country/Region
Cellular Bands

SM-N970W

SM-N970WZSAXAC (Aura Glow)

SM-N970WZKAXAC (Aura Black)

Snapdragon 855

Canada

– Bell Mobility

– Rogers

2G GSM: GSM850, GSM900, DCS1800, PCS1900

2G CDMA: CDMA800

3G UMTS: B1(2100), B2(1900), B4(AWS), B5(850), B8(900)

3G CDMA: BC0(800)

3G TD-SCDMA: B34(2010), B39(1880)

4G FDD LTE: B1(2100), B2(1900), B3(1800), B4(AWS), B5(850), B7(2600), B8(900), B12(700), B13(700), B18(800), B19(800), B20(800), B25(1900), B29(700), B30(2300), B66(AWS-3)

4G TDD LTE: B38(2600), B39(1900), B40(2300), B41(2500), B46(5200)

SM-N9700/DS (Dual SIM)




SM-N9708

Snapdragon 855
China

Hong Kong

Brazil

2G: CDMA 800, GSM 850/900/1800/1900

3G: CDMA2000, TD-SCDMA 1900/2000, UMTS 850/900/1900/2100

4G FDD LTE: B1(2100), B2(1900), B3(1800), B4(AWS), B5(850), B7(2600), B8(900), B12(700), B13(700), B18(800), B19(800), B20(800), B25(1900), B26(850), B28(700)

4G TDD LTE: B34(2010), B38(2600), B39(1900), B40(2300), B41(2500)

SM-N970F
Exynos 9825
Europe

2G GSM: GSM850, GSM900, DCS1800, PCS1900

3G UMTS: B1(2100), B2(1900), B4(AWS), B5(850), B8(900)

3G TD-SCDMA: B34(2010), B39(1880)

4G FDD LTE: B1(2100), B2(1900), B3(1800), B4(AWS), B5(850), B7(2600), B8(900), B12(700), B13(700), B17(700), B18(800), B19(800), B20(800), B25(1900), B26(800), B28(700), B32(1500), B66(AWS- 3)

4G TDD LTE: B38(2600), B39(1900), B40(2300), B41(2500)

SM-N970N

Exynos 9825

Korea

– SKT

– LG U+

– KT

2G GSM: GSM 900/1800/1900

3G TD-SCDMA: 1900/2000

3G UMTS: B1(2100), B2(1900), B5(850)

4G FDD LTE: LTE Cat16 700/800/850/900/1700/1800/1900/2100/2600 (Bands 1, 2, 3, 4, 5, 7, 8, 12, 13, 17, 18, 19, 20, 25, 26, 28)

4G TDD LTE: B38(2600), B39(1900), B40(2300), B41(2500)

SM-N970F/DS (Dual-SIM)
Exynos 9825
Asia (India, Singapore)

2G GSM: GSM850, GSM900, DCS1800, PCS1900

3G UMTS: B1(2100), B2(1900), B4(AWS), B5(850), B8(900)

3G TD-SCDMA: B34(2010), B39(1880)

4G FDD LTE: B1(2100), B2(1900), B3(1800), B4(AWS), B5(850), B7(2600), B8(900), B12(700), B13(700), B17(700), B18(800), B19(800), B20(800), B25(1900), B26(800), B28(700), B32(1500), B66(AWS- 3)

4G TDD LTE: B38(2600), B39(1900), B40(2300), B41(2500)

SM-N970FZSDBTU (Aura Glow)

SM-N970FZKDBTU (Aura Black)
Exynos 9825

UK

– Carphone Warehouse

– Vodafone

– O2

– iD Mobile

– EE

– Unlocked

2G GSM: GSM850, GSM900, DCS1800, PCS1900

3G UMTS: B1(2100), B2(1900), B4(AWS), B5(850), B8(900)

3G TD-SCDMA: B34(2010), B39(1880)

4G FDD LTE: B1(2100), B2(1900), B3(1800), B4(AWS), B5(850), B7(2600), B8(900), B12(700), B13(700), B17(700), B18(800), B19(800), B20(800), B25(1900), B26(800), B28(700), B32(1500), B66(AWS- 3)

4G TDD LTE: B38(2600), B39(1900), B40(2300), B41(2500)

SM-N970UZSAATT (Aura Glow)

SM-N970UZKAATT (Aura Black)

SM-N970UZWAATT (Aura White)
Snapdragon 855
AT&T – United States

2G GSM: GSM850, GSM900, DCS1800, PCS1900

3G UMTS: B1(2100), B2(1900), B4(AWS), B5(850), B8(900)

3G TD-SCDMA: B34(2010), B39(1880)

4G FDD LTE: B1(2100), B2(1900), B3(1800), B4(AWS), B5(850), B7(2600), B8(900), B12(700), B14(700), B18(800), B19(800), B20(800), B28(700), B29(700), B30(2300), B66(AWS-3)

4G TDD LTE: B38(2600), B39(1900), B40(2300), B41(2500), B46(5200)

SM-N970UZSASPR (Aura Glow)

SM-N970UZKASPR (Aura Black)

SM-N970UZWASPR (Aura White)
Snapdragon 855
Sprint – United States

2G GSM: GSM850, GSM900, DCS1800, PCS1900

2G CDMA: CDMA800, USPCS1900

3G UMTS: B1(2100), B2(1900), B4(AWS), B5(850), B8(900)

3G CDMA: BC0(800), BC1(1900), BC10(800)

4G FDD LTE: B1(2100), B2(1900), B3(1800), B4(AWS), B5(850), B7(2600), B8(900), B12(700), B13(700), B20(800), B25(1900), B26(850), B28(700), B66(AWS-3), B71(600)

4G TDD LTE: B38(2600), B39(1900), B40(2300), B41(2500), B46(5200)

SM-N970UZSATMB (Aura Glow)

SM-N970UZKATMB (Aura Black)

SM-N970UZWATMB (Aura White)
Snapdragon 855
T-Mobile – United States

2G GSM: GSM850, GSM900, DCS1800, PCS1900

3G UMTS: B1(2100), B2(1900), B4(1700/2100 AWS1), B5(850)

3G TD-SCDMA: B34(2010), B39(1880)

4G FDD LTE: B1(2100), B2(1900), B3(1800), B4(AWS), B5(850), B7(2600), B8(900), B12(700), B13(700), B18(800), B19(800), B20(800), B25(1900), B26(850), B28(700), B66(AWS-3), B71(600)

4G TDD LTE: B38(2600), B39(1900), B40(2300), B41(2500), B46(5200), B48(3600)

SM-N970UZSAUSC (Aura Glow)

SM-N970UZKAUSC (Aura Black)

SM-N970UZWAUSC (Aura White)
Snapdragon 855
US Cellular – United States

2G GSM: GSM850, GSM900, DCS1800, PCS1900

2G CDMA: CDMA800, USPCS1900

3G UMTS: B1(2100), B2(1900), B5(850), B8(900)

3G CDMA: BC0(800), BC1(1900)

3G TD-SCDMA: B34(2010), B39(1880)

4G FDD LTE: B2(1900), B4(AWS), B5(850), B8(900), B12(700), B13(700), B18(800) , B19(800), B25(1900), B66(AWS-3), B71(600MHz)

4G TDD LTE: B38(2600), B39(1900), B40(2300), B46(5200)

SM-N970UZSAVZW (Aura Glow)

SM-N970UZKAVZW (Aura Black)

SM-N970UZWAVZW (Aura White)
Snapdragon 855
Verizon – US

2G GSM: GSM850, GSM900, DCS1800, PCS1900

2G CDMA: CDMA800, USPCS1900

3G UMTS: B1(2100), B2(1900), B5(850), B8(900)

3G CDMA: BC0(800), BC1(1900)

3G TD-SCDMA: B34(2010), B39(1880)

4G FDD LTE: B2(1900), B3(1800), B4(AWS), B5(850), B7(2600), B8(900), B12(700), B13(700), B18(800), B19(800), B20(800), B26(850), B28(700), B66(AWS-3)

4G TDD LTE: B38(2600), B39(1900), B40(2300), B41(2500), B46(5200), B48(3600)

SM-N970U1

SM-N970U

SM-N970XU (demo unit)

SM-N970UZSAXAA (Aura Glow)

SM-N970UZKAXAA (Aura Black)

SM-N970UZWAXAA (Aura White)
Snapdragon 855
Factory Unlocked – United States

2G GSM: GSM850, GSM900, DCS1800, PCS1900

2G CDMA: CDMA800, USPCS1900

3G UMTS: B1(2100), B2(1900), B4(AWS), B5(850), B8(900)

3G CDMA: BC0(800), BC1(1900), BC10(800)

3G TD-SCDMA: B34(2010), B39(1880)

4G FDD LTE: B1(2100), B2(1900), B3(1800), B4(AWS), B5(850), B7(2600), B8(900), B12(700), B13(700), B14(700), B18(800), B19(800), B20(800), B25(1900), B26(850), B28(700), B29(700), B30(2300), B66(AWS-3), B71(600)

4G TDD LTE: B38(2600), B39(1900), B40(2300), B41(2500), B46(5200), B48(3600)