Mountain Lion appeared on the scene for Mac users to enjoy on Wednesday. The software, which was so anticipated that we even had a preview back in February, showed off some nice additions and great UI improvements. However, when the software appeared on Macs this week, the software received some mixed reviews. If you were able to survive the downloading process, there were then users who encountered error messages and other mishaps. Those who finally got through the rope then found themselves with a OS that didn't have much of a bite when you first look at it. The software seemed to have all of the features hidden in the background. Today, we will cover a bit more on the downloading process, the features included, and whether you should run and download, or wait a bit.
Time to Upgrade
The process to upgrade to Mountain Lion is easier written than done. Simply put, if you aren't familiar with the process, all you have to do is go to the App Store (yes, the same place you downloaded Angry Birds for Mac also has the software to upgrade the whole system), and then click to purchase the $19.99 software. It downloads, then you click to install. From there, it restarts your Mac, and you're done. Now, the real experience goes a little differently.
For many users, they received error messages after waiting sometimes between 15 and others as long as 50 minutes, as the software downloads. The messages were different for different people, with some even saying that an error prevented the software to download. Personally, the software download took around an hour. I then received an error message, but used my instincts and ignored the message. Turned out, the software was able to download, besides receiving a notification that it wouldn't do just that.
Friends and fellow bloggers I have talked to have all had varying stories, from glitches to even one friend who had to go through the process a second time. This is the best lesson to show that you must make sure you keep up with updates and make sure that your Mac's most precious information is backup either on a external hard-drive or a cloud-based service like Dropbox.
Social Networking and Messaging
On Mountain Lion, the OS is very social. You now have Twitter available on and throughout your Mac. This allows you to make tweets in Notification Center and use the Share button (available in Safari, Preview, and various other Apple applications) to share photos, links, and more. Aside from Twitter on Mountain Lion, Flickr, Facebook (this fall), Messages, Vimeo, and others are available social networking websites on Mountain Lion.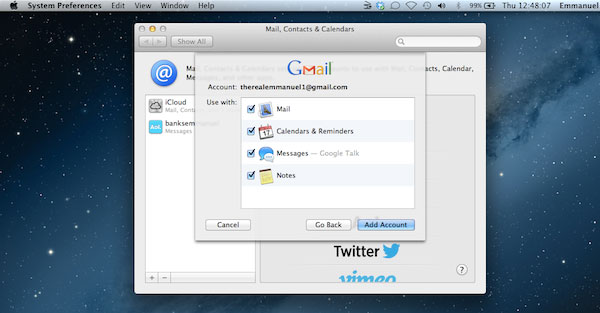 Plus, due to the fact that China has restrictions on social networking within the republic, Apple has made considerations for including the multiple social networks used in China. Aside from social networking, Apple also includes Messages into Mountain Lion. If you had Lion and downloaded this, along with FaceTime, you are very familiar with both software. Messages allows you to use iMessage, plus the various iChat services you are used to.
Get Notified
As mentioned before, Mountain Lion comes with Notification Center. This one of the largest additions to Mac found on Mountain Lion. As of yet, I haven't been able to find a trackpad gesture that activates Notification Center, not sure one exists. However, as of now, to activate Notification Center, you would click the button found at the top right. This new addition reveals the same Notification Center we are familiar with iOS. You have the ability to view Messages, Mail, app, and other notifications your Mac releases.
You have the ability to get a notification from the App Store when an update is available. Additionally, the top section of Notification Center allows you to create a Tweet. Notification Center isn't just an addition found on the right of your Mac desktop. Notification Center also is available in banners, alerts, and badges. Sounds can be adjusted in Notification Center settings as well. If you just aren't feeling Notification Center, simply press Options and the Notification Center symbol on the top right to disable for the day. It automatically launches back the next day.
iCloud and Dictation
We are all very familiar with iCloud. However, if you found yourself enjoying the last year under a rock, then iCloud is the cloud-based service that allows you to have all of your Apple supported app information accessible anywhere. Plus, the service allows what you've done on one Apple device, reflected on the other connected devices. This includes Calendar, Contacts, Photos, Notes, Reminders, and even documents from iWork. When you make a shopping list in Notes on your iPad, the changes are reflected on Mac. If you then make an addition on the go on your iPhone, that change is reflected as well. You get 5GB for free of storage, but you can always buy more when needed.
Dictation is a nice feature that comes out of Mountain Lion, not made available in Lion unlike iCloud. Dictation allows you to dictate what you want to be written instead of having to type it all out. This allows you to save time when having to create large documents or even to create a nice short status update. Yes, I dared to even suggest creating a document with dictation. When done at least a sentence or two at a time, it is surprisingly effective. I tweeted my excitement at how easy I was able to dictate a period (.) to end a sentence and a hashtag (#) when creating a Tweet. I feel confident in saying that Dictation is Apple's gateway drug to Siri in 2013! We can at least hope.
iOS Creeping in on OS X
Aside from Notification Center and iCloud, we also have Notes and Reminders built into Mountain Lion. Notes works just like what we are used to on iOS. You are able to type up notes, view them in the same paper type, and even click on the left side to go through the other various notes we create in Notes. Reminders works the same way. You have the ability to create a task, add a location on where you want to get reminded, and create a time and date you want to get notified. They can be categorized by folder. For example, my current set up is a folder for standard "Reminders", "Personal Reminders", "Work", and "Classes". Of course, as mentioned before, all reminders and notes are accessible on your other iOS devices using iCloud.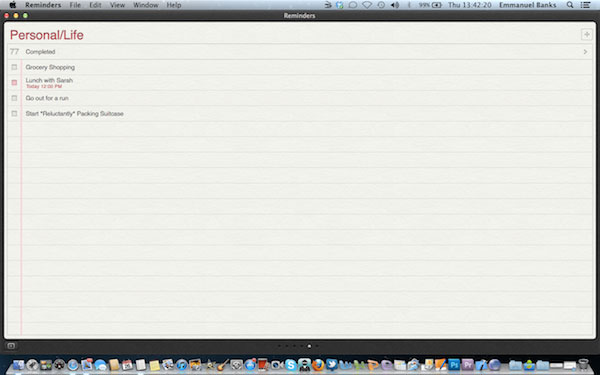 Other Features
The other features found in Mountain Lion includes AirPlay. This allows you to share your current Mac screen, using a shared WIFI connection, with your Apple TV. This then is projected onto your television, giving you a larger monitor or place to show off photos, web pages, and more. Other applications have received minor UI changes. Calendar received very minor updates to the interface. Safari also nixed the search bar, going for a unified address bar.
Twitter is implemented into contacts, allowing you to sync user's Twitter profiles with their Contact profile. Tabs has changed and Game Center is added, and GateKeeper allows for a safer Mac in terms of what you download in the App Store and on the web. Power Nap, found in the Energy Saving section of Preferences, allows you to schedule your Mac and shut down your Mac at a set time, one set days.
Final Thoughts
All in all, Apple understands the power of the mobile sector of their company. Making their systems more like iOS is easier to implement, it also makes more sense due to how it makes the systems more simplified. However, Apple should caution itself not to skimp on features when achieving this. Mountain Lion was a disappointment in terms of feature additions.
Users looking to have UI and other improvements will be satisfied with Mountain Lion. However, people aren't willing to spend $20 just on some visual improvements. Yes, Notification Center is nice, Dictation is convenient, and of course I always in the end advise individuals to update for security and safety reasons, but in terms of features, it's not something I recommend logging into App Store to purchase. It wasn't as mind blowing as we'd hope. Mountain Lion is available today in the App Store.
Disclosure: We might earn commission from qualifying purchases. The commission help keep the rest of my content free, so thank you!