I love headphones and currently own a collection of around 20 high-end headphones from the biggest manufacturers like Sennheiser, Beyerdynamic, and Audio-Technica. However, I have just 2 headphones for daily use, including one pair of on-ear and one pair of over-ear headphones. Those are often the best-sounding headphones in my collection and I always want to have a nice stand to showcase their beauty as well.
The stand I was using is the FortuneCat Wooden Dual Headphone Stand but it couldn't do justice to the terrific design of my headphones. Therefore, I was so excited to try the premium Just Mobile headstand. The product was released in 2013 but it is still among the best choices for audiophiles right now. Let's check it out.
Unboxing
Design & Build Quality
The headphone stand is beautifully crafted from anodized aluminum and the silver color amazingly fit your gadgets on the table. I feel like it is made by Apple when I place it next to my MacBook Pro and iPhone. It also easily blends in my desktop setup where I spend more time listening to music.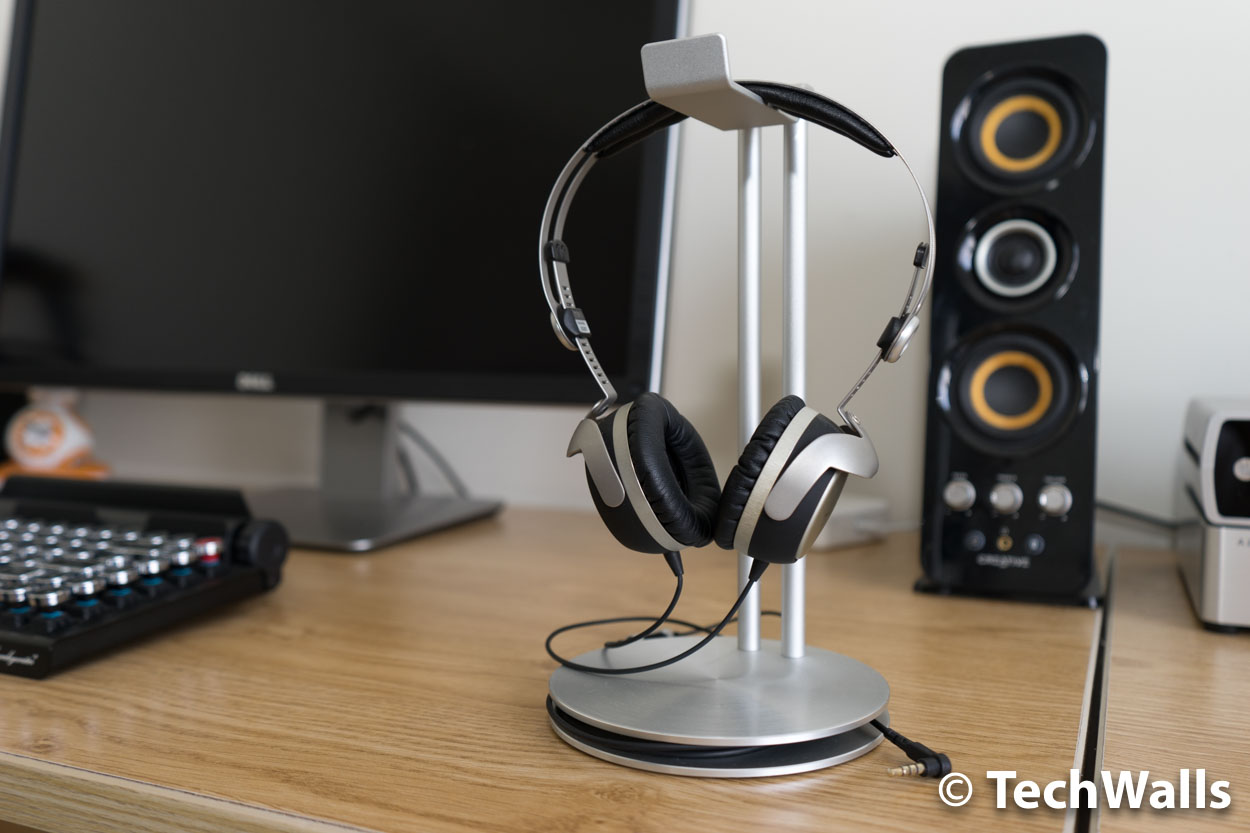 Out of the box, you will have a dual-layered base, 2 poles, the hanger and 4 screws. It's easy to assemble the product without reading the manual. I'm very surprised with the build quality of the product. The base looks terrific in brushed aluminum while the hanger and supporting poles feel solid and very sturdy as well. The stand doesn't have any problem holding my heavy headphones. This is an almost perfect build. There are just a few minor scratches on the poles but I had to examine carefully to see them.
This is one of a few products that have the same look as seen on rendered images. There is a hollow around the base to keep cables tidy and the bar on the hanger is wide enough to keep any headphones.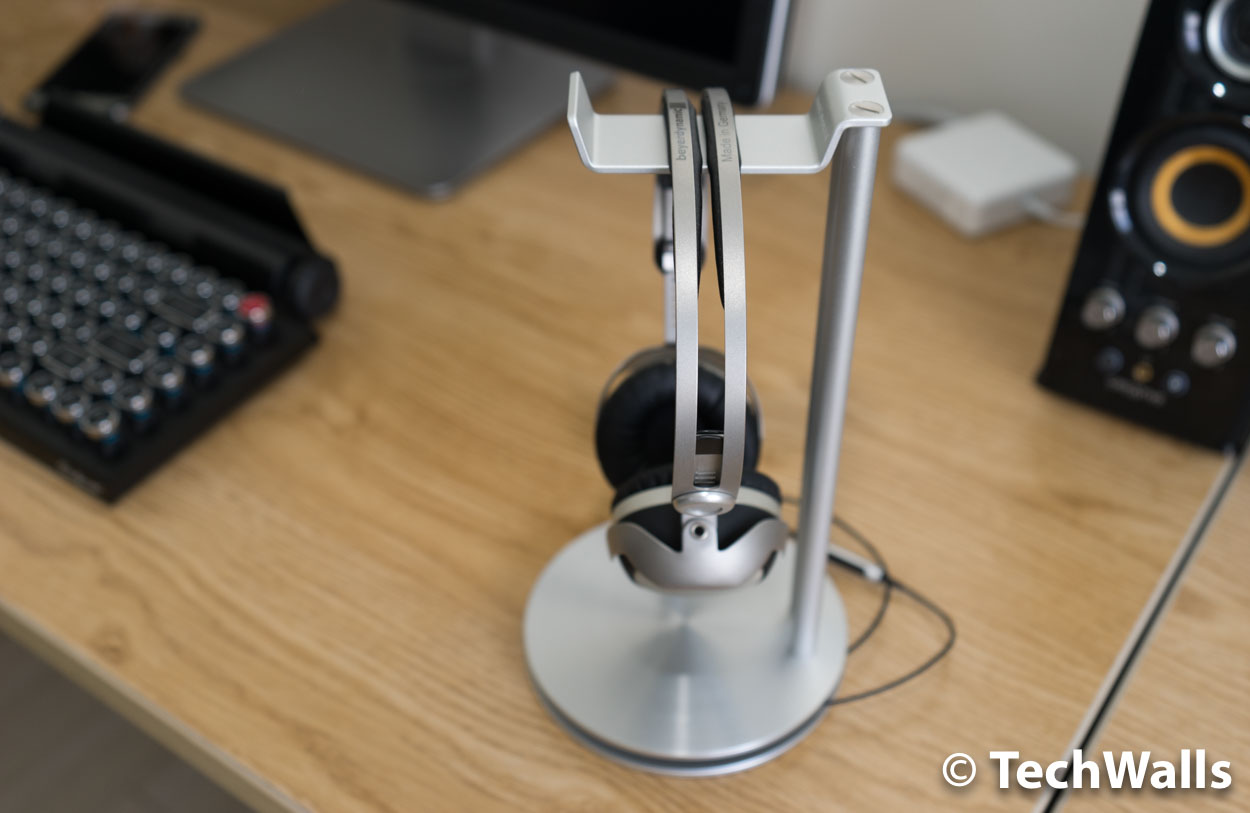 The stand is about 10-inch tall but the hanger is placed a little lower. Therefore, you might have a hard time placing big headphones on the stand. For instance, when I rest the Beyerdynamic T5P 2nd on the stand, the cables are still slightly bent over due to little clearance underneath.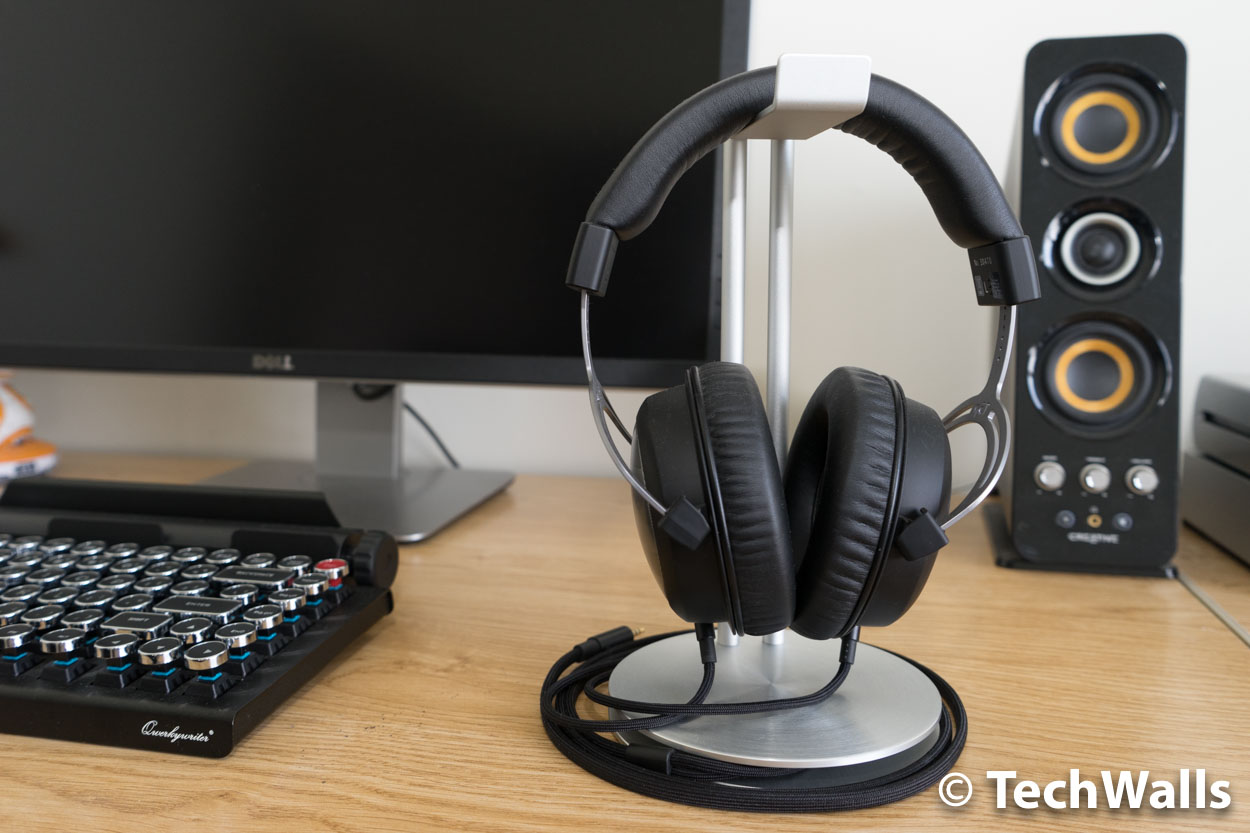 If they could just make the stand a little taller, it would be really awesome. Check out the picture below, you can see that my cheap wooden stand is still taller and my big headphones feel more comfortable resting there.
The Just Mobile Headstand is among the sleekest headphone stands on the market. I highly recommend the product, especially if you use on-ear headphones or compact over-ear headphones. It's a must-have accessory to showcase your expensive cans.
Disclosure: We might earn commission from qualifying purchases. The commission help keep the rest of my content free, so thank you!