2014 was speculated as the year of wearables but we all have been so disappointed as new products can't help expand the market further. Even smartwatches from Samsung, Apple or fitness trackers like Fitbit Flex or Misfit Shine couldn't meet our expectations.
How about the new Huawei TalkBand B1 hybrid smartband which was announced in late 2014? I had the chance to review the Huawei Ascend Mate2 and it was quite a good phone. Can Huawei deliver another high-quality product in the U.S. market? Read on for more details of the TalkBand B1.
Overview Video
Design & Features
By looking at the band, you might find the design so similar to the Samsung Gear Fit. However, the two products are totally different. The TalkBand B1 features a removable Bluetooth headset and when you mount it into the wrist band, it will become a fitness tracker again. That's the reason why it is called a hybrid smartband.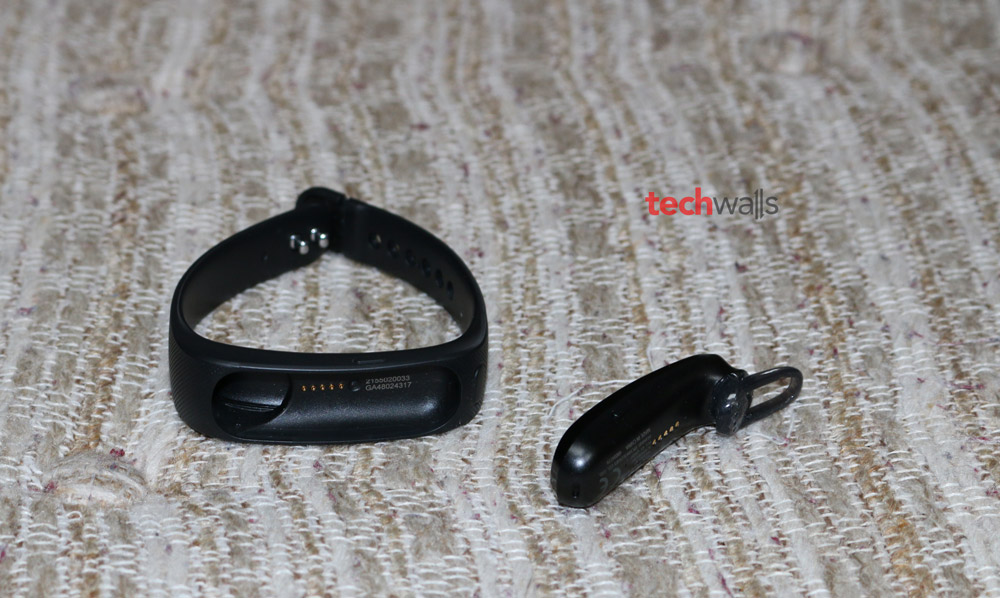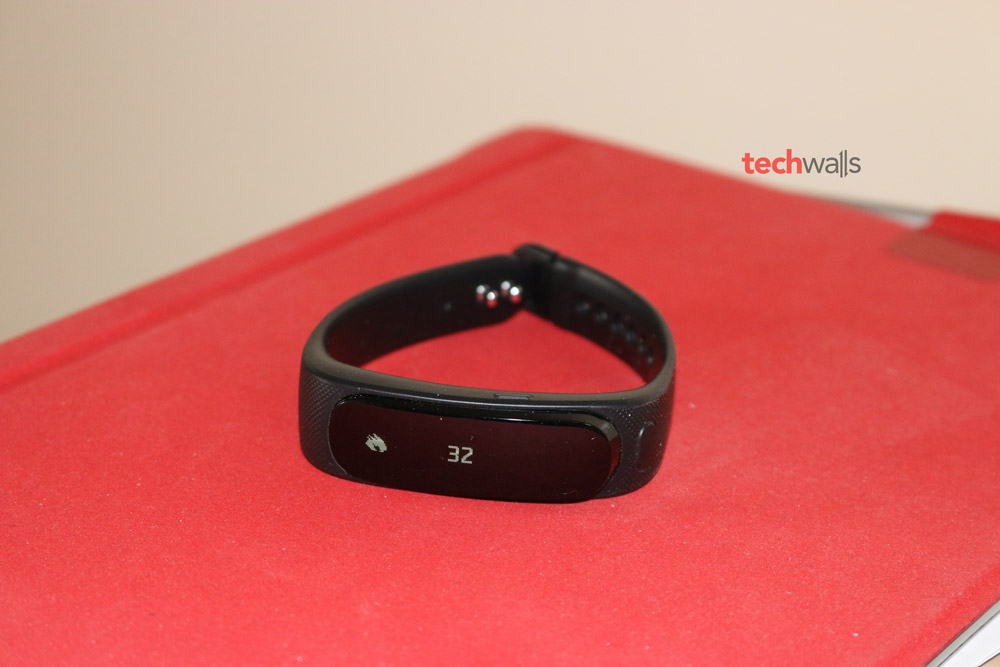 The device includes 2 buttons which are the side button and wrist band button. The wrist band button is used to remove the headset while the side button is a multi-function one that can be used to switch between screens, power on/off, answer/reject a phone call. You can see that there is no charging port on the band, it is because a USB plug is hidden at the end of the strap, you can plug it directly to your computer or any USB charger.
Basically, the TalkBand B1 has 4 primary screens. The first screen displays time, Bluetooth status and battery level. The second screen shows fitness statistics which include a step counter and your progress throughout the day. You can also view how many calories you've burned in the next screen. And finally, the last screen is a sleep status showing how many hour you've slept.
I don't feel really comfortable wearing this band because it seems a little big for my wrist. I have a small-average wrist size, so the screen is too long on my wrist. Although the rubber strap is adjustable to fit different wrist sizes, it still can't fit my hand perfectly like other products I've used.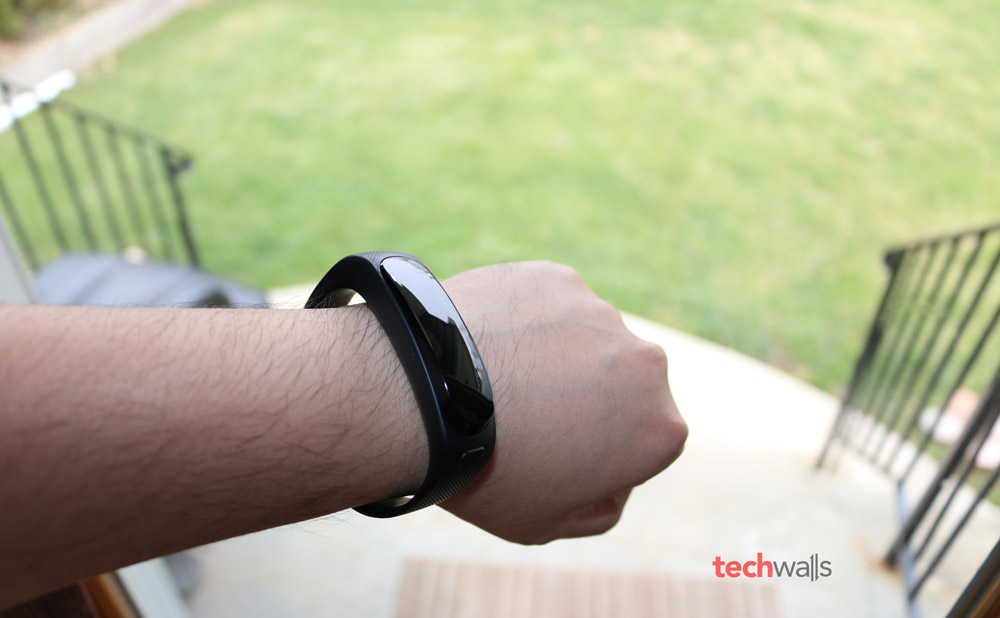 Another important feature of the band is Bluetooth handset which could help us answer phone calls without touching our phone.
Performance
I really loved the TalkBand B1 in the first days using it. The Bluetooth calling feature is extremely helpful. When I receive an incoming call, the B1 vibrates immediately and also shows caller ID on the screen. A press on the side button will accept the phone call and then I just need to remove the headset and place it on my ears. It is so easy that I even don't need to look away when I drive. The call quality is quite good and there is almost no delay as compared to phone calls on my smartphone.
Another helpful feature is that the B1 has IP57 rating, which means it is dust resistant and can withstand a water immersion of up to 1 meter in 30 minutes. I used the band all day without removing it and it easily survive till now.
The B1 is also integrated with a smart alarm and exercise reminder. I find the exercise reminder very useful because it can remind me to stand up and exercise after a specific duration of inactivity.
Last but not least, the TalkBand has an awesome battery life and I'm pretty sure you don't need to charge it for a full week. In my test, it can easily last up to 6-7 days. This is among the best battery life you can find in a fitness tracker or Bluetooth headset.
TalkBand is not an innovative product but it has all basic features of a fitness tracker and a Bluetooth headset. Unfortunately, there are some issues that you will need to consider before buying the product. Firstly, the step counter is not exact at all. I tested many times with every 500 steps and in most of the cases, the B1 just can detect about 60%-70% of my steps and you will have to wait a while for the number to get updated. Secondly, the Android app might have a bug that it somehow erased my activity. All of my steps and sleeping hours became zero after a Bluetooth disconnection. Take a look at the screenshot below, it is showing over 3 hours of exercise time and 1 time falling asleep but all the numbers are zero.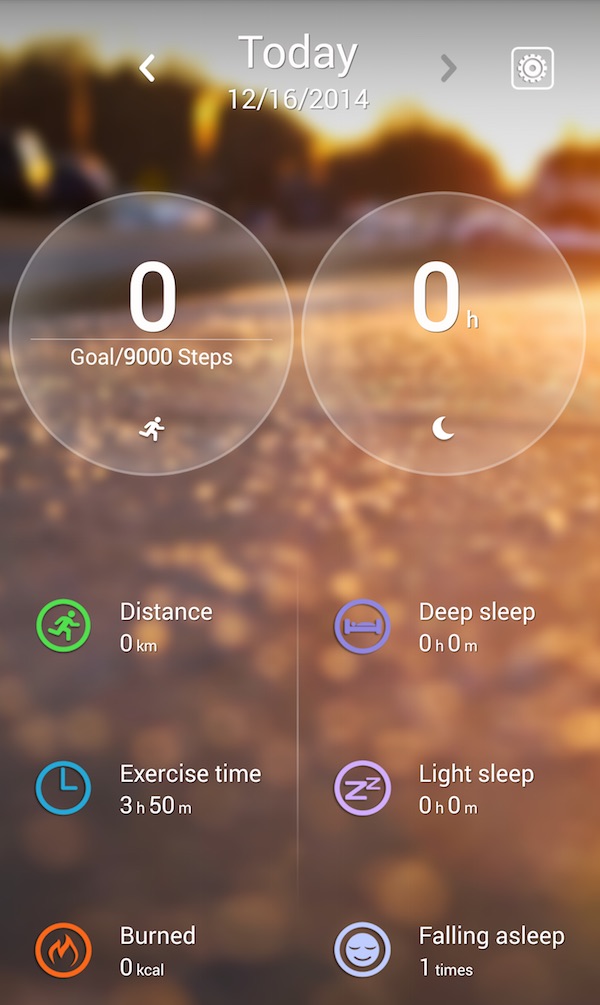 Conclusion
Pros
Clean design.
Detachable Bluetooth headset.
Helpful features like Smart Alarm or Exercise Reminder.
Great battery life.
Waterproof.
Good Bluetooth connection.
Cons
Step counter is not accurate.
Stats are reset sometimes.
Does not fit my wrist perfectly.
The Huawei TalkBand B1 is available on Amazon for $129. I recommend this product if you don't want to buy a fitness tracker and a Bluetooth headset separately. This is a good headset but the fitness tracker still has some problems, hopefully Huawei can manage to fix them soon.
Disclosure: We might earn commission from qualifying purchases. The commission help keep the rest of my content free, so thank you!