The wait is finally over as HTC just announced the new HTC One Max phablet. The 5.9-inch IPS display powered HTC One Max will be the first device from HTC with such a large display and that will directly compete with the likes of Galaxy Note 3 and Sony Xperia Z1 Ultra.
HTC One Max Specifications
Few of the specifications resembles with the HTC One including the majority of the design features. But there are few noticeable changes to it and that changes are very promising for the HTC One Max as well. Following are the complete specs of the HTC One Max: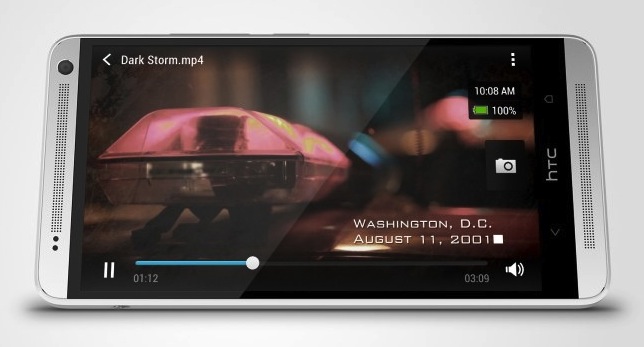 5.9 inch IPS display with 1080p resolution
1.7GHz quad core Snapdragon 600 Krait 300 processor with Andreno 320 GPU
2GB RAM and 16GB internal memory
4MP UltraPixel camera capable of shooting 1080p vids @30fps and 720p @60fps
2.1MP front facing camera with 1080p video recording @3fps and HDR
Fingerprint sensor at the back, just below the camera
microSD card slot for expandable memory
3,300mAh battery with up to 28hrs of talk time and 585 hours of standby
Android 4.3 jelly Bean with HTC Sense UI 5.5
Let alone, the combination of such a huge display and a quad core processor makes HTC One Max a great phone. And on top of that, you get a massive battery backup to use the device in full.
However, there are few things that HTC One Max does not include like the support for Beats Audio, optical image stabilization and a non-removable battery. The camera is also not improved compared to the HTC One.
The finger print sensor at the back is a nice feature that is included in the HTC One Max. Just like the iPhone 5S fingerprint sensor, you can swipe the figure to unlock your device. HTC also has a quick launch app that allows you to open a specific app depending on which finger you swiped for unlocking. However, it doesn't work like advertised. The downside of the sensor is that the sensor is located at the back of the device under the camera and sometimes its irritating to unlock your device from the back. The first reviews showed that the fingerprint sensor is poorly implemented, so don't expect it could recognize your identity easily like the Touch ID on iPhone 5S. Users even have to swipe their finger slowly and vertically so that the phone could detect fingerprint. This has become a disaster of the phone.
HTC One Max is going to be available in the market from this week starting from Europe and Asian markets and after that will be available in the US via Verizon and Sprint and then the rest of the world. The pricing details are yet to be confirmed by the HTC for the HTC One Max but we will update you as soon as we hear something about it.