Google Adsense has been always my primary revenue source in the last 8 years. Therefore, I was a little concerned about this account when I changed my permanent address from Vietnam to the United States. Moving to a new country means that I can no longer receive payments with my previous payment method.
I did some research on Google but a lot of the advice is incorrect. Many people suggested closing the current account and then applying for a new account in the new country. That might work but it takes a lot of time and efforts while there is a chance my new account could not be approved. Therefore, I didn't take a risk by following that guide.
Afterwards, I found out this page on Google and it showed exactly what I needed. Google said that I could change my payment country by submitting a request form. The only problem is that payment history in the previous country could be deleted, however, I would still receive the remaining earnings via the current payment method.
In this form, I had to fill out the Adsense Publisher ID, the reason for the country change, and the new address. I selected "You're moving to a country in a different contracting entity".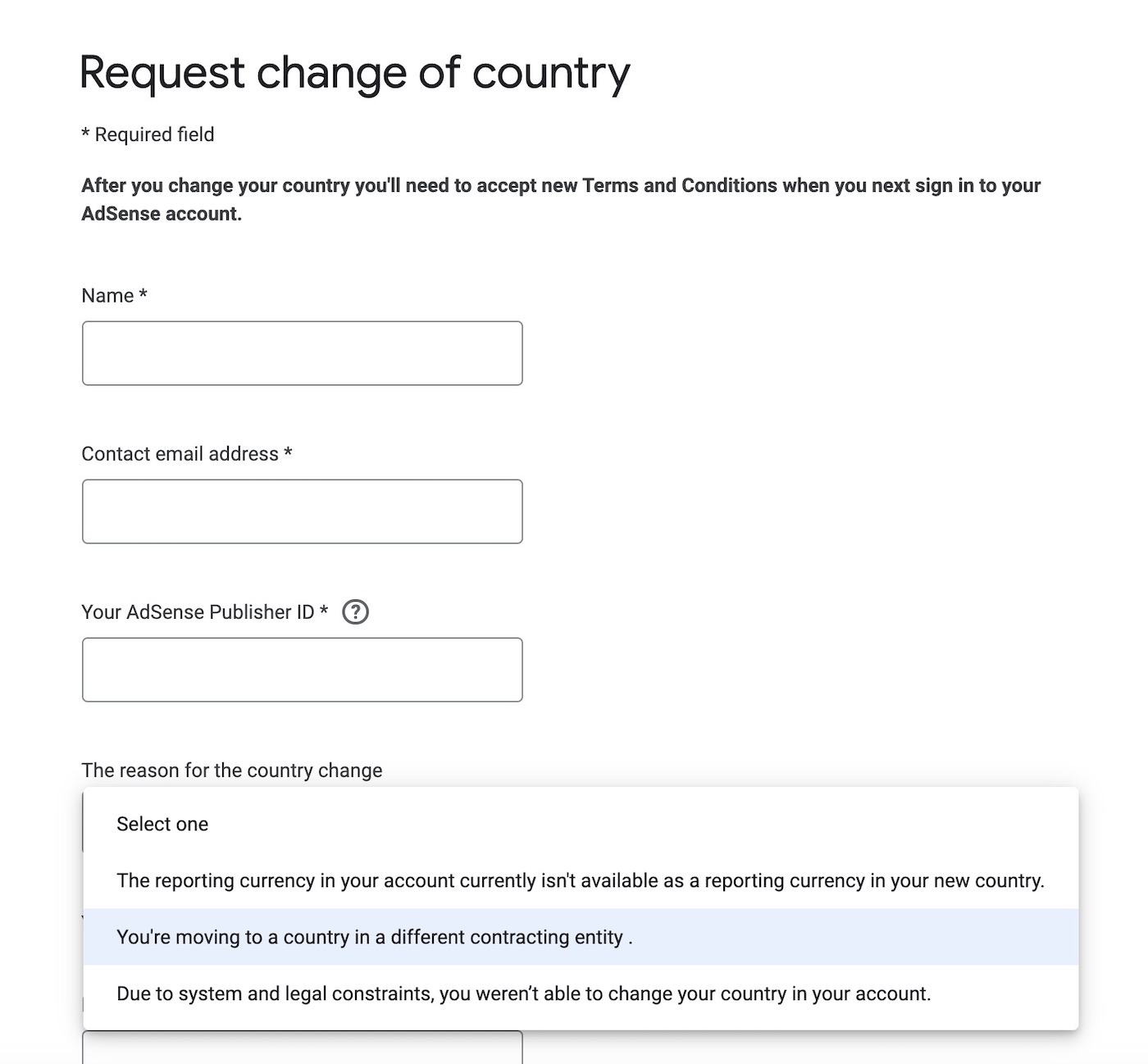 After submitting the form, there was a confirmation saying that I should receive a response within 48 hours.

I received an email from Adsense support team after 2 business days and they wanted me to confirm the country change once again.
Hi,

I hope you are well :)

I have received your request to change the country of your account from xxxx to xxxx.

That is no problem, I can do that for you :)

However, your current earnings cannot be transferred to your New Profile and the balance can only be issued to your Old Billing Profile.

If you still wish me to proceed with changing your country, please answer the questions below:

Name:
Business Name:
Address:
City:
Postal code:
State:
Phone number:


I will wait for your response and I will change your country once you reply.
After confirming the address, Adsense sent me an email saying the process was completed and I should see earnings in my new payment profile soon.
I'm pleased to inform you that your account has now been changed from Vietnam to United States. Your earnings will begin to be generated in the new profile payments screen after the payment cycle has refreshed (following from the 21st). Hence, you can expect to see earnings in the new payments screen from the following 3rd.

Once this happens and you meet the threshold ( 10USD) in the new account, you'll then be asked to add a payment method.

You should soon receive another email asking you to confirm the change of details. If/when required to add your tax details, you will be prompted from within your account with a red banner.

Please note that for tax and security reasons your current earnings will not be transferred across to your new account type. Any remaining balance will be sent to your old billing details in the following payment cycle.
On the Adsense's Payment page, I can check out balance of payment profiles in both my old and new countries.

All done. The Adsense country has been changed successfully. I don't have to make any change; It is still linked to my Youtube accounts, reports are showing ad performance in the previous and current period, and the ad codes stay the same. I also don't need to verify the new address with a Personal Identification Number (PIN) sent to my mailbox.
Once my account balance reached the payment threshold, I just needed to update the tax info and choose a valid payment method. In my case, I didn't have to verify the new address in the United States; However, Adsense accounts in most other countries require address verification.
Disclosure: We might earn commission from qualifying purchases. The commission help keep the rest of my content free, so thank you!