It used to be difficult to take smooth video footage while walking or running because steady camera rig setups were so expensive. However, everything has changed in the last few years as we are seeing a lot more affordable options and the most popular stabilizer is a 3-axis gimbal. While the gimbals like DJI Ronin-M or DJI Osmo are out of budget of most average consumers, you can take advantage of your phone camera and use a smartphone gimbal instead. Let's take a look at the low-priced ZhiYun Z1-Smooth-C 3-axis gimbal.
Unboxing Video
Design & Features
The box contents include the ZhiYun stabilizer, a battery charger, 2 Li-Po batteries, a counterweight, a camera protection sticker and a microUSB charging cable. It's quite straightforward to operate the gimbal, as you can see in the video above. Basically, you just need to load the batteries, insert your smartphone into the mount, then power on to start using it. The mount can hold any smartphone with under 7-inch screen, so it will work with a majority of smartphones out there. I am using the gimbal with my Samsung Galaxy S7 Edge and it fits perfectly. The clamp holds my phone tightly, I guess it is almost impossible to drop as long as you insert it properly.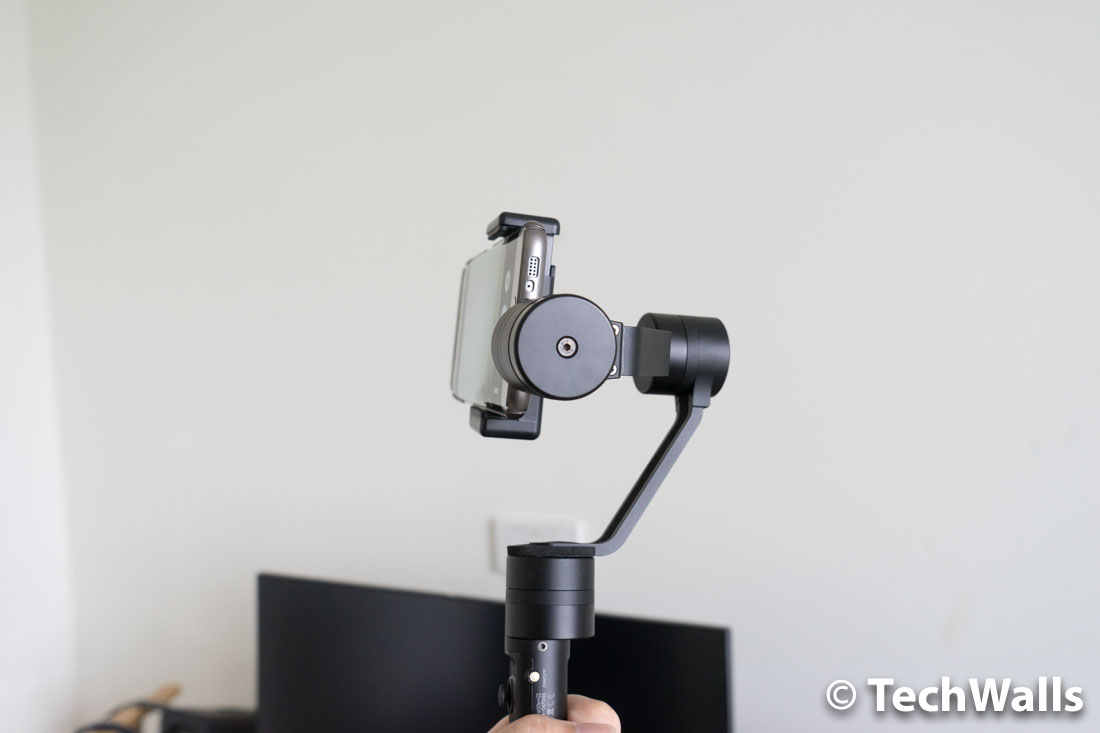 I'm really impressed with build quality of the ZhiYun gimbal despite the fact that it is cheaper than similar products from Feiyu. The whole body is made of aluminum and it feels very sturdy. There are just a power button and a 4-way joystick on the handle, you will get used to the controls in no time. After turning it on, you can press and hold on the joystick to start the gimbal, then you can switch among different modes by presses on the joystick. You will have the pan following mode, locking mode and pan and tilt following mode.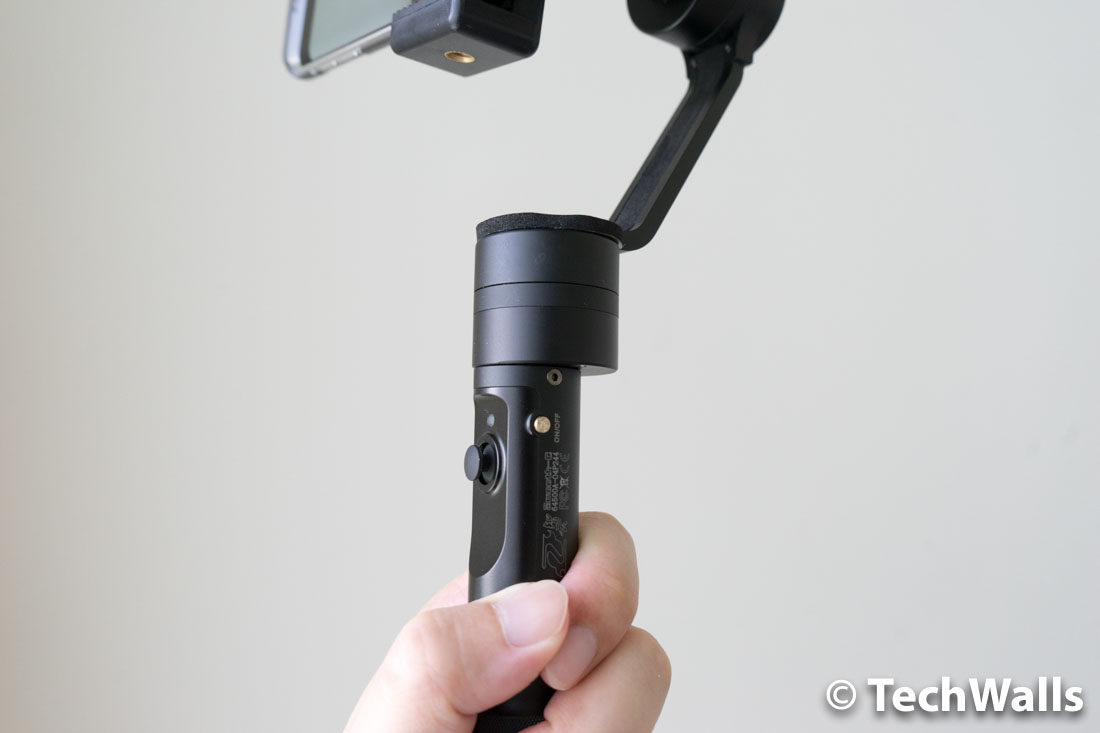 Notice that you should do some adjustments of gravity center before turning on the gimbal. Try to make the smartphone stand upright first by adjusting the thumb screw on the back of the mount and you might need to install the counterweight if you are using a big and heavy smartphone. By balancing the gimbal, you will reduce the workload for the gimbal and it will consume less power then. I managed to use the gimbal for about 1 hour before recharging the batteries.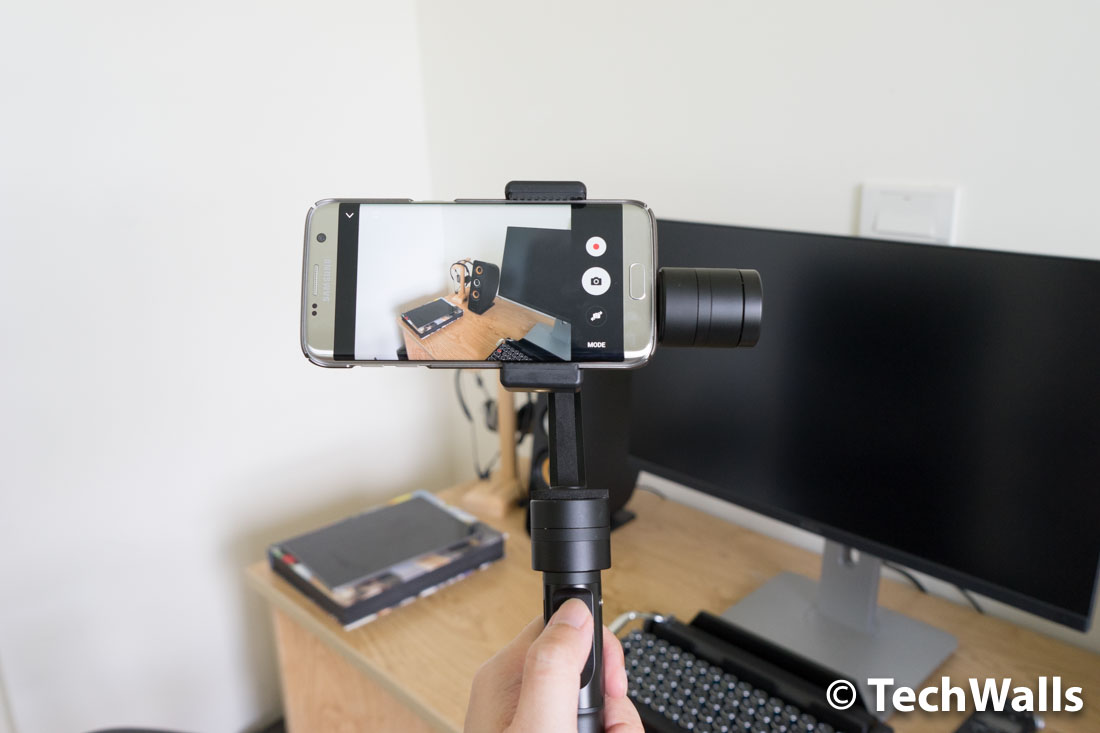 The stabilizer is compact and lightweight, but you will still need a big bag if you want to carry it around. There is no carrying case inside the box, so you should be careful to avoid breaking the gimbal.
Performance
I love the optical stabilization on my Samsung phone, however, it's not enough to produce smooth videos when I'm walking or running. I can see clearly that I'm stepping up and down on the ground, and the footage shows the camera rotation around all of the roll, pitch and yaw axes. Those issues are dramatically fixed after I use the Smooth-C gimbal. Take a look at some raw video footage below.
You can see that the videos are amazingly smooth now, sometimes it feels like I'm using a drone to record the footage. There is no more shake or jarring motion as I saw earlier. The motorized gimbal performs really well as compared to my previous camera gimbals like the Roxant Pro. It is equipped with 3 motors to keep my phone fairly steady, so many camera shakes are eliminated.
Having said that, you shouldn't expect your videos will be jitter-free, it's not that perfect. You can still see some minor vibrations when I'm walking. Fortunately, they can be fixed easily in post-production without losing too many details.
The video quality depends on your current smartphone, so I'd recommend you to get one with a high-quality camera featuring OIS and 4K video recording. You won't be disappointed with the output. A huge advantage is that you don't have to pay a premium price to upgrade the camera. When you upgrade your phone next year, you might end up with a better camera for the system.
Conclusion
Pros
Low price
Manages to produce smooth videos
Easy to use
Good battery life
Cons
Inconvenient to carry around
No microUSB charging (the port is used to update firmware or calibrate)
The ZhiYun Z1-Smooth-C is available on Gearbest for around $200. It is a great choice for amateur videographers who want to shoot smooth videos like a pro. I am using the gimbal and love to bring it with me when I'm traveling, it manages to create more usable clips when I'm walking on the streets. Goodbye shaky videos forever.
If you even have a lower budget, you can buy the XJJJ JJ 3-axis gimbal for GoPro for just over $100.
Disclosure: We might earn commission from qualifying purchases. The commission help keep the rest of my content free, so thank you!