Certainly Microsoft is getting very active these days – may it be with Windows for PC or for mobile. It is heard that Microsoft is preparing to launch their new Windows Phone 8.1 update (for mobile) with two notable modifications – a Siri like personal assistant and a notification center.
Microsoft is secretly testing beta versions of the Windows 8.1 updates with a target to project it in front of everyone in the Build Developer Conference in April 2014. A much demanded notification center is reportedly added to their armory. It is told that it could be activated just by swiping downwards from the top of the screen – in the same way as it is done in iOS and Android.
Microsoft 8.1 Updates – Necessity or competition?
There are few small but important features that will be added to 8.1 – one of them being the quick settings display when you swipe the screen very fast from the top. Other is the longer swipe which will display the full notification history of your phone. Both these additions were among the priority list of the makers as the users complained about its absence. Now here comes the twist – it cannot be inferred that whether Microsoft is making all these changes just because 'they want to'. It is believed by experts and by me also that Microsoft has seen all these features in iOS and Android previously. To maintain its growing market and escalating demand, they have to include features what their competitors are giving plus they have to add some unique features. This is okay as any company would do it for its betterment and Microsoft is no exception. But I think they need more R&D to give iOS a run for their money.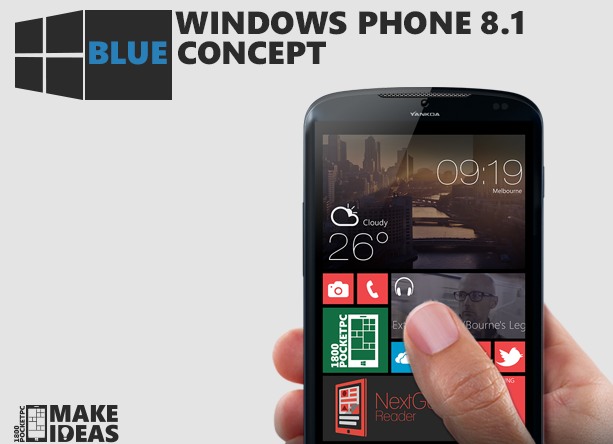 Small but Effective – Other features of Windows Phone 8.1 beta
Few days back, it came to my knowledge that Windows might be including 'Cortana' – a personal digital assistant in its upcoming update. Microsoft is reportedly testing Cortana for quite a time now and I think it will help them to replace the existing Bing search on Windows Phone with a much efficient search tool (added with voice or text input). Now again when i saw this, i could easily relate these developments with the existing features of iOS (Siri) and Android (Google Now) like the interactions and the ability to learn data and proper location context from the phone. This new update of Windows Phone 8.1 will make you remember when do you have a meeting and how long will you need t reach an appointment – same as of Google Now.
Microsoft is also concentrating on some other ew features in its next edition of Windows. Separate volume controls will be there added with the Windows Phone allowing users to control the volume of the ringtone without any fuss and without depending on the media playback. Microsoft is also adding the Bing Smart Search results which are similar to Windows 8.1 and also providing VPN support for its enterprise users. For the music part of the Windows phone, Microsoft is separately shipping the Xbox Music and Xbox Video in order to ease their process of updates and make it more frequently.  Microsoft is also considering the same for the other built-in apps. They are also trying to extend the social apps like Facebook and Twitter to Peopple hub.
Footnote
When Microsoft is busy preparing its 8.1 update, Nokia is preparing two handsets for the update – one device codenamed the 'GoldFinger' may include "3D Touch system" and will be able to detect of the glass interactions. The second handset – codenamed 'MoneyPenny' will make full use of the onscreen Windows Phone 8.1 buttons. Microsoft has already started testing its 8.1 update but still i don't think the update will be available before May 2014.
Disclosure: As an Amazon Associate, I earn from qualifying purchases. The commission help keep the rest of my content free, so thank you!