The general public may be a bit lost in launching Windows 8 for the first time. Not so with the new interface (formerly Metro) that serves the "Start" menu (even if it failed a bit at first). But because with the new Microsoft operating system, the "Cloud" is becoming a reality more than concrete.
From the start, the system application in fact choose between a local account – the old – and a connected account. We will not return to the first choice – as a traditional account in Windows 7, Vista and XP.
In contrast, the second deserves attention. It is the one who gives all his interest in Windows 8 (which may displease some also strongly). It allows you to synchronize all servers from Microsoft applications, settings and files are accessible from any device running on Windows 8.
To store these information, it is obviously necessary to have a "Microsoft account" that will centralize it. Clearly, be enrolled in one of the following services: Windows Live, Hotmail, MSN or Skydrive. For example the photos. If you host them on Skydrive online space (7 GB free), Picture tile Windows 8 will customize with a slideshow of your personal images. Ditto , your online documents will be indexed in the search engine Windows 8.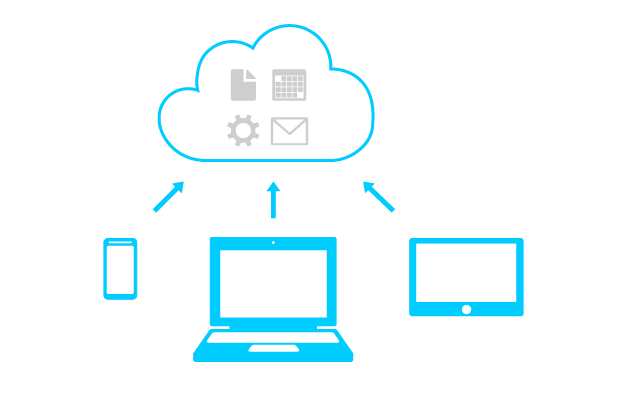 The Microsoft also provides access to the new gallery (Windows Store) which lists all available applications for Windows 8 in its "Modern UI" and its games (via Xbox Live). This gallery is a continuation of classic application galleries for Smartphones and Tablets (AppStore or Google Play, for example), and Linux world has known for a long time in a office context with deposits.
Again, the principle of centralization of information allows applications to recover from anywhere. Including on a PC in a hotel, or on the shelf of a friend. Only an obvious condition: that the machine be on Windows 8. For this to be possible, an application like Office has even been reworked by Microsoft to be "streamed" over the Internet.
Cloud (Skydrive so) is also the default location in which Office 2013 is recorded. In other words, you do not store your texts, spreadsheets and presentations on your hard disk but on Microsoft's servers. It is of course possible to record them locally, but the goal is to host them online for easy sharing (working together on the same document), export (from a tablet) and playback from any browser (Office Web Apps, free online version of Office).
Beyond files (photos, documents, music) and applications, Windows 8 with a connected account synchronizes also the settings: language, passwords WiFi access, browser history and bookmarks, etc.. Will be the same wherever you find Windows 8.
In summary, on a device that is not yours, 'Guest' account revised and corrected import "your" Windows 8 and allow to export documents that you generate on any machine (provided always that it is Windows 8). Conversely, you just need to log off so that "your" account, its data and settings are erased.
Two terms are often highlighted for this connected purpose
On the one hand it requires a connection. And secondly, beyond 7GB, Skydrive becomes chargeable.
The first limitation is certainly annoying but nothing more. It is indeed rare to use a third machine in an unconnected environment. Windows 8 is not "100% Cloud." Instead, he took charge perfectly of "offline", even under a connected account. It is for example possible to type text in Word and not synchronize it in posteriori (or not at all).
The second limitation is perhaps the most important. Beyond 7GB free Skydrive, it will actually take a subscription.
Disclosure: We might earn commission from qualifying purchases. The commission help keep the rest of my content free, so thank you!