You're probably thinking one of two things. One: he's not trying to make money off of his site. Two: he's incredibly stupid. I can assure you that I am interested in making money off of my blog, and I am fairly sure that I am not incredibly stupid, though I don't know how well someone can judge themselves in that department.
Yes, you read the title correctly. On my personal geek culture blog, I have removed all AdSense ads. (This is not a trick – I do not use AdBrite or Chitika or any other affiliate banners either. No advertisements on my site. At all.)
Being that my site is in the "geeky topics" realm, this is a pretty unprecedented move. I would be willing to bet that it would take you quite a while to come across a tech blog that does not have ads. A very long time. Tech sites generally aren't selling a product or service, they're just giving tips or reporting the latest and greatest in technology or geek culture. Because of this, affiliates and ads are generally the only way that these blogs make money. I have decided to look at things from a different perspective, and have three main reasons why I took off all of my AdSense ads.
1. Lack of Past Success
Google AdSense was never amazing in my eyes. Many people swear on these ads and make tons of money doing so, but I am not one of them. The most I have ever made off of this program in a month is $200, and at the time I was getting close to 50,000 monthly pageviews.
I never figured out why the CTR was so low – changing ad placement did not help, blocking ads did not help, contacting Google did not help, changing keywords did not help, and creating child themes to test ad schemes was useless. I attempted to put ads before posts, in posts, after posts, and popping up over posts, but to no avail. In any case, the added earnings from these methods did not outweigh any back-lash from readers getting angry.
I was not having a great series of victorious monetization efforts with Google AdSense, so it really didn't break my heart when I deleted all of them. If anything, it helped me prove to myself that I was going to invest time into my new objective.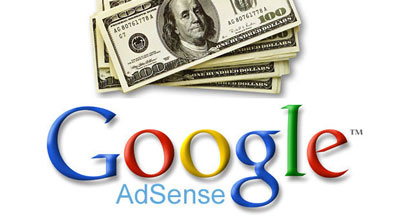 2. New Number One Objective
After going to BlogWorld this past year, my outlook on a lot of different things has changed. Before, my "valuable final product" was a click. I wanted people to click on ads, since this was how I made my money. When you think about it, these types of banner ads are counterproductive. You're basically paying people to get off of your site! Why would you ever want to send people off of your site?
It didn't take me long to discover that the opposite of advertisements is subscriber lists. The point of advertising: to get people onto someone else's site in order for them to make money. The point of a subscriber list: to get people to stay and re-visit your site so that you can make money. Which one of these sounds like a better deal?
In order to maximize my chances of being able to build a subscriber list, I needed to save the prime real estate for a subscribe form. (Side note: never use the word "subscribe" on a button for a subscribe form. Always use "sign up" or "join" instead.) Getting rid of advertisements seemed like the easiest way to do this, and I would recommend reading my post on how to make more out of less on your blog.
3. Earning Potential Of Said Objective
So, why build an email list? How are you going to monetize that? Well, this is where we get back to advertising. Now that you have secured a reader by obtaining their email, you aren't in danger of sending them away forever with a single click. (Unless you spam them and force them to unsubscribe, of course.)
After you have built this valuable email list, your earning potentials skyrocket. Instead of having Google plaster ugly, unrelated ads on your site, you can contact companies directly and get the best deals and products for your users straight to their inbox! Anyone who tells you that this will not give you an astronomically higher CTR than any ad program is lying. It's so targeted… it's ridiculous.
Disclosure: We might earn commission from qualifying purchases. The commission help keep the rest of my content free, so thank you!