CES 2014, the biggest tech show of the year, will start on January 6th and we are very excited because this is the first time TechWalls covering new technologies at CES. During the event, we will post latest news continuously on the website as well as on social networks like Facebook, Twitter and Google Plus. So, make sure to follow us through the networks linked on the right sidebar.
We've prepared for a month because I am the only writer at TechWalls attending the event. There will be a lot of works as I don't have any assistant. Therefore, I will need to take advantage of the gadgets I bring to CES and I believe they will support my work significantly. Listed below are all the stuffs in my backpack during the event.
1. MacBook Pro 15″ with Retina Display
Laptop is like a must-have device for all attendees and this MacBook Pro is my choice because it is simply the best laptop I've ever used. Actually I have used the MacBook for nearly a year and it is currently running both Mac OS X Mavericks and Windows 8.1 on Bootcamp. It runs smoothly on Mac OS X and it is also the best Windows PC ever.
2. Logitech Wireless Trackball M570
This is the oldest device in the list as I've used in since September 2011, more than 2 years ago. I can't believe I could stick to a device for such a long time. The trackball mouse is so durable, comfortable and convenient for my daily usage. The battery is super long (about 6-8 months) and the trackball works on any surface, I even can use it upside down and don't need any surface. I think this will continue to be my mouse until it is broken.
Read my review of Logitech Wireless Trackball M570 here.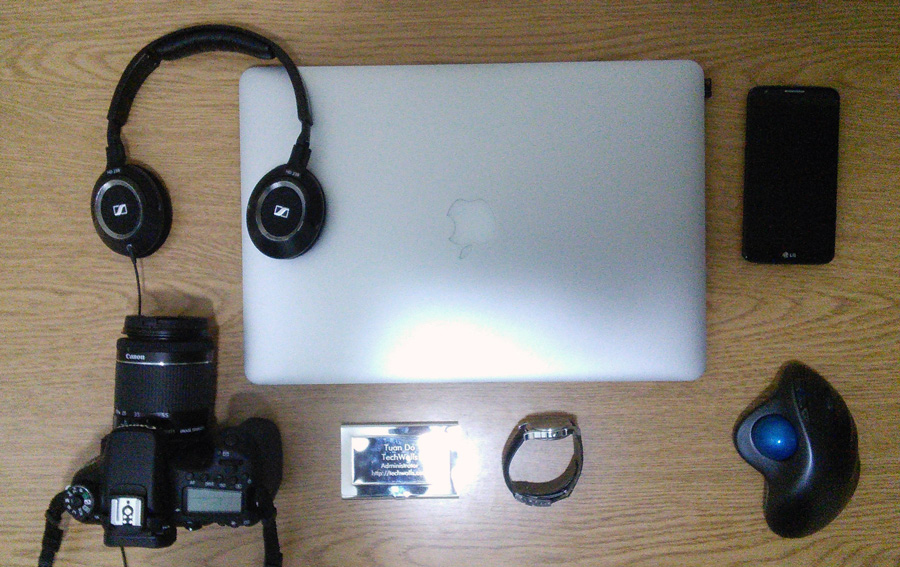 3. LG G2
LG G2 is the device that I reviewed lately and I fell in love with this device since then. I planned to bring the iPhone 5S but the LG G2 surprised me with its excellent performance and more importantly, I have to use Google Maps, Youtube, Google Drive and Gmail apps. Actually those apps are available on Apple App Store but they lack some features and not consistent at all. There are alternatives but they really can't beat Google's apps.
4. Sennheiser HD 238 headphone
I own a lot of headphones but most of them are too big and expensive to carry around. Sennheiser HD 238 is always my best choice when travelling because it is lightweight, compact, comfortable and more importantly, the audio quality is amazing. I also don't have to worry when I lose it because this is like the cheapest headphone in my collection. If you are looking for an affordable headphone, this is really a great option. It easily can beat many other $100 headphones.
5. Canon EOS 70D
I bought this Canon camera a few weeks ago on Black Friday. I researched the market of cameras for the $1000 price range and it was narrowed down to the 2 choices, Canon EOS 70D and Nikon D7100. I chose the 70D because it has some important features such as wireless technology and Dual Pixel CMOS AF supporting awesome video shooting.
What else do you think I should bring to CES?
Disclosure: As an Amazon Associate, I earn from qualifying purchases. The commission help keep the rest of my content free, so thank you!