Quantum computers are like nuclear fusion – they are always just a decade away. Both of these technologies would completely revolutionize our society and would herald a new age for humanity. However, while we have nailed the principles of both quantum computing and nuclear fusion, there are significant difficulties in turning those principles into working physical machines.
The Qubit Conundrum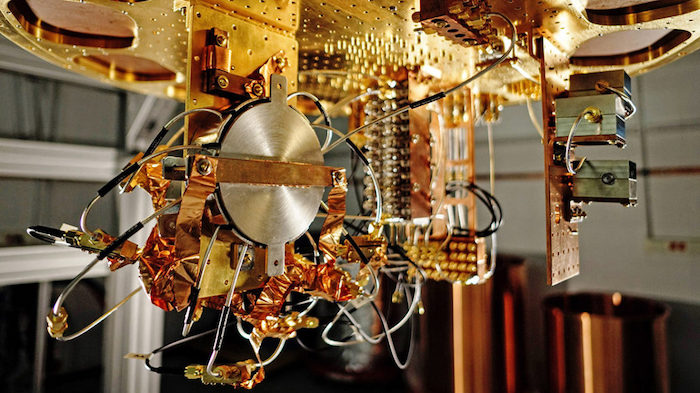 The challenge at the heart of quantum computing lies in the fragility of qubits. A classical computer, at its most fundamental level, uses bits of information to perform calculations. A bit can be either a 1 or a 0, with a 1 representing 'on' and a 0 representing 'off'. Each 0 and 1 processed by the computer represents transistors on the circuit board being switched on and off.
A quantum computer uses qubits instead of bits. A common misconception about qubits is that they represent both 0 and 1 simultaneously. However, this is not quite accurate. In actual fact, a qubit is a superposition of both 0 and 1 – it contains information about both states but is also its own distinct state. Confusing? Think of it like this – if you have a blue ball (0) and a red ball (1) then you could put them together to create a ball that is half blue and half red, which would be a 0 and a 1 at the same time. Alternatively, you could create a ball that is purple, meaning it contains information about both 0 and 1 while being completely different from either of them.
While we can create qubits with relative ease, it is much more difficult to do anything useful with them. This is because the superposition state is inherently unstable. As soon as a particle in superposition interacts with another particle, it is forced to 'choose' a definite state. It can no longer continue to pretend to be both 0 or 1 and has to pick a side, a process called decoherence. This is the roadblock that is currently preventing us from advancing the technology further.
Google's Quantum Supremacy
Quantum supremacy refers to the point at which quantum computing technology evolves to a point where it can complete tasks that would take a standard computer a very long time in a matter of minutes. And when we say: "a very long time," we're talking tens of thousands of years. You see, any problem that is computable can be solved by a classical computer, but on timescales much longer than a human lifetime.
A quantum computer, on the other hand, can theoretically tackle many such tasks in a matter of minutes, assuming that it has enough qubits to work with. So far, the biggest obstacle to developing more powerful quantum computers that are able to achieve supremacy is the difficulty in keeping entangled qubits in superposition.
Google has been at the head of the pack when it comes to quantum computing for a while now. Last year, Google showed off a quantum computer capable of processing 73 qubits, some way ahead of rival IBM's 53-qubit computer. However, a recently leaked paper suggests that the search engine giant might have made a leap that no one was expecting.
Sycamore
The precise details of the problem that Google's quantum computer, dubbed "Sycamore", actually solved are relatively complicated and not important here. What is important is the results and the implications of those results. Google's researchers have suggested that what took Sycamore 200 seconds would have taken a classical computer around 10,000 years.
However, it is important to realize that quantum computers are not just regular computers but faster. Even when we have fully realized quantum computers, they will likely remain highly specialized machines that will be used to solve very specific problems. If quantum computing ever makes it into our homes, it will likely be in the form of a quantum processing unit that sits alongside a regular classical processor in our computers. Just as you can plug in a new graphics card to enable your computer to do more graphically, we may one day be adding in quantum processing modules to enable our computers to tackle certain tasks.
Privacy Implications
In the aftermath of Google's announcement, presidential candidate Andrew Yang remarked that "no code is uncrackable", echoing one of the most prominent concerns around quantum computing. One of the problems that quantum computers will be very good at solving is encryption. Beating current encryption standards with a regular computer would take roughly the rest of the lifespan of the universe. This is too slow to be practical.
A quantum computer, however, will be able to crack even our best encryption in a relatively short space of time (depending on the standard used). But we are still quite some way away from that point. In order to use quantum computers to break encryption, thousands of logical qubits are needed. Each logical qubit consists of hundreds or even thousands of individual qubits.
Because they use a large number of individual qubits, logical qubits aren't affected by the decoherence that creates uncertainty when using regular qubits. Sycamore used 52 high-quality qubits, whereas thousands are needed just to form a single logical qubit.
While quantum computers don't pose an imminent threat to our security, advances like Sycamore highlight the need to prepare for when that day does come. Quantum computing will require new encryption standards that are resilient to quantum code breaking while still being usable for a classical computer.
Already, there is an algorithm that quantum computers can use to reduce a very secure 128-bit password down to just 26 bits. A 128bit password is essentially uncrackable for a regular computer, but a 26-bit password could be cracked by your smartphone.
The good news is that there are already some security standards that have been certified as quantum-secure by IEEE Std 1363.1 and OASIS KMIP, both reputable setters of security standards. However, we should never be complacent when it comes to our cybersecurity. If and when quantum computing does fully mature, we are all going to have to re-evaluate our approach to internet safety. You should factor this into your decision making when you are deciding how much of your life you want to put online.
Disclosure: As an Amazon Associate, I earn from qualifying purchases. The commission help keep the rest of my content free, so thank you!