Video solutions are stronger than ever. And no wonder. Given the many advantages it offers businesses and employees, it's not surprising that teams are flocking to technology. Here are four ways multi-party conferencing is reshuffling the deck in Corporate America – and the world over:
Bridge geographical barriers
So you've got a massive team. And you're scattered all over, with your management leads in Europe, while some members report to work from Asia and the U.S. The thought of running a business like that would have placed untold stress and worry on management heads years ago. It would've meant a lot of traveling and costs. Enter the age of secure video conferencing. Today, not only do offsite employees get to meet their management heads regularly, face to face, they're also well able to communicate with everyone else on the team. And all that happens at a much, much lower cost than one would expect. With video meetings, teams can talk to each other with ease and convenience. It's also made the workplace a global-friendly space, with companies having the run of bigger talent pools over local ones.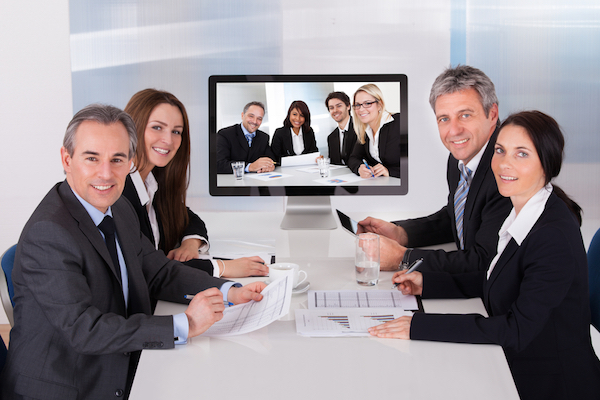 Reduced costs
We can't talk about video conferencing without talking about the tremendous cost-savings teams and companies get out of it. Need to hold a training session for upcoming employees for several new sites? No need to send in your managers and ask them to drive through several states or to suffer through innumerable flights in a matter of weeks. They can set up meetings from their desk or the company's conferencing room at HQ and proceed to conduct training sessions over video for the next few weeks. Imagine the cost-savings that would generate. No need to pay for fare or flight charges, accommodations, and food allowances, along with any other costs associated with business travel. You won't even have to shell out any money for the training venue. You could channel those cost-savings back to the business and your team. You have more money to provide better compensation, work benefits and perks, among other things, all in a bid to keep your employees happy. That's because happy employees will always work harder and better than the rest.
Better communication
The unique advantage of video meetings is the face to face interaction it offers. Innovation Insights says it helps engage people better because they're more in tune with the person on the other end of the camera. Visual contact means you won't have to second-guess yourself, worrying whether that phrase or word choice came out wrong. This reduces the instances of misunderstandings and conflicts at work, which can contribute to tension and stress. So the more teams use video, the more engaged they are and the better the quality of their team to team communication. It's especially helpful for remote teams who never get to see who they work with. These cloud-based solutions now help remote staff talk and stay in touch with the rest of their teams, resulting in deeper work engagement and higher productivity. So if you think your team could use a productivity boost, it might time to consider adding video meetings to your roster of go-to apps and technologies.
Convenience
Organizations put a premium on convenience. That's probably one of the best reasons why video conferences are gaining a lot of ground. Some of these communication systems work on several platforms. So switching from one device to another isn't going to be a problem. Need to go into a meeting and you've realized you just left your laptop back at the office? No worries. Just log onto that meeting with your mobile phone or tablet. With online video meetings, you and your team won't have to miss a meeting again. Anywhere, anytime connection allows you and the rest to stay in touch easily enough. Also, because video meetings can be recorded, if anyone ever needs to clarify a few things or forgot what someone else said during the meeting, there's no need for guesswork or to have to ask again. The recording feature means you and your team can simply rewind the record of that video until you find what you need, says Small Biz Daily. That holds true for training your IT teams as well. With recorded sessions, upcoming employees can easily backtrack through those sessions in order to review them for the work ahead.
These are just four of the many ways video conferencing apps help make life so much easier, efficient and convenient for you and your IT teams. So if you want to improve the way you and your staff communicate, if you think there's still plenty of room for improvement yet and you want those cost-savings to reflect on your bottom line, then look into making this technology a part of your communication strategy.
Disclosure: We might earn commission from qualifying purchases. The commission help keep the rest of my content free, so thank you!