Vertu, the luxury phone manufacturer, has announced its first smartphone powered by Google Android. The smartphone is named Vertu Ti and this will be the most expensive Android phone ever with the price tag starting at $9,600.
Since the death of Symbian, Vertu has migrated to Android because the OS delivers a more intuitive environment for users. In terms of tech specs, we will see the Vertu Ti not much different from recent Android phones which cost less than $1,000. Vertu Ti features a 3.7-inch 800×480 sapphire crystal display, 1.7GHz dual-core Snapdragon S4 processor, 1.3MP front camera and 8MP rear camera, 64GB storage expandable through microSD slot, 1250 mAh battery, NFC support and GSM 850/900/1800/1900MHz, WCDMA bands I, II, IV, V, VIII DC-HSPA+ support.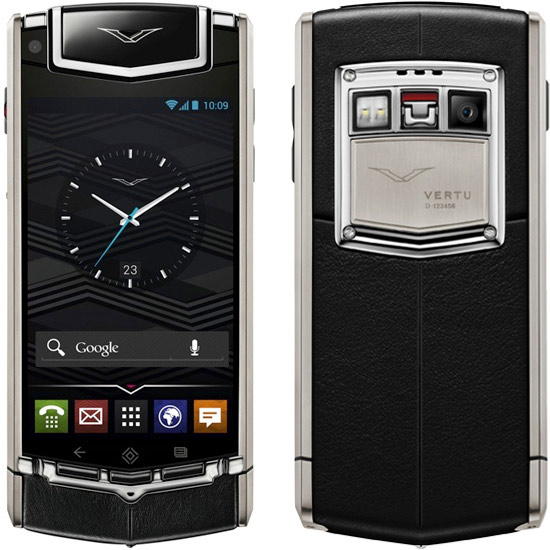 I know many people will consider the price ridiculous for a phone and this is a waste of money. However, I still think the phone is worth every penny for what it is offering. While most manufacturers are joining the specs war and make users overwhelmed, Vertu is introducing something so different, the feeling of exclusivity. Honestly, we don't need a too powerful smartphone with quad-core processor, 400 or 500 ppi screen. I am so bored with the smartphone market recently and it has been a long time I am not getting that much excited. Here are some reasons why the Vertu Ti impresses me.
Vertu Ti has a luxurious design.
The body is made from brushed titanium with real leather trim and the screen is covered with sapphire glass which can only be scratched by diamond. There is no problem if you accidentally drop it, it can resist a force of up to 500NM.
The capability to work with normal, micro and nano SIM.
It is handmade from 184 parts by a single craftsman, you can find his signature on the back.
The V-shaped Vertu Key on the left side gives instant access to the world of exclusive services. Vertu Life is a trusted source of information guiding users to everything in life. Vertu Concierge assists users with recommendations and priority bookings, we can communicate with the team via phone call, email or live chat. We have privileges like private members' clubs, invitations to big events like the Oscars and Fashion weeks. Last but not least, Vertu Certainty gives us awesome data protection and customer service.
For more info, visit Vertu.
Disclosure: We might earn commission from qualifying purchases. The commission help keep the rest of my content free, so thank you!