Disclosure: This is a sponsored post, we were compensated to publish this article on our website.
Samsung is undoubtedly one of the biggest smartphone brands. Their product releases have performed pretty well one after another, with their latest, the Samsung Galaxy S10 & Samsung Galaxy S10+, coming in amidst great rumors of several upgrades over its predecessor, the Samsung Galaxy S9. Well, when the truths and the untruths about the S10 finally hit the newsrooms, it became apparent that this phablet didn't disappoint despite some critics saying otherwise.
Having said that, let's now have a sneak preview of some of the improvements that the Samsung Galaxy S10 is bringing over its predecessor. Some of the notable highlights one would quickly point out are the S10's improved processor speed, a bigger screen with a slightly better resolution, the RAM, which is 8GB, up from the 4GB in the S9, a higher brightness of 1200 nits from 1100 nits, an improved color accuracy, as well as an improved battery, rising from 3400mAh in the S9 to 4000mAh in the S10.
As is expected, users will have to part with some extra bucks, substantial of course, to own the Samsung Galaxy S10 or the Samsung Galaxy S10+ over the Samsung Galaxy S9. Nonetheless, there are numerous ways through which one can own such flagships without draining or overly straining their pockets. The most used approach is the different payment plans normally offered through some of the big carrier networks like Verizon, AT&T and the rest of that caliber.
The Shortcoming of These Payment Plans – Network Lock
Unfortunately, such carrier payment plans come with their own setbacks, with the main one being the network restriction. In such a case, you cannot use a SIM card from another carrier. For example, when you go out to purchase your Samsung Galaxy S10 and, say, you buy it from AT&T, you realize that the phone is locked strictly to the AT&T network and, therefore, cannot be used on a Verizon, Sprint, T-Mobile or any other SIM card. When you insert a different SIM card, your phone gets disabled until you insert the right carrier SIM card.
Why You Should Unlock Your Samsung Galaxy S10
If your Samsung Galaxy S10 is locked to a specific carrier, it's a serious pain, especially if you'd like to travel to a different location where your current network isn't operational or is overly expensive to use.
On the other hand, traveling to such a location with an unlocked Samsung Galaxy 10 gives you the benefit of enjoying the most affordable local network services. The ability to swap SIM cards means you can take advantage of offers that are centric to the local networks.
Despite a locked phone being obviously frustrating, the financial benefits that carriers reap from such restrictions cannot let them willingly help you unlock your phone. The bureaucracy involved when you want your carrier to unlock your phone is so draining that some users opt to buy new phones for use when traveling to locations that are beyond the coverage of their primary network service provider.
Despite the disappointment that comes with these locked phones, you can always have your Samsung Galaxy S10 unlocked nice and easy without much hassle. If that's what you want, you're in the right place.
The process is quite straightforward!
Finally! Unlocking Your Samsung Galaxy S10
After all the talk about what a network locked phone is and why it's important to unlock it, we've finally come to the point of sharing with you the step-by-step instructions on how to unlock your Samsung Galaxy S10. Understanding that your carrier might not give you the unlock code or that the process to secure such a code would be inhumanely tedious, we're giving you a tried and tested procedure that has worked for many Samsung Galaxy S10 owners.
Step by Step Instructions
1. Have your Samsung Galaxy S10's IMEI/IMEID Ready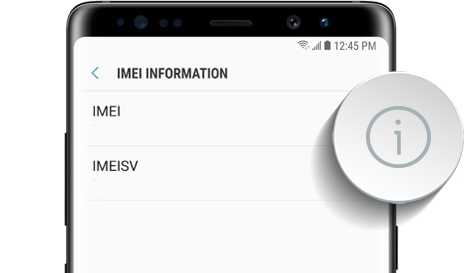 To continue with this process, you'll need your Samsung Galaxy S10's IMEI/IMEID. If you're not sure of how to get this, simply dial *#06# on the phone you wish to unlock. That will show a pop-up containing your phone's IMEI/IMEID. Another way of getting the phone's IMEI/IMEID is by navigating to your phone's Settings and then to About Phone. You should find the ID written there. Just note that down somewhere safe as you're going to need it in the next step.
2. Secure an Unlock Code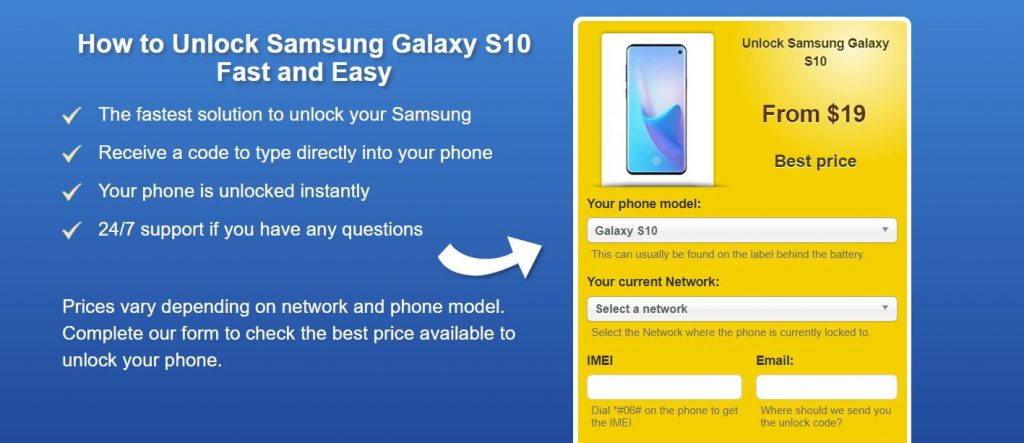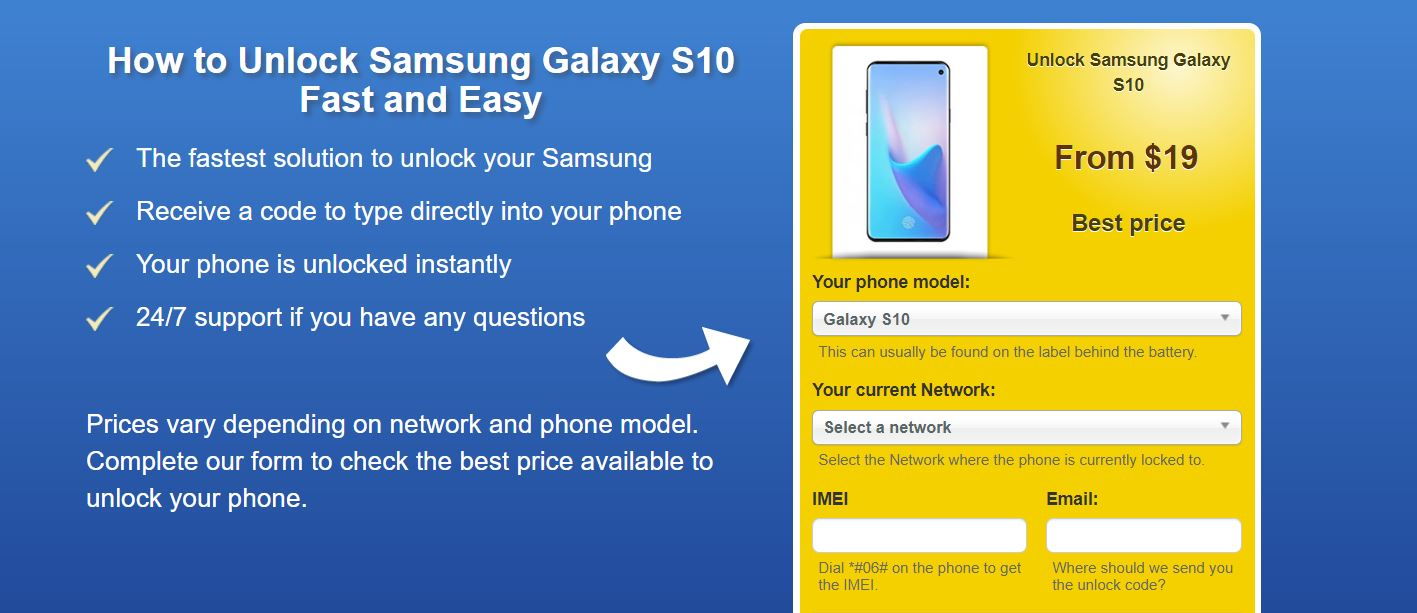 In this particular case, we're going to limit the instructions to using UnlockUnit. Why this particular service provider, you may ask? Firstly, we acknowledge that there are many companies offering this service. However, we wouldn't want to put you through the juggle yet we've worked with UnlockUnit for many years with great success. It only makes sense to point you to the one we've tried and tested, right? We also like them because of their great customer support system that makes it easier for issues to be resolved in a matter of minutes, if not seconds. To purchase an unlock code for your Samsung Galaxy S10 from them, please head over to UnlockUnit. Once there, provide the required information, starting by selecting your device model, then input your current network (where you're locked), then the IMEI of your Samsung Galaxy S10 and finally your email address. Remember to provide an active email address that you've got access to since that's where UnlockUnit will send you an unlock code.
3. Insert New SIM Card – Once you've received the unlock code in your email address, shut down your Samsung Galaxy S10, remove the current one and insert the new SIM card. If, say, your phone is restricted to Verizon network, remove the Verizon SIM card and insert the new SIM card, say AT&T.
4. Unlock Your Phone – After inserting the new SIM card, turn your phone back on. At that point, you'll be asked to enter an unlock code. All you've got to do is key in the unlock code sent to your email address and hit Send/Submit/OK and Voila! Your phone is unlocked and ready for use even with other SIM cards.
In Conclusion
From the above steps, you clearly see how easy it is to get your Samsung Galaxy S10 unlocked. This is contrary to what many of the phone-selling carriers would want you to believe. Their hesitance is understandable though – they earn handsomely from such subscribers.
With your phone unlocked, you no longer have to worry about buying another phone when traveling to a different network location. If for any reason you decided to sell your Samsung Galaxy S10, the buyer wouldn't have any excuse to pay less in the name of having to find a way to unlock it.
The unlock process is, however, not restricted to Samsung Galaxy S10. If you have a different phone, it's important to note that UnlockUnit helps users unlock smartphones from other brands as well, including Apple iPhone, Huawei, Motorola and more. Enjoy your Samsung Galaxy S10!
Disclosure: We might earn commission from qualifying purchases. The commission help keep the rest of my content free, so thank you!