Triberr must be a big nomination for the best social media services of the year. For people who haven't used the service, it is the place that you can create or join tribes, where members could easily share posts of each other on Twitter. One of the best features of Triberr is automatic tweets.
Triberr Automatic Tweets
There have been a lot of controversies around the feature, some people complained that their accounts post too many tweets each day, some day they could see about 50-60 retweets of other posts. The reason is because the number of members in each tribe explodes or someone posts too many new articles each day. This is really a big issue as it could make our accounts look spammy.
However, we can't deny the fact that automatic tweets could increase traffic to our blog significantly. My blog also saw the growth of 30% in the traffic from Twitter and t.co. The tweets even could help improve our pages' ranking on Google as I always see my friends' posts, which were retweeted, on top of result pages. Therefore, the content other shared on social networks could also affect their connections' search results. The socialization of Google search becomes more important in SEO and we have to consider more in the field.

Triberr Stopped Tweeting
Earlier this month, Triberr announced that the automatic feature was disabled. This is what they had to do after being warned by Twitter. Their problem is not because Triberr automates tweeting, schedules tweets, and allows sharing across multiple accounts. We can see a lot of services out there have those functionalities, such as Hootsuite or Su.pr. The reason Twitter wanted them to stop is Triberr had all those features. The combination of all those features is assumed to increase the number low quality or promotional content coming from Triber, and that would lead to violation of Twitter's TOS.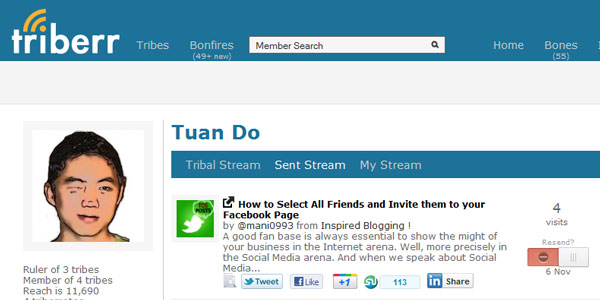 I can see automatic tweets were stopped since November 1st and it still hasn't been available again. Now we must log in to our Triberr accounts to approve the tweets before sending, that's not the feature we want from Triberr. However, the good news is that Triberr will soon bring back the automation feature. Their developers will rebuild the scheduling system and make the service resemble to Hootsuite. Probably it will also include some options to limit the number of posts each day. There has been already a new feature that allows sharing content on Facebook, Stumbleupon, Linkedin, Twitter and Google +1 at a click button.
I myself didn't have any problem with Triberr as I am in a Tribe including some great bloggers. All of their articles are very informative and useful, so I don't have to worry about the quality of my tweets. I really want the automation feature will be brought back soon as promised. What do you think about removing this feature?
Disclosure: As an Amazon Associate, I earn from qualifying purchases. The commission help keep the rest of my content free, so thank you!