The world of blogging has grown tremendously in the past few years. While some take it as a hobby and pacify it by writing blogs, there are many others as well for whom it's not just a vocation but also their profession as well as a source of income for them. It's a continuous source of income which not only gives a good monthly income but also showers great reputation to the blogger if he gets success in the field.
To gain online success in this field is very essential as it's the base of increasing one's income in it. Apart from posting blogs and receiving comments, there are many tips which one follow to become successful in this field.
Gain traffic by writing interesting posts
The first and the foremost element which helps you to attain success in this field is the traffic towards your blog. Not only getting traffic is enough, it's also essential to be aware about the factors which increase or decrease traffic as it plays a pivotal role in this.
The number of visitors to your site is directly proportional to your income and reputation. For this, you should always try to write interesting posts in a completely distinct style which attracts the reader's attention. The online success is very closely attached to a good online reputation however; there are a few things which need to be followed dedicatedly to make a niche in this field.
Manage your time efficiently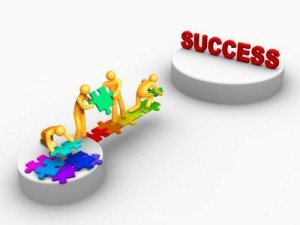 You should know the skills of time management if you want to gain success as a blogger as it plays a significant role in blogosphere. Apart from posting interesting and high quality content on your blog, you also require time for social media marketing and link building which is also time consuming. So, you should set a daily target to be able to complete all the tasks within the stipulated time as well as efficiently. A ready plan always helps in effective time management and task completion.
So, the first thing which you need to understand that your blog is your full time job where you need to post on a daily basis and some times even spend extra time to achieve desired results.
Build a List to communicate well with readers
It's very essential to build a list of the things which you wish to achieve for your blog as it may even double your profits. A ready list not only enables you to properly communicate with your readers but, also send offers to them which helps in earning money I case the readers buy it.
Build strong relationship with readers
Becoming a successful blogger is in other sense a matter of building a relationship with your readers. Your readers and website visitors form the key to your success as they only buy your products, read your posts, tell other people about your site. You should try to find the solution of your reader's problems and care about them in order to build a strong relationship with them.
Choose your field of interest
You should always choose such a topic in which you have enough matter to express and which retains your interest as well in the topic. This should be decided even before the creation of your blog so that you don't waste time on it later. So, it's always a good decision to write on a topic which is not very competitive but still gains the interest of the readers. You passion for the chosen topic is also important as it never let you get bored and keep you expressing yourself.
For example, if you are literature students, you may not be able to submit posts on a scientific topic for very long unless you have some genuine interest in it. So, it's always suggested to choose the topics which interest you and encourages you to write more about it.
Apart from all these things, the most essential thing for every blogger is time and patience. You need to understand that this field requires both of these. This field can certainly help you in earning good money, gain reputation and build your serious online business but, this can't be possible till you invest you time, efforts and hard work in this.
So, these are a few blogging tips which can help you to gain success in blogosphere.
Disclosure: We might earn commission from qualifying purchases. The commission help keep the rest of my content free, so thank you!