If you ask me where the capital of Nauru is, the next thing i might do is to fire up Google on my browser and search away. Well, Nauru was just an example. Googling has become so much of a routine for me, and since you are reading this, probably for you too.
Finding exactly what we want can be intimidating. Sometimes we just stumble upon it by luck. Some other times, we find ourselves pulling our hair out of frustration.
Here are a few tricks you can start using today to supercharge your searching. Hopefully, you will find yourself pulling out your hair less frequently.
1. Site specific search
Often, you might find yourself in need for content from a specific website. You can use site specific search for this. Just type in site:[site you want to search] along with your search term.
eg: Android site:techwalls.com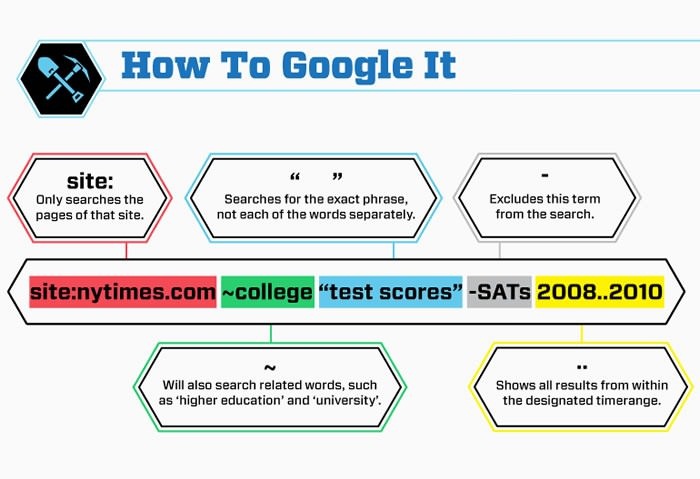 2. Search with missing terms
There can be times when you have that one liner or lyrics in your mind, but don't know all the words. A wildcard entry in your search will fill in the missing words. Just insert an Asterisk in place of the missing word and google will fill that spot for you.
eg: 'knowledge * but * listens'
3. Google is your calculator
Doing math is easy with google. Whether you just want to do some quick calculations, or need to know the value of any mathematical constants, just google it.
eg: 29*6, boltzmann constant
4. Search for a specific filetype
You can limit your search to just files with a specific extension, by appending filetype:[extension]. This can come in quite handy if you need ppt presentations, docs or pdf files.
eg: filetype:pdf
5. Find similar sites
This keyword can be used to find out websites that are similar to the site you search with. My search for facebook alternatives returned twitter, foursquare and the likes. Got the idea?
eg: related:facebook.com
6. Search within a range
This can be an extremely handy keyword, for those whose find the need for it. You can search for a range of numbers by inserting two dots between the numbers.
eg: champions league 2002..2008
In the above example, if you need news about all champions league seasons from 2002, just omit 2008 after the dots.
7. Exclude a word
There can be times when you want to search something, but the results about something entirely different keeps popping up. Excluding the undesired word from your query should solve the problem. It can be done by putting a hyphen before the term to be excluded.
eg: Bucket list -movie
8. Search for an exact phrase
You can search for an exact phrase by putting the phrase inside quotation marks. This will limit the search to the results that contain the phrase as a whole.
eg: " web design bootcamp"
9. Set timer
This is a nice google offering that can come in handy. It can be used with the Pomodoro technique. Search for 'timer' and Google will display a timer which can be set to alert you after the interval you specify.
10. Conversions
You can convert from one unit to another easily using google search.
eg: 190 cm to feet
10 dollars to pounds
Conclusion
These are just a few tips to help you search google more efficiently. If you are interested in supercharging your google hacks further, try 'Google dorks' when you fire up google next time. Happy googling :)
Disclosure: As an Amazon Associate, I earn from qualifying purchases. The commission help keep the rest of my content free, so thank you!