When I received the Swissvoice BH01U ePure Bluetooth Station for review, I thought that this was simply a Bluetooth wireless handset used to receive phone calls without touching my smartphone.
I was totally wrong. That is just one of the 4 functionalities that this station is offering. Before checking out features of the Swissvoice ePure station, I must make some compliments to its design. This is among the most beautifully designed accessory for smartphone that I've ever used. The design could be inspired from the traditional telephone but it looks much more elegant. On the handset, they use mostly soft touch rubber matte finish, so I feel so comfortable holding it even for an hour talking. The product also comes with a dock and it also uses the same materials, rubber matte on the outside and glossy plastic on inner side.
The design is delicately implemented not only on the product but also on the package. Let's take a look at the Swissvoice BH01U ePure Bluetooth Station: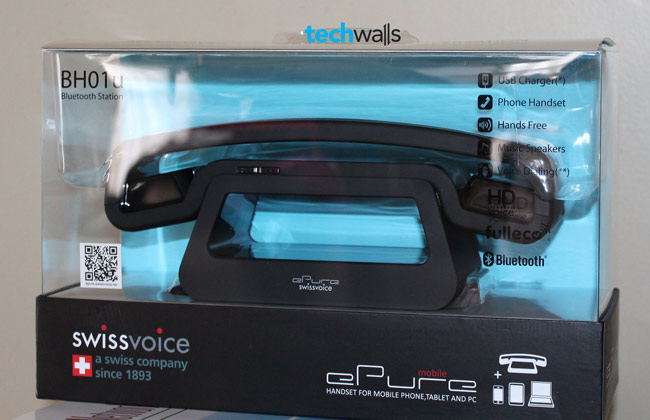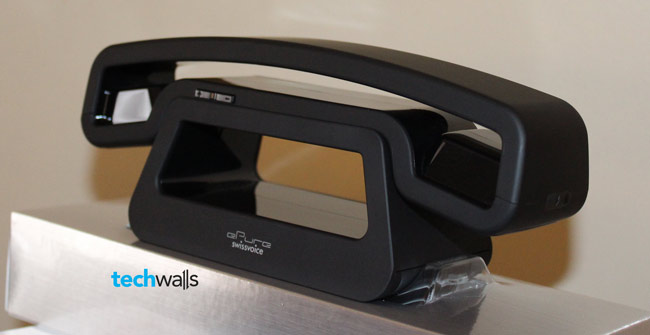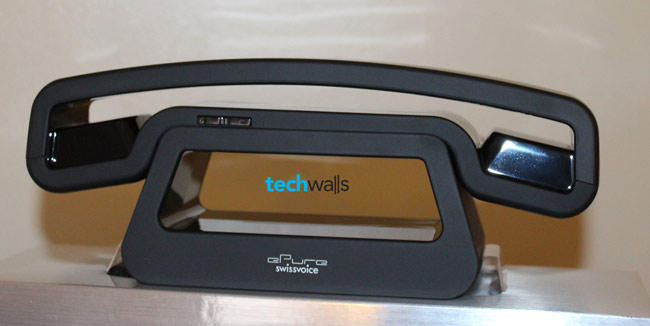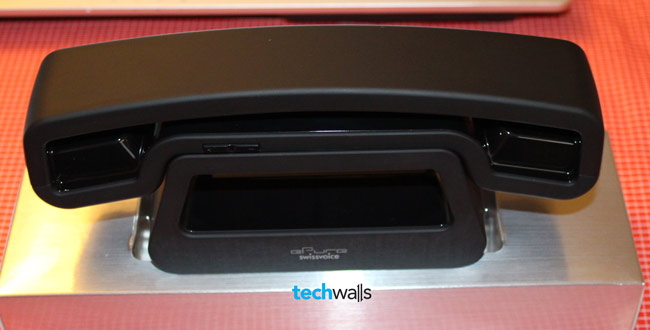 I love it at the first sight and I doubt you will, too. The station is also offering some great features and it become particularly helpful when you use your smartphone at home. Let's check out the features:
1. Wireless Handset
This is the basic feature of any Bluetooth handset. The Swissvoice ePure helps us make or receive phone calls with HD Voice technology. It helps improve the listening experience and also reduce mobile phone emissions absorbed by our brain. We can use the handset in wireless range up to 20m or 65ft from our mobile phone.
The hands free voice is also available, so we can place it anywhere and continue conversations with background noise cancellation. There is nothing to complain about the voice quality, it was so smooth and clear in my test.
2. Music Streaming
I was pretty surprised when I tried streaming music from my phone to this handset. I can't believe the sound quality could be that impressive.
The handset utilizes the Propulsion Nozzle Effect to expel the sound wave to its two built-in stereo speakers. I recorded the sound in the video below although it can't reflect accurately how impressive it is. For best music experience, I recommend to place the handset horizontally with stereo speakers facing our ears.
Of course, you can enjoy the music streaming with any Bluetooth devices like your smartphones, laptops or tablets. There are also buttons to control volume, turn to next song, previous song, play/pause, therefore we can easily play music without touching our phone.
3. Mobile Device Charging
The station of the handset could be used as a charger. If you get the station for iPhone, there is a retractable dock on the base so that we can dock and charge our iPhone (Unfortunately it is just compatible up to iPhone 4S as it is not using the Lightning connector). The universal station uses USB connector on the back, so it could charge most Android phones.
4. Siri and S-Voice Integration
The device is compatible with Siri and S-Voice. It means that we can also talk to the virtual assistant to make phone calls, send texts, make appointments or anything else.
Another popular question is about its battery life. It takes me about 3 hours to charge the Swissvoice station fully and I can use it for wireless music streaming in nearly 4 hours. Its standby time is around 300 hours.
Overall, I love this device and it is worth the price of around $140. You can purchase the Swissvoice ePure Bluetooth Station on Amazon for the best price. It is listed at $140 for the universal version and $150 for the iPhone version.
Disclosure: We might earn commission from qualifying purchases. The commission help keep the rest of my content free, so thank you!