Xperia range of phones didn't taste much success in the US region because of delayed launches and underwhelming hardware. This time also, they keep on with their late-launch trend which cannot be justified as a marketing strategy at all. But with this new LTE Android device, Sony Xperia Ion is a little more than your mid-range Android device, with 720p display and 12 megapixel camera. But there are several loopholes in this device when it is compared to its market rivals – HTC One X and Samsung S III. Read this article to find out why!
Hardware and Design: Belligerent and Developed
With 4.6 inch screen and 0.46 inch thickness at the center of the phone, Xperia Ion feels quite large and heavy on hands. Its 'domed design' of the body runs from top to bottom which makes the phone look sleek and sturdy reducing the weight marginally. Weight of the phone is near 4.9 ounces. When it comes to design, Xperia Ion can beat any of its contemporary rivals by its belligerent and industrial look.
The immaterial part of Xperia Ion is its curved, black aluminum brushed curved rear-panel. The top and the bottom part of the phone is made of plastic as the former reveals SIM card slot and microSD slot when slided up. The edges are bent towards the flat glass screen. With 3.5 mm headphone jack at the top, there are several buttons – power, dedicated camera button and volume rockers. The physical buttons are easy to find and press but touch buttons for menu, home and back are very small and not backlit also. The user needs to tap above the small lights instead of direct tapping on the buttons making very difficult for the users.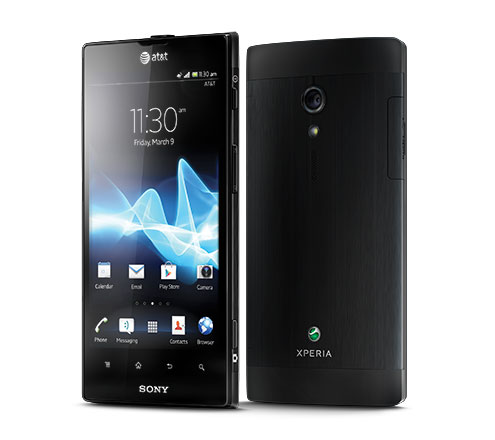 Display
Xperia Ion has a LCD display of 4.6 inch with 720p resolution with some unique features of Sony like 'HD Reality display' and 'Mobile Bravia Engine'. The former is a catchy term for pixel density which is 342 ppi and the latter represents the platter of filters and color management tweaks that Sony offers for images and videos.
Considering the display, it is one of the best phones in the market till date. Some excellent viewing angles, beautiful color accuracy make the display very attractive. The whites are too intensified which makes some of the images look dull and washed out in low brightness. Still it can be fixed very efficiently with the natural fix option.
The pictures and the videos look attractive when the 'Bravia Engine' is set on (It's ON by default) increasing the sharpness and contrast and making it look charismatic in front of a novice user.
When it comes to display, Sony Xperia Ion can compete well enough with HTC One X and Samsung S III. But as I go on, it would be very clear that it takes a lot more than well-defined display to be the best smartphone in the market, beating the smartphone giants like Samsung.
Software and Performance
Here starts the problem. In June 2012 at its launch, it was running on an Android Gingerbread v2.3.7 instead of the latest v4.0 Android Ice Cream Sandwich. There should be an immediate update in its skin for ICS in US, as Xperia phones outside US have already received an ICS update. Sony said this phone is 'ICS upgradable' but as I say, do not expect a timely OS upgrade from Sony. It has some few artistic tweaks and overbearing skins do not make much difference. The 'Homescreen' is not much different than that of stock Gingerbread. Only its 'Liveware Manager' is worth mentioning as it helps to automatically launch apps relevant to the accessory actions taken by the user. This feature is a new addition to Sony's basket.
But, there is a big positive side- that this new Xperia Ion is playstation certified. You can access to Sony Music and Video unlimited. It launches 'TV Launcher' when connected with Sony Bravia via HDMI Cable.
When it comes to performance, it is less than average. With 1.5 GHz dual-core MSM8260 Qualcomm S3 (not S4) processor and 1 GB RAM, it is nothing screamer Gingerboard phone with poor scrolling. With its out-dated processor, it performs well and good, but can't even come nearby of its top-tier market rivals.
Battery
With a 1,900 mAh non-removable battery, it gives performance much better than expected- considering its worn out processor and high power consuming LTE. It has 'Power Saver' app that stops power-draining apps temporarily to save power for more important obligations.
Camera
It has a 12 megapixel camera and a 720p front facing camera – which is better to when compared with its predecessor Xperia P (8 megapixel). After taking a shot, the user won't feel like he is using a 12 megapixel camera for shooting, as there will be enough noise and pixel grains to watch out for. In evening time, the noise gets better and you need a steady hand to click a good shot. The best part of it is, you do not have to adjust settings like white balance all the time. The control of the settings of the camera like adjust metering, exposure, image stabilization is too easy. That makes this section of the phone best in its (mid) range.
Wrap-Up: Xperia ion – One of the best in midrange
It would be very unfair to compare Sony Xperia Ion with its double-priced competitors like Samsung S III and HTC One X. With a generous price tag of $99.99 (on contract of AT&T), though, one can get a better phone in terms of LTE, camera and updated software's (like Samsung Galaxy S II Skyrocket or Nokia Lumia 900). With mid range smartphones, you always have to compromise. No one wants to buy a new android Smartphone with Gingerbread as its starting OS. With the launch of Xperia ion, Sony has made a mark that they have that capability of making high-end smartphones, but that's not the case this time.
Disclosure: As an Amazon Associate, I earn from qualifying purchases. The commission help keep the rest of my content free, so thank you!