Sony Xperia P is the very first Smartphone by Sony which features the WhiteMagic technology. The screen of the handset can outglow almost all the Smartphones which are in the market currently. The specs are nice and the price is quite reasonable. Xperia P is certainly a very good option for those of you who are searching for a decent mid-range Android phone. Read on to find out what can you expect from Sony Xperia P.
Sony Xperia P- Design
Sony Xperia, at a glance may seem to appear very similar to Xperia S. It has a curved back, glowing transparent strip present at the bottom and sharp edges. However, instead of plastic body, Xperia P has an aluminum shell  which i think has differentiated it from the other Smartphones. Most of the back side of the phone is covered with the aluminum shell excluding the areas where antennas are present. The thickness of this Smartphone is 10.5 mm.
The display of the phone is located a little far from the bottom hence it is a little difficult to handle the phone from one hand as your thumb might fail to reach the top of the body of the handset.  The physical buttons( present on the right side) are easy to operate. Also, clicking pictures is easy with the two stage camera shutter. The Android keys are present on the transparent band and are pretty responsive to touch. When it comes to the design, Xperia P will certainly not fail to impress you. Although it shares some similarities with Xperia S, it has its own unique features as well.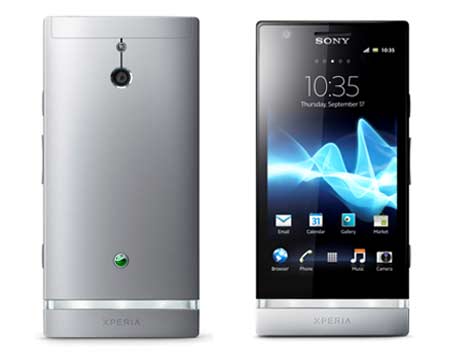 Sony Xperia P- Performance
Although Xperia P lacks a quad core processor, the dual core 1GHz processor is more than enough. When used moderately, the battery might last up to one day.
The voice quality is satisfactory and you will not have to face any problems with call reception. Also the external speaker is pretty nice. The handset offers you pretty decent performance.
Sony Xperia P- Battery Life
Xperia P sports a 1305mAh battery and one might think whether the tiny battery can live up to one's expectations. However, Sony Xperia P's SoC appears to be pretty nice when it comes to sipping power. You can expect the battery to last for about fourteen hours of use. These fourteen hours include camera work for one and a half hours, watching a video which lasted for two hours, playing games for two hours and calls for more than an hour. The battery will last for about an entire day without any problem. For those of you who are not heavy users, the battery might last for few more days.  A good battery life is one among the many things this phone has to offer.
The Camera
Sony Xperia P sports a 8 megapixel camera which has LED flash as well as geotagging. You also get features such as multi angle shot as well as 1080p video recording at 30fps along with continuous autofocus and stereo sound.  A front Facing VGA camera is also available for Video calling. Xperia P also offers 3D sweep panorama, face and smile detection, short shutter lag and the balanced color levels. The VGA camera is not extraordinary but is decent enough and is good for video calling. To cut the long story short, the camera of Xperia P is pretty good and offers a number of features you will surely love.
Price
This amazing mid range Android handset from Sony is available at around 340 pounds in UK and for $460 in U.S.  The price is pretty accurate keeping in mind all that Sony Xperia P has to offer.
My verdict
The handset is undoubtedly among the best handsets which are available at this price. The high end specs this phone has to offer make it really amazing. There are some drawbacks but these can be ignored as the good points over shadow the drawbacks of Sony Xperia P. It is a combination of decent camera, great design, good battery life and other great features. This handset is here to stay.  There are a number of reasons why you should invest in Sony Xperia P.  This is one decision you will never regret.
Disclosure: We might earn commission from qualifying purchases. The commission help keep the rest of my content free, so thank you!