The period of time that camcorders dominated the consumer market for video recording devices has long gone. Now if you go to any tourist attraction all over the world, you can see that they are using iPhones, Samsung Galaxy phones and even tablets to take pictures and record videos.
Obviously people are less interested in those bulky camcorders and they'd rather use their smartphones instead because they can easily put their phones in pockets. Recent phones like Samsung Galaxy Note 4 or LG G4 even have 4K video recording capability, so most consumers are happy with their mobile devices. I was among them and honestly I hadn't used any camcorder in my life. Actually I checked out some of them but they couldn't convince me to buy an extra video recorder apart from my smartphone and DSLR.
The Sony FDR-AX33 is my first camcorder and I am quite happy with the device. To figure out why, keep reading my review.
Unboxing Video
Design & Features
The Sony FDR-AX33 is designed for right-handed people only. You can hold the camcorder comfortably with your right hand and still easily can reach buttons on top to take photo, zoom in/out or the Record button on the right side.
Sony has made the device so compact and manageable, it weighs just about 1lbs 7oz (655g) and you will just need to use one hand to operate most of the time. It can be turned on by pulling out the viewfinder or opening the 3″ LCD touch-screen display.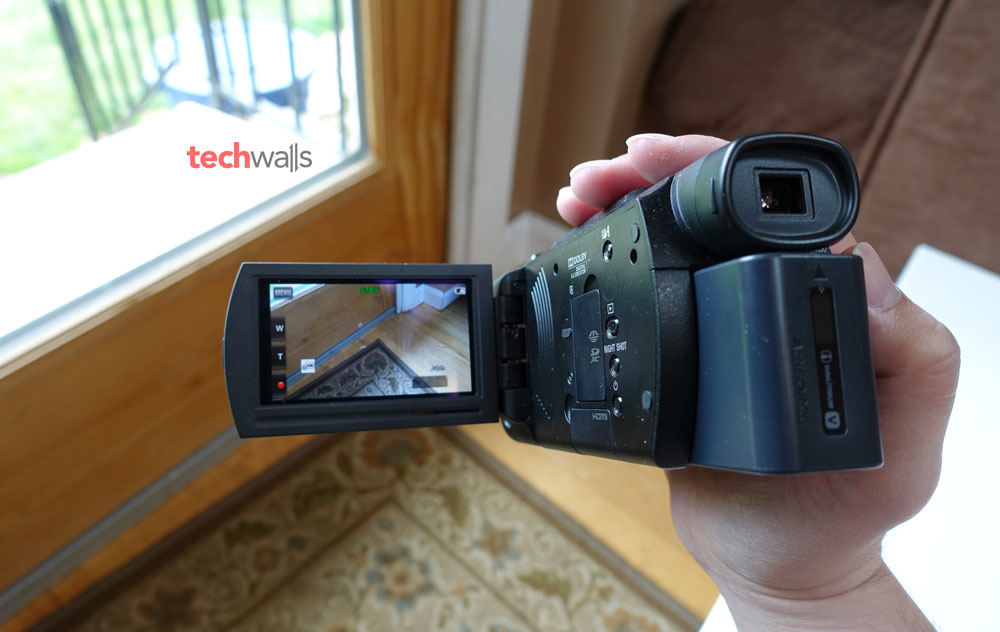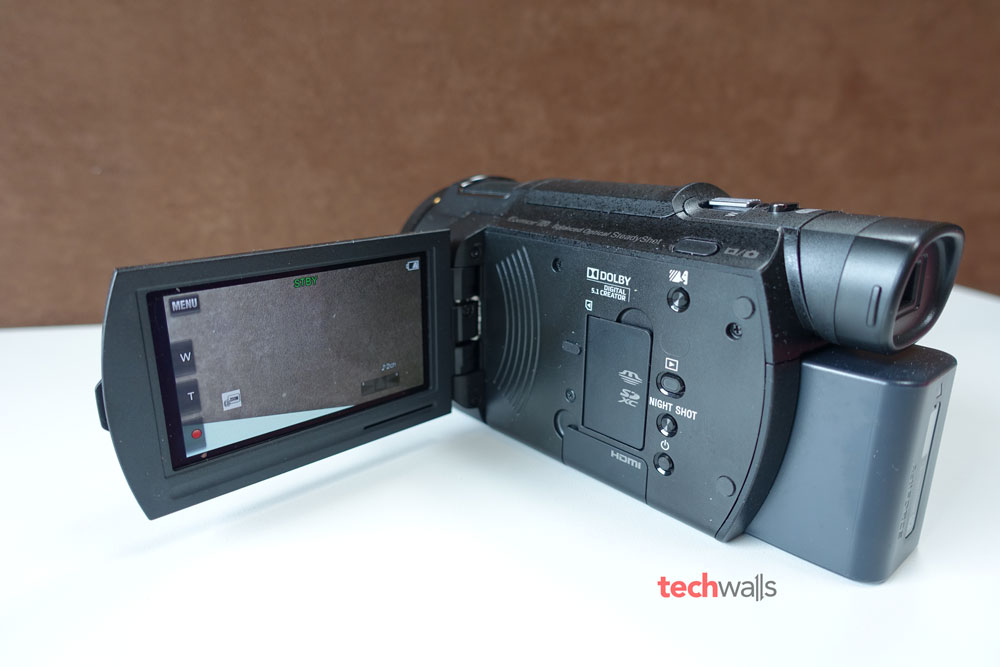 You can charge the device more flexibly with either the power adapter or the USB cable hidden on the strap.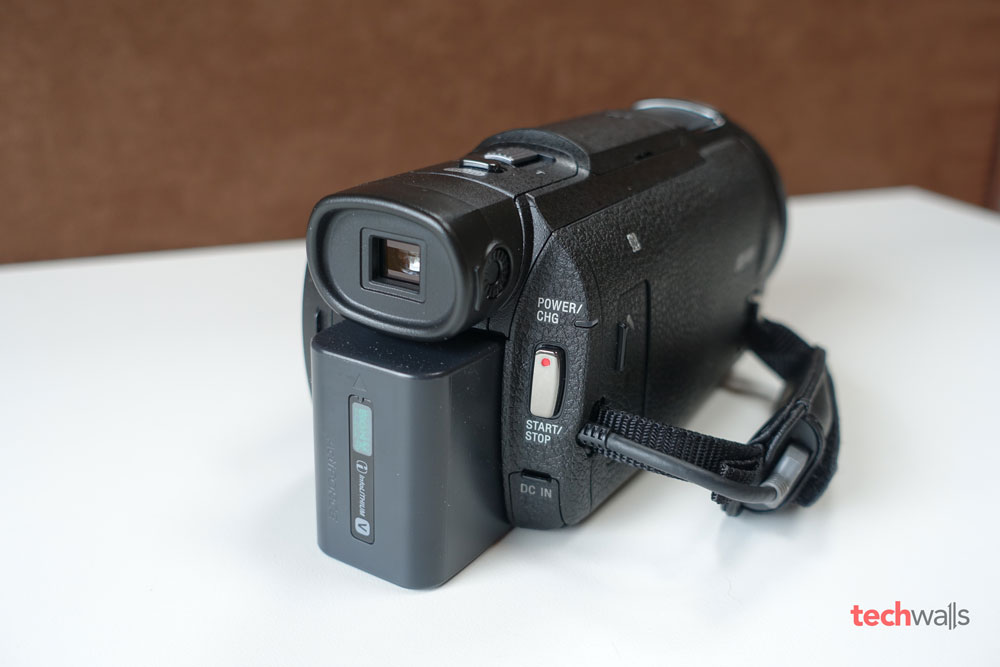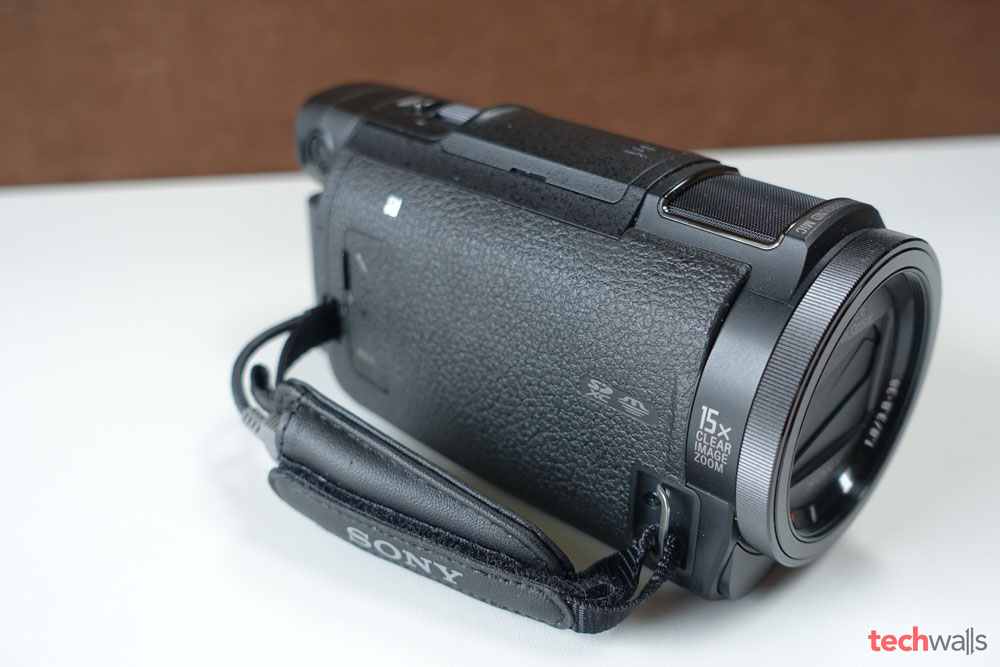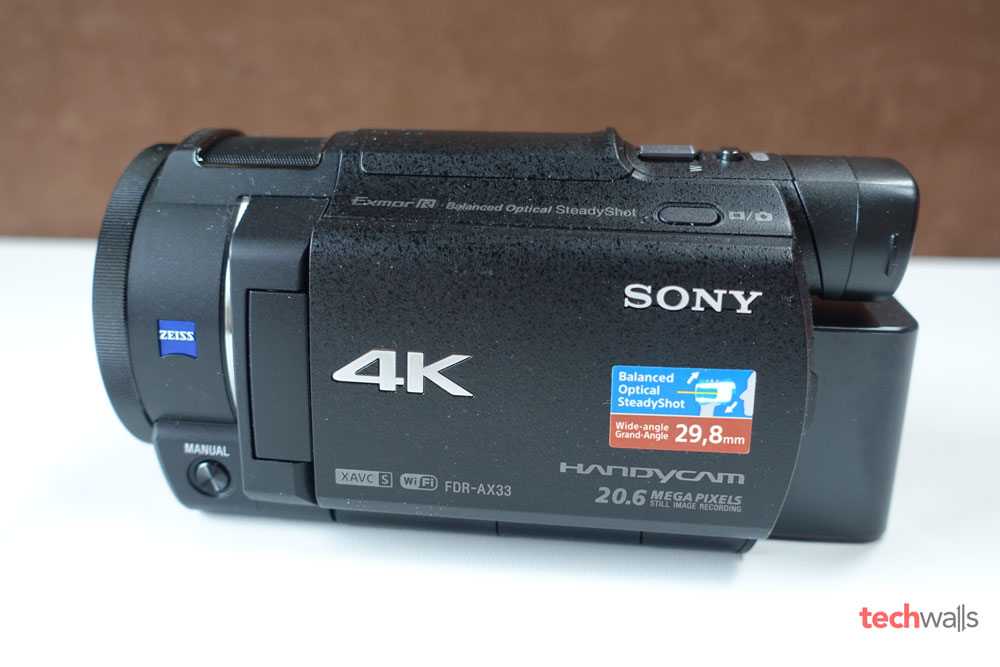 The camcorder features the Carl Zeiss Vario Sonnar T* Lens with 10x Optical Zoom, and you can record your 4K and 1080p videos in XAVC S format which will save to MP4 files for easy editing. I shoot in Intelligent Auto mode most of the time because it is easy and ready to use. There is also manual mode that you can adjust aperture, shutter speed, white balance and exposure.
Video Quality
I bought the Sony FDR-AX33 mostly because it features the Balanced Optical SteadyShot (B.O.S.S.) image stabilization technology. Basically, you can see the lens moving inside to offset camera shake. This is a huge step forward for any video recorder. If you tried recording with smartphones or cameras while walking on the street, you will easily receive a very shaky and unusable video. Of course you can fix it with video editing software but it will cause distortion and require extra zooming. The B.O.S.S. is really brilliant when you want to record a video when you are traveling or when you take a close-up video. You can check out some video samples below, I tried recording 4K/30p, 1080p/60p videos, tested 10x optical zoom and B.O.S.S. image stabilization in 3 modes (active, standard and off).
Quality of those videos has been reduced dramatically due to Youtube compression. I actually really love recording 4K videos with this camcorder because the image is so clean and crisp. You can check out some more videos on my channel as I used it to record some product videos. My only complaint is its performance in low light conditions. When there is not enough lighting, I can easily see more noises in my videos. This is probably caused by the small 1/2.3″ sensor. Of course the videos are still much better than the ones recorded with phone cameras, so you have nothing to worry about if you are not a professional.
Conclusion
Pros
Affordable 4K video recorder
Compact and lightweight
Easy to use
Amazing image stabilization
Can produce stunning videos
Cons
Average performance in low light environments
The Sony FDR-AX33 4K Handycam Camcorder is on sale on Amazon for $800. I highly recommend the camera to anyone who loves traveling and wants to capture beautiful footages. There is no better option at the moment, especially at this price.
Disclosure: We might earn commission from qualifying purchases. The commission help keep the rest of my content free, so thank you!