While so much emphasis has been given on marketing and publicity of Samsung Galaxy S3, another member of the flagship series came into the market without much exposure. Yes, it is Samsung Galaxy Stellar, the mid-range Smartphone that we are talking about. Samsung's biggest USP is its versatile phone range that brings Smartphone and Android experience to the masses in big and medium budgets. Galaxy Stellar is one such phone that can be accommodated by relatively smaller wallets.
Samsung Galaxy Stellar Design
Galaxy Stellar has a very basic plastic form; its all-black finish lacks inspiration. With 4.8 inch length and a chunky 0.47 inch thickness, it may not be in the big league of the thin, high-end Smartphones, but it fits in your palm very comfortably. There is a secondary camera above the display and four touch buttons below it (back, home, recent apps and menu). On the left side, there is the volume rocker and microSD port and the 3.5 mm port is on the top like all galaxy gadgets. The more roundish bottom edge adds to the aesthetics of the phone.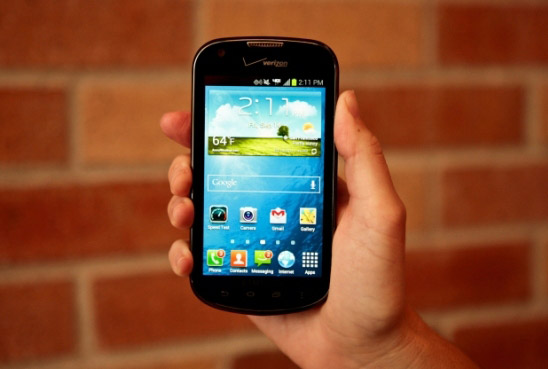 Display
The display is not unusual for a mid range phone but it would be unfair to compare it to the Super AMOLED screens of Galaxy S3 or such high end phones. It has a WVGA touch screen of resolution 800 x 480. This omission of HD is definitely a letdown for some users because with companies trying to make displays bigger and better, Smartphone and HD display have become somewhat synonymous. The screen, at 4 inches, is not very big either. It does not particularly hamper typing but when the touch keyboard and the typing screen all fit in under 4 inches, mistakes are bound to sneak in.
Hardware & Performance
Under the not so impressive cover, we Galaxy Stellar has a dual core Snapdragon S4 processor clocked at 1 GHz. It does not match up to the prowess of quad core processors but in the price range, it gives decent service. It has 4 GB of internal memory which can be expanded by microSD card. Another 4 GB of memory would have been more comfortable because if you want to download a lot of apps, you will need external memory because even the pre-installed Samsung apps take up about 1.7 GB. The RAM is fairly accommodating at 1 GB, which is at par with the more popular Galaxy phones like S3. Surprisingly, battery life is the real triumph for Stellar, an aspect Smartphones routinely fail to cope with. As the screen and processor are both quite gentle on the 2100 mAh battery, the phone lasts surprisingly long.
Software and apps
Galaxy Stellar gives a stellar performance when it comes to initiating novices into the Android world. With the starter mode, the interface is absurdly simplified and ideal for the not so tech-savvy users. Stellar runs on Ice Cream Sandwich; although there were expectations of an upgrade to the latest Android 4.1 Jelly Bean, it seems now that such hopes have been dashed.
Camera
The camera and photo quality is lackluster at best. There is a primary 3.2 MP camera at the back and a 1.3 MP secondary camera in front. Although 3.2 megapixels is not very impressive, it could have fared better even without upgrading the power of the lens. Stellar is a decent phone if you are a college student looking for an Android phone, if you are on a tight budget. But if you intend for your phone to double as a good image capturing device then the best move is to stay away from Galaxy Stellar.
Verdict
As quite clear from the very beginning of the review, Samsung Galaxy Stellar is not going to win awards in any department. The price tag it flaunts is usually associated with the most mediocre of phones. It will not give you reasons to boast about, it doesn't have specs that you can show off. But one shouldn't get caught up in that because Samsung didn't really target the most frivolous Smartphone users with Stellar. Be that as it may, Stellar is not all bad. If you want a decent Smartphone, the Android experience without blowing a hole in your pocket then Samsung Galaxy Stellar is the way to go.
Disclosure: As an Amazon Associate, I earn from qualifying purchases. The commission help keep the rest of my content free, so thank you!