Social media marketing is now one of the most important aspects of any business' publicity strategy. Platforms like Facebook, Twitter and blogs offer millions of potential viewers in a familiar and easy-to-use format. Those users tend to be tech-savvy and expect businesses to come to them.
Reaching out to these individuals, however, takes more than just posting the occasional product review or new blog entry. In order to stand out from every other marketer on the Web, you'll need to be engaging, relevant and post incentives new followers want. Many entrepreneurs make the mistake of marketing only when business begins to dry up, but with proper timing and a consistent campaign those slow spells can disappear altogether.
Know When to Post Information
The problem with social media websites is that they can be crowded and chaotic. It's all too easy for an exciting new tweet or post to be pushed down subscribers' feeds and lost before anyone gets to see it. There are trends of user activity that can give your promotions a larger click-through rate and lead to more conversions.
For example, the optimal window of time to post is between four and seven PM local time. Posting on the weekends is more likely to draw in consumers, while weekdays are better for marketers who work with businesses. Sunday is typically a lazy day for Americans and may be the best day of the week to advertise. Of course, every business is different, so experiment with various schedules to learn what works for you.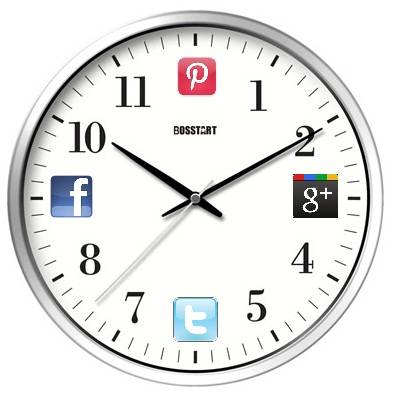 Grab Attention and Keep It
Most hardware stores don't have a lot of Facebook fans because people naturally assume they won't have much to say. Similarly, every business needs to prove that it's worth following. No matter how amazing or revolutionary your product or service is, no one will care until you make them. Be bold, run promotions and do everything you can to bring in curious subscribers. Coupons and prize drawings are as popular now as they ever were, but you can still get by on a tight budget. Post insightful links and questions in between offers to engage discussion and help expand your presence on subscribers' feeds. Every interaction you have with someone is a chance to pick up another follower who sees his or her friend talking about your business.
Strike a balance between staying active and spamming feeds. One item per day is usually more than sufficient, unless you are in the middle of a buzzing campaign. It's best to plan two or three big events per year and then stick to smaller updates and discussions in between. This keeps your time and financial investment to a minimum and still gives followers a reason to pay attention.
Prepare For the New Traffic
Once you have a strategy developed and start to cultivate a following, it's time to turn those new readers into customers. Too many businesses launch a successful social media campaign and then have no idea how to capitalize on it. Discounts are an easy way to turn subscriptions into sales, or you may try to get a firmer foothold by collecting email addresses for a newsletter. Knowing your end goal will not only allow you to craft your marketing around it, but will also help turn something as frivolous as hitting the 'Like' button into real cash for your business.
Disclosure: We might earn commission from qualifying purchases. The commission help keep the rest of my content free, so thank you!