Where Intel introduced their two new processors the Merrifield dual-core and the Moorefield quad-core this year on Mobile World Congress, Qualcomm came with their top of the line SOC known as the Qualcomm Snapdragon 805 to heat up the battle as Intel is known for their powerful processors when it comes to PCs.
The Qualcomm Snapdragon 805 is the first 64-bit processor from the company consisting of 450 krait cores with clock speeds as high as 2.7GHz. Qualcomm has also improved the GPU on Snapdragon 805 and now has an updated Andreno 420 GPU with 128-bit memory interface. To judge how well the processor is Qualcomm had it installed in some of their experimental Android tablets on Mobile World Congress supporting 4k resolution on a 10.1-inch display. Support for 4k resolution is one of the favoring point for the Qualcomm Snapdragon 805 along with the support for hardware tessellation and geometry shaders for 4k rendering on the new Andreno 420 GPU. These two new features was recently introduced into both consoles and PCs but to see them on a SOC points towards that fact that Qualcomm is trying to close the gap between tablets and PCs.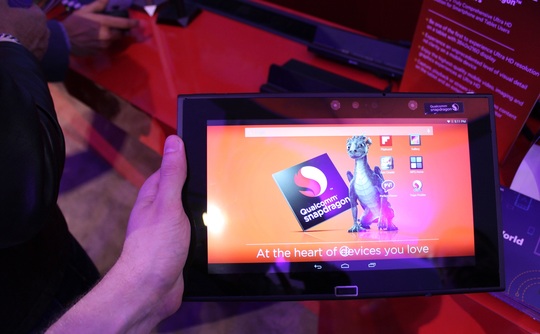 According to some of the reviews on the experimental tablet equipped with Qualcomm Snapdragon 805, said that the tablet was blazing fast with no lag at all and was supporting a resolution of 3840 x 2160 which in terms of pixels density and screen clarity would even beat the new Apple iPad Air and why won't it as 4k is four times the resolution of 1080 and no matter how hard you try there won't be any visible pixels on a 4k display.
The company have always came up with top notch mobile chipsets and thus stands on the top and this year it's going to be the same as the Galaxy S5 is equipped with the Qualcomm Snapdragon 801 which is an overclocked version of Snapdragon 800 including the rumors about Qualcomm to include the Snapdragon 805 in mobile and tablets this with the new Nexus 6 also waiting in line. 4k display is the new technology and Qualcomm certainly hasn't wasted anytime adapting their SOC's to this new technology.
Disclosure: We might earn commission from qualifying purchases. The commission help keep the rest of my content free, so thank you!