My Paypal account was temporarily limited once again last week. The reason was because there was a spike in payments to my account in a short period. I'd received many offers for sponsored reviews on TechWalls and Paypal might have been dubious about the continuous payments. They thought the activities were unusual and they were afraid that I couldn't deliver my works and therefore, they asked for more information to prove that I can fulfill all those orders.
We would like some information from you to ensure that you're able to fulfill orders from your customers.

Until we receive your information, some features in your account will be limited. You'll be able to regain access to these features once you provide the information we've requested.
They also gave me a deadline; If I can't provide the proof in 1.5 months, the limitation will be extended. Specifically, I couldn't move money in my account at this time, I can't pay using Paypal, send money to another account, or withdraw to bank. If I couldn't send the requested info, I even couldn't receive money or payments.
It is really weird that they did not send any email regarding the limitation. I was just aware of the issue when logging in to my Paypal account. There was a notification requiring me to provide information and once I clicked on it, it opens an account limitations page showing all the steps I need to follow to restore the account. Specifically, I had to provide proof of fulfillment and purchase receipt from my supplier. Some other people are requested for more information including identity confirmation.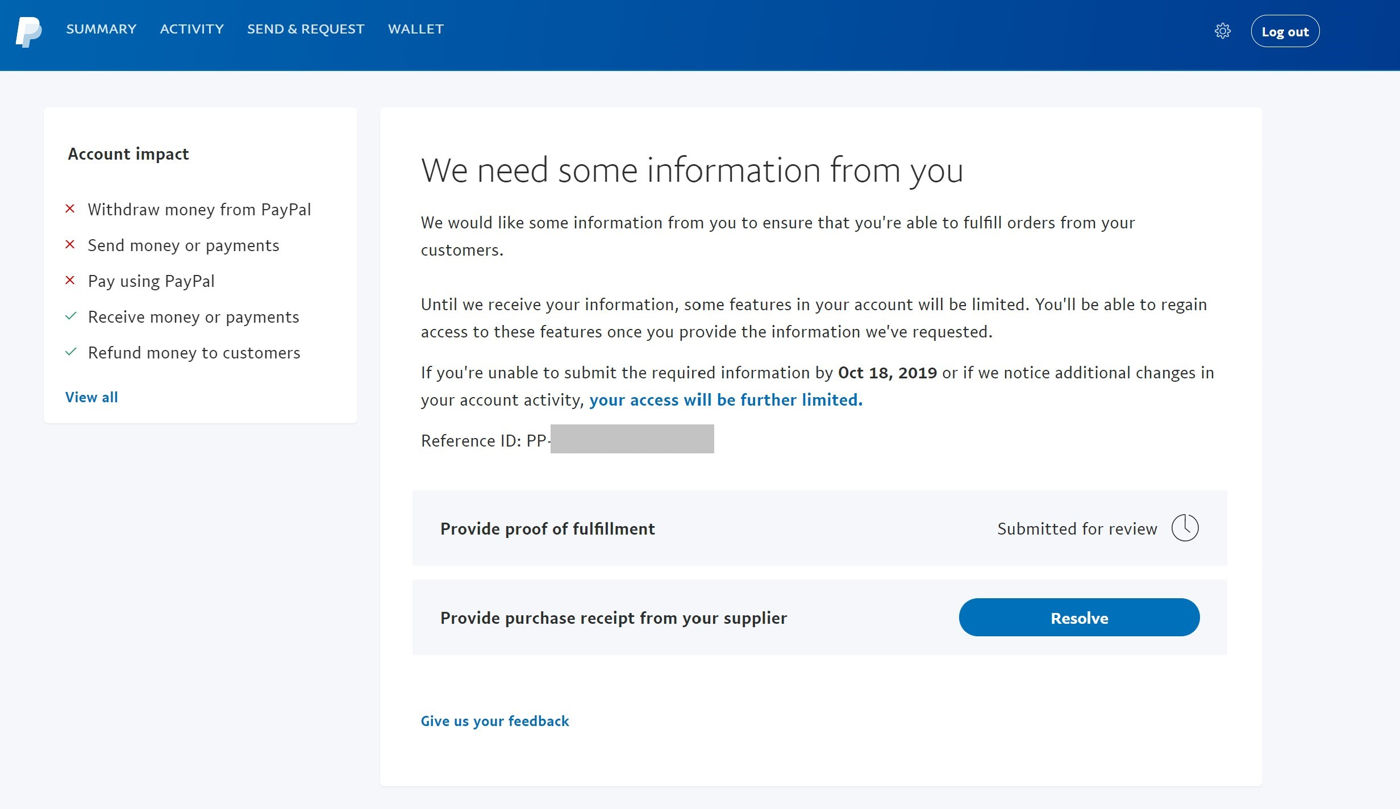 Firstly, I had to resolve the proof of fulfillment issue. When I clicked on the Resolve button, it would show some recent transactions and I had to provide proof for each of those transactions.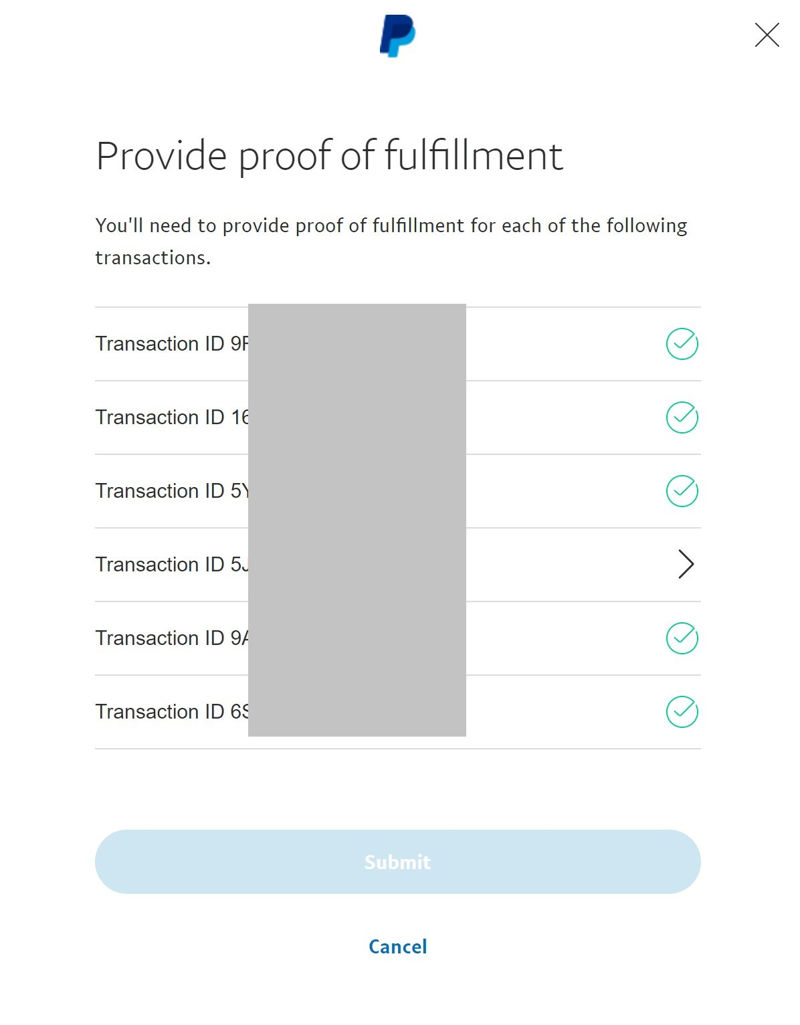 After clicking on each transaction, you will need to provide the shipping formation. If you are selling physical goods, you need to provide tracking number from a shipping company including basic information like the recipient's address and the item's status as delivered. In my case, I chose "Any other proof of fulfillment" because I am offering an online service, then I just needed to paste URLs of sponsored articles as delivery confirmation. If you are providing other online services, you should collect as much info as possible and even confirmation from your clients to send to Paypal.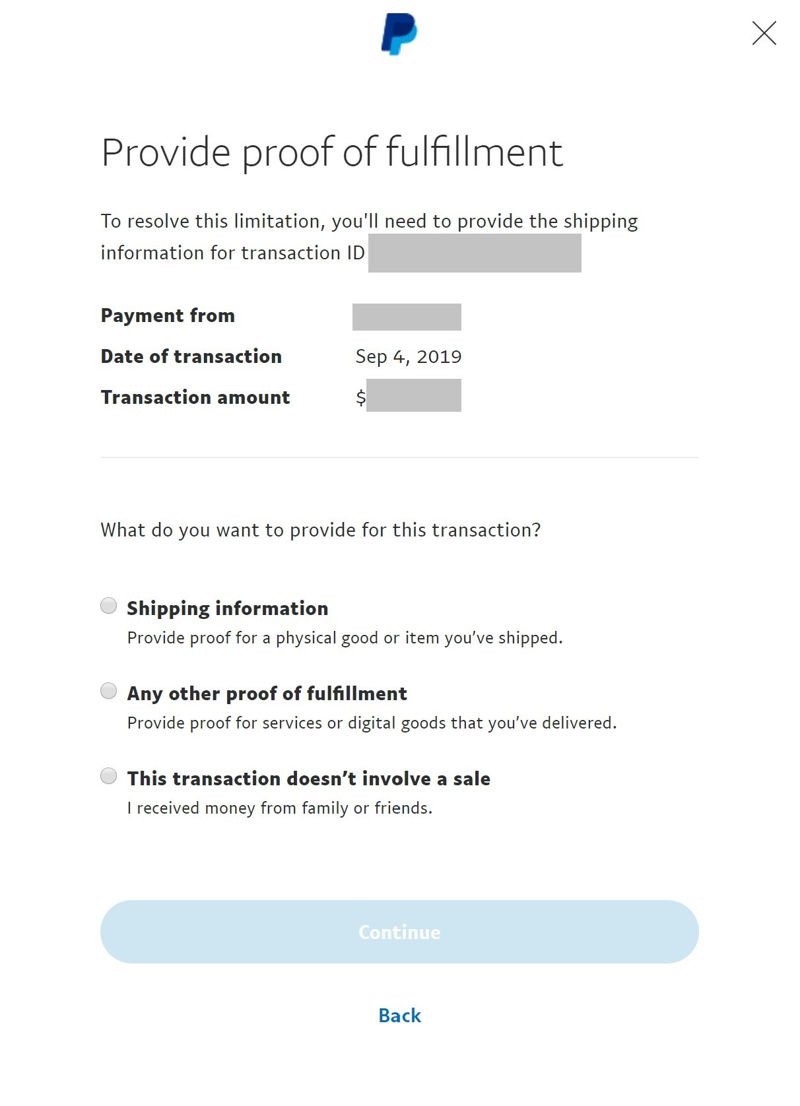 Once you confirm deliveries for all those transactions, you can hit Submit to send all those documents for review. The next step is to provide purchase receipt from suppliers. If you are selling physical items, you will need to provide original receipts from your supplier for the items you sell to your customers. The receipts should mention your purchase or procurement of items. The receipts need to be valid, legible, and not older than 6 months.
Since I am providing an online service on my website and don't have any supplier. I wrote a letter explaining my job and why I don't have a supplier, then I exported the file to PDF and submitted it to Paypal.
Everything is done. As long as you collect all the proof and sell genuine products or legitimate services, there is nothing to be worried about. Even in the worst case that they ban your account permanently, you still can withdraw your money after 6 months.
According to Paypal, a dedicated team will process the submissions within 72 hours. In my case, it took less than 2 days to lift the limitation. They sent me an email saying their review was complete and my account has been restored.
Disclosure: We might earn commission from qualifying purchases. The commission help keep the rest of my content free, so thank you!