Society is based on hierarchy sometimes. There are times when some people are considered of a higher priority than others to an individual. The same is true in social networking. If individuals have hundreds or even thousands of online friends, they may only consider a dozen to actually be friends, less than half to be close friends. Path for iPhone is the social network that works to make social networking more personal. The application allows you to share things that other social networks would consider too trivial. Today, we'll take a look at this unique social networking application to see if it's worth the download.
Path's Look
Path is an application that has valued a beautiful interface from the beginning. The application has a simple, yet descriptive timeline below. As you scroll across the timeline, a moving timestamp moves according to the timeline position. When finding a post you like, you have the ability to add an emoticon. There is also an option to have a sad and shocked emoticon, along with the average like and wink (really like) ones. Images load in full screen when tapped. Users can also choose a background image for their profile that personalizes the profile.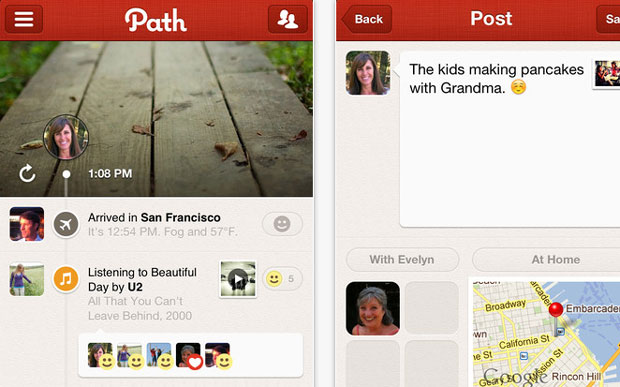 The Set Up
As mentioned above, Path allows you to have a personalized background image. This is seen every time someone visits your profile. You can also have a profile picture that can be chosen from your iPhone's library. You can also set an image from your computer by visiting and signing in on the desktop version of the website. You can also provide your full name, birth date, and phone number. The phone number is an optional piece of information. Notifications are customizable in that you can choose to get a push notification and/or an email for each time you receive a friend request, when a friend posts something, when individuals comment on your post, and more.
The Features
Path combines the best of the most popular social networking websites available. There is a piece of Facebook with the timeline feature. Instagram is represented with Path's photo feature that includes the option of adding filters. Path's Foursquare equivalent is shown with its location features. You can also check in with individuals, even those who aren't on Path (by using your contacts). Path has status updates and the ability to share a song you're listening to. Want individuals to know you're unavailable? Path allows you to toggle when you're awake and sleep with the application's timer as well, showing how long you slept.
Pros and Cons
Some individuals feel that Path is too simple, or even boring, for their taste. However, when you look at Path for what it is, taking away the bias of other social networking websites, you'll see that Path is a drama-free, simple, and more personal social network. Path is the social network that social networking was created for. In addition, the application is free, so what's the risk in trying it out?
Disclosure: As an Amazon Associate, I earn from qualifying purchases. The commission help keep the rest of my content free, so thank you!