Passive income is seen as this holy grail of online work because you'd be earning money without needing to actively work – who wouldn't want this, right?
However, the process that gets you active with passive income takes a great deal of time and strategy let alone the amount of work you'll be doing in the long-run.
That's right, passive income requires nearly just as much time as active income. Don't be fooled.
However, you will earn money throughout the month without doing much work – but it requires those oh so important steps in the beginning. Here are those actions:
Action #1: Grab Your Name, as a Domain
I can't stress this enough: Get your name as a domain.
Every day, thousands of domain names are snagged up which makes it even more difficult to grab one that's worthwhile. The one that has the most value is your own name. Why? Because it becomes the central hub around everything you do.
You may not necessarily use yourname.com as the central strategy for earning a passive income but it does play a great part in building the brand which generates the momentum to reach a decent income.
Specifically, your own branded website will let potential partners to easily reach you rather than the normal social channels that are often cluttered and noisy. Even your customers may find their way to your doorstep. It's another asset you should add when you're first getting started to future-proof yourself and your potential to earn.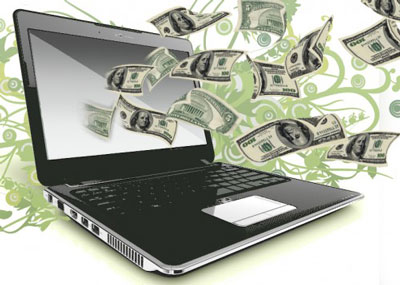 Action #2: Start Your Social Profiles
Speaking of social profiles and noise, you'll want to snag up all of these as soon as you can because, like domains, they're running out of brandable names.
Don't worry so much about the hundreds of social sites, focus on the big ones: Facebook, YouTube, LinkedIn, Pinterest, Etc. You can also go to the extent to grab your branded handle on the forums that are very active in your overall niche.
The reason I've included this action is that you'll want to have your brand active where your audience is without having them second guess who you are. A name repeated across all mediums will be sticky.
As a bonus, you can obviously link over to the website you'll be earning your income – yay, free link building! But, in the meantime, start promoting other individuals to get on the radars of those you may work with in the future.
Action #3: Plan Out the Strategy, Pick a Product
Do this, right away: create a content strategy.
Unless you've got some crazy budget, you're probably one of the people using a blog as their main source of traffic generation. I don't need to go into that specific topic – but what I do want you to work on, heavily, is coming up with a long-term goal for your content.
Look at where your site will be 6 months, 1 year, a decade down the line. How is each article going to work with the past, present, and future? How will you structure your thoughts in a neat package that your audience not only understand but will take action upon?
Think of your content like a gigantic novel. You're telling a part of the "story" with each new post – try to keep it all within the same mythos and you'll get people coming back for more; the more they do that, the more your site will grow and earn.
Secondly to this point, pick the products you plan to promote. Have an idea of what business models you'll be using whether it's advertising, affiliate marketing, selling your own products, etc. Get an idea in the early stages so you can stay focused. In my opinion, 80% of your success with passive income is being able to continually promote the core products for your niche otherwise you wind up mixing the message to the audience.
Action #4: Build That Network
At all times, whether you're 100% behind your passive income plans, or at least have some hint that you'll be doing online business – you should be building your network.
A network will give you the extra 'oompf' to overcome your biggest hurdles. The network will create the buzz around your brand. The network will deliver you the much needed traffic for conversions. And the network will be your go-to source for inspiration and motivation.
Using those same social media profiles, begin digging around for the influential people in your target niche. Buddy up with these individuals by contacting them through multiple platforms such as a quick email, blog comment, and social mention. Simply put: get on their radar.
In due time, you'll form a relationship with influential people that will give you greater opportunity than you going on a solo mission.
Action #5: Launch Go!
Bring everything together for the big launch day.
The combination of your initial link building through writing (which also happens to build your brand) will start the motion of SEO. A big mention to your growing network will create the initial buzz. Updates on your social profiles will drive your work forward. Everything will come together.
These initial steps toward generating a passive income may feel small in the beginning but it's all a process of repetition. Your income will grow with each passing day as long as you put in the hard work. It's taken many individuals years to make a sizeable income – don't get discouraged. Keep your head down and pound away at work.
Have you built passive income? What did you do in the initial stages that worked?
Disclosure: As an Amazon Associate, I earn from qualifying purchases. The commission help keep the rest of my content free, so thank you!