If you prefer homemade juice to store-bought one, a slow-masticating juicer is a must-have appliance in your kitchen. I always love the juice made with fresh fruit in my home because it tastes way better and of course, doesn't have any preservative. The biggest concern for most of us is the cost of the machine because a juicer could be very expensive. The ORFELD juicer is probably the lowest-price one I've ever used, let's find out if it could meet our needs.
Disclosure: We received the juicer in exchange for the review. We spent time using it to make sure the review is honest and unbiased.
Unboxing & Testing
Features & Performance
There are just 3 buttons on the body of the machine, which are on, off, and reverse. I often use the on button to turn it on and off to turn off; The reverse button is useful when fruits get stuck but I rarely used it. I really love the design of the machine because the mechanical part is separated from the juicing part, so there is no mess after each usage. I can easily remove all parts for cleaning. Although these parts are dishwasher-safe, it takes just a few minutes to clean them by hand.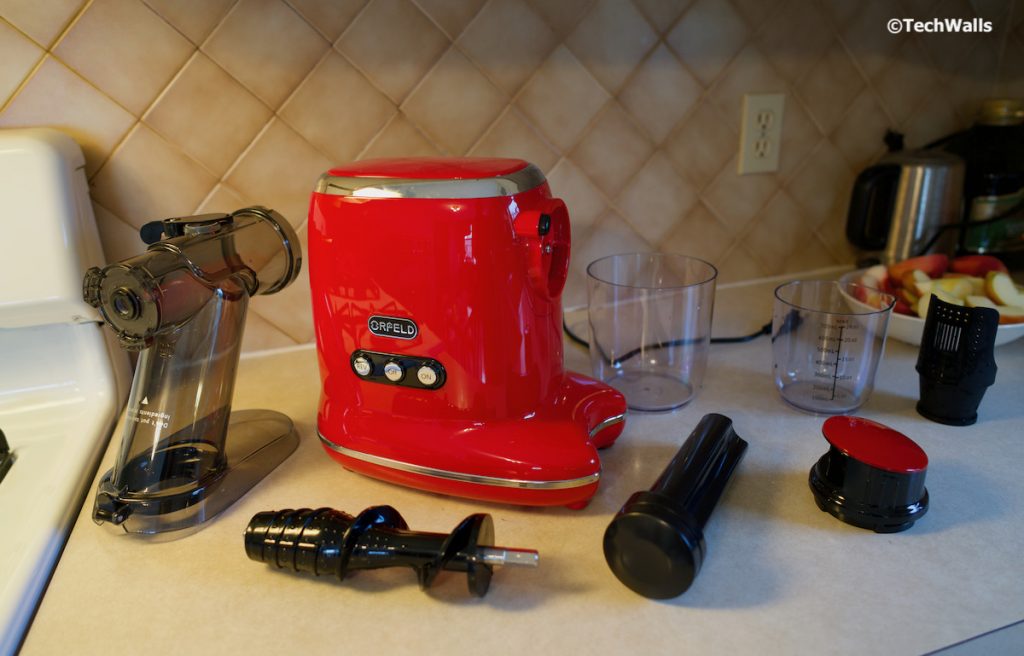 The biggest benefit of a slow-masticating juicer like this is that it operates at a slower speed, therefore, it doesn't generate much heat to destroy heat-sensitive nutrients in fresh fruits and vegetables. The ORFELD juicer features an auger with added beads; It is said to have the juice extraction rate of up to 90% but I estimate it at around 60%-80%, depending on the kind of fruit. For instance, when I use it with carrot, the pulp is still pretty wet. The low-speed motor moves at the speed of 80 revolutions per minute inside the chamber to crush and squeeze our fruits. Thanks to the low speed, the exposure to air, heat, and oxidation is reduced. As the result, our juice can stay fresh for a couple of days in the fridge.
Another nice feature is that the chute is enlarged so that you can insert bigger chunks of fruits. Besides, the machine is fairly quiet during operation. I often make apple, carrot, and peach juice; This is a great combination offering a nice dose of vitamins everyday. The only problem I had is that the machine needs to rest after about 10 minutes of continuous usage; This is necessary to extent lifespan of the motor, however, it also means that it would take more time if you need to make juice for more people.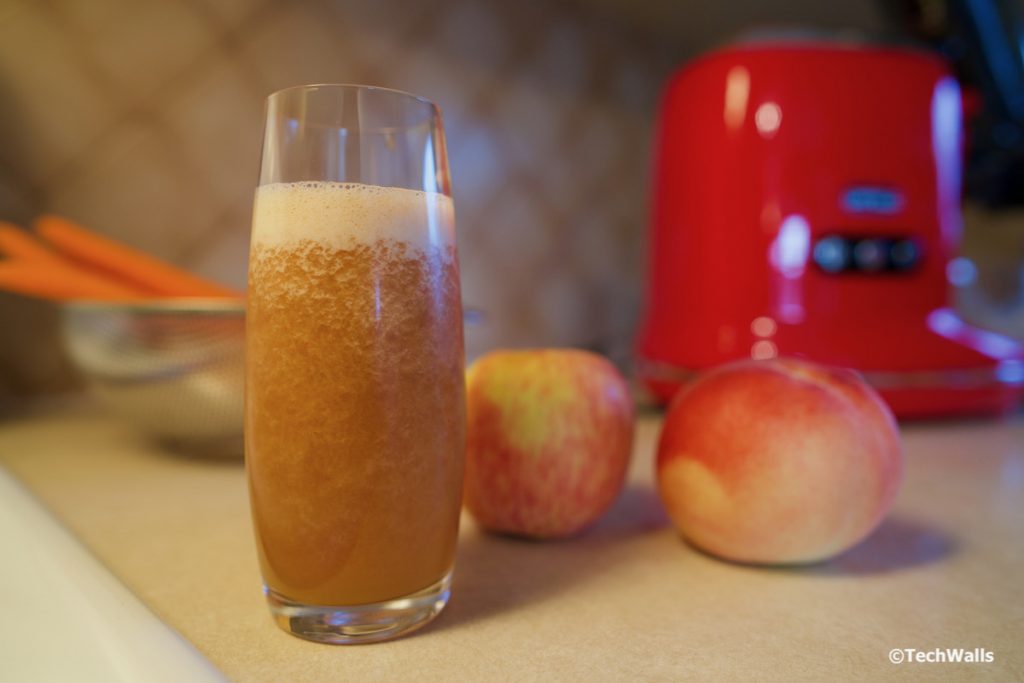 I am so glad that slow-masticating juicers have become more affordable than ever; Now they are even cheaper than many blenders on the market. At this time, the ORFELD juicer is on sale on Amazon and you can use the coupon code 1513juicer to get extra $40 off; That would bring the price down to just $59.99. This is a crazy price for a decent juicer like this, we highly recommend you to check it out.
Disclosure: As an Amazon Associate, I earn from qualifying purchases. The commission help keep the rest of my content free, so thank you!