The second-generation iPhone SE was officially available in April 2020, more than 4 years after the first version had been introduced to the world. Despite being a budget phone, the new iPhone SE 2 is packed with impressive specs at an amazing low price starting from $399. Specifically, the prices are $399 for the 64GB model, $449 for the 128GB, and $549 for the 256GB model.
The new iPhone SE has the same design as the iPhone 8, sporting a Retina HD 4.7-inch display, a Home button with Touch ID on the front, and large bezels on top and bottom. The most prominent feature of the iPhone SE is the Apple's A13 Bionic chip which is powering the high-end iPhone 11 and iPhone 11 Pro. That means you pay almost one-third of the price and still own the most powerful smartphone on the market. The RAM is slightly lower at 3GB but it won't affect most average users.
The iPhone SE 2's camera is a single-lens 12MP shooter featuring Smart HDR, software-based Portrait mode, Portrait Lighting effects, and recording 4K videos at up to 60 frames per second. Besides, we will receive some new features like water resistance, wireless charging, Wi‑Fi 6, Gigabit‑class LTE, and Dual SIM with eSIM. The battery life is up to 2.5 hours longer than the first generation's. It supports fast charging but you will need to buy an 18W power adapter.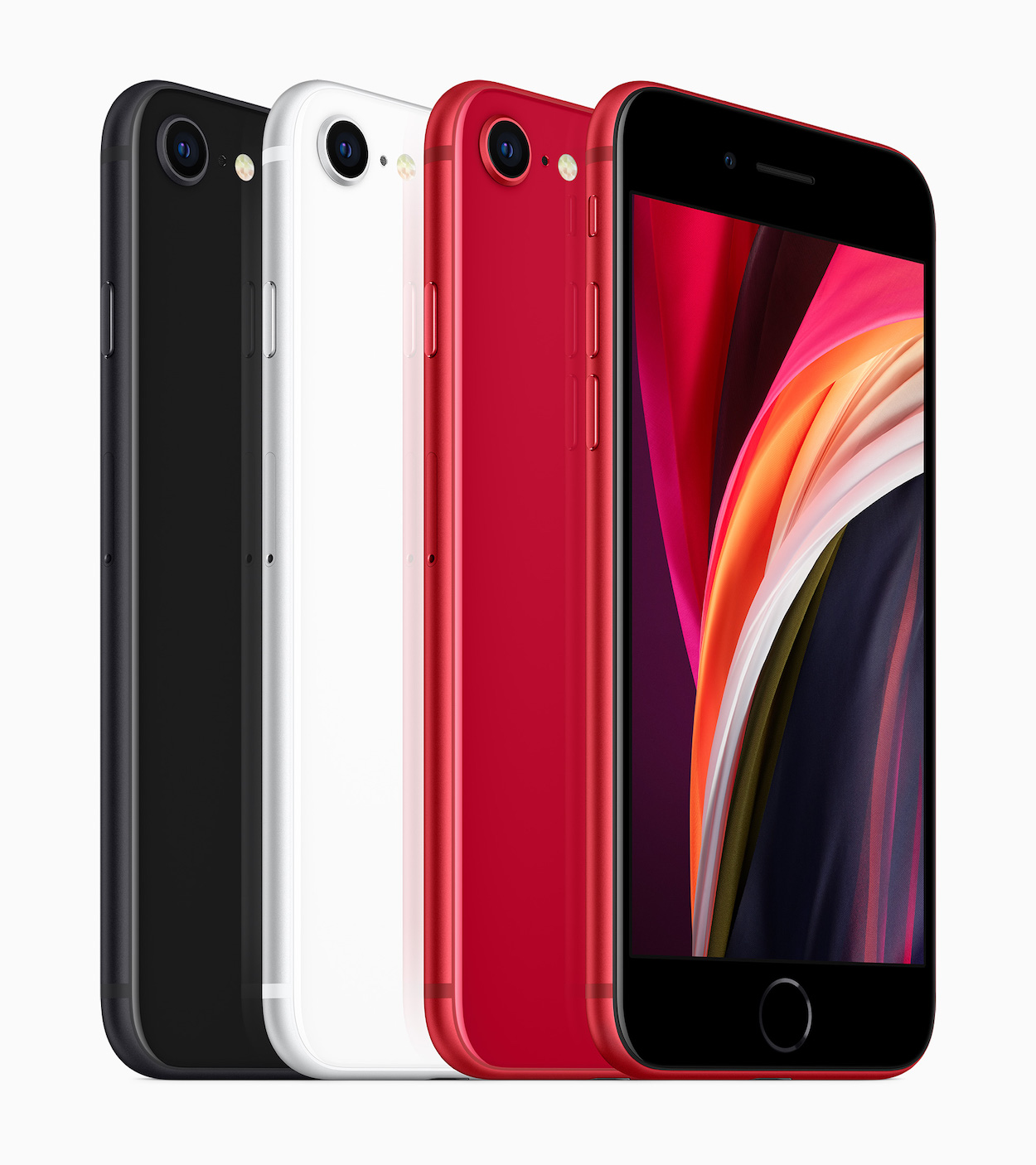 The iPhone SE 2 comes in 3 model numbers for different markets, specifically, we have the A2275, A2296, and A2298. They have the same hardware but the modem is slightly different because it needs to be adjusted for LTE bands used by carriers and countries around the world. We also list manufacturer's part numbers which identify the unlocked/carrier version, internal storage (64GB/128GB/256GB), and color (Black/White/Product (RED)). Let's check out all the model numbers and their part numbers.
iPhone SE A2275
Description
The iPhone SE A2275 is the official model for the US, Puerto Rico, U.S. Virgin Islands, and Canada market. In these countries, you will receive the A2275 when buying the SIM-free factory-unlocked edition directly from Apple.
Countries & Carriers

United States

Alaska GCI
Altice Mobile
Appalachian Wireless
AT&T
Bluegrass Cellular
Boost Mobile
C Spire
Carolina West Wireless
Chat Mobility
Consumer Cellular
Credo Mobile
Cricket
Cross
Metro by T-Mobile
Nex-Tech Wireless
Northwest Missouri Cellular
Panhandle Wireless
Pioneer Wireless
Sagebrush
Silver Star Wireless
Spectrum Mobile
Sprint Wireless
Strata
T-Mobile USA
Thumb Cellular
Ting
TracFone / Straight Talk
Triangle Mobile
Truphone
Ultra Mint
Union Wireless
United Wireless
US Cellular
Verizon Wireless
Viaero
Virgin Mobile
Visible
West Central Wireless
Xfinity Mobile

Canada

Bell
eastlink
Fido
Fizz
Freedom Mobile
Koodo
Lucky Mobile
MTS (Canada)
Rogers
Sasktel
TbayTel
Telus
Videotron
Xplornet

Puerto Rico

AT&T
Sprint Wireless
T-Mobile USA

U.S. Virgin Islands

Cellular Bands

GSM/EDGE (850, 900, 1800, 1900 MHz)
UMTS/HSPA+/DC-HSDPA (850, 900, 1700/2100, 1900, 2100 MHz)
CDMA EV-DO Rev. A (800, 1900 MHz)
FDD‑LTE (Bands 1, 2, 3, 4, 5, 7, 8, 12, 13, 14, 17, 18, 19, 20, 25, 26, 29, 30, 66, 71)
TD‑LTE (Bands 34, 38, 39, 40, 41, 42, 46, 48)

Part Numbers

United States – Unlocked SIM-free

64GB White MX9P2LL/A
128GB White MXCX2LL/A
256GB White MXVQ2LL/A
64GB Black MX9N2LL/A
128GB Black MXCW2LL/A
256GB Black MXVP2LL/A
64GB RED MX9Q2LL/A
128GB RED MXCY2LL/A
256GB RED MXVR2LL/A

United States – Verizon

64GB White MX9L2LL/A
128GB White MXCU2LL/A
256GB White MXVM2LL/A
64GB Black MX9K2LL/A
128GB Black MXCT2LL/A
256GB Black MXVL2LL/A
64GB RED MX9M2LL/A
128GB RED MXCV2LL/A
256GB RED MXVN2LL/A

United States – AT&T

64GB White MX9A2LL/A
128GB White MXCJ2LL/A
256GB White MXVC2LL/A
64GB Black MX992LL/A
128GB Black MXCH2LL/A
256GB Black MXVA2LL/A
64GB RED MX9C2LL/A
128GB RED MXCK2LL/A
256GB RED MXVD2LL/A

United States – Sprint

64GB White MX9H2LL/A
128GB White MXCQ2LL/A
256GB White MXVJ2LL/A
64GB Black MX9G2LL/A
128GB Black MXCP2LL/A
256GB Black MXVH2LL/A
64GB RED MX9J2LL/A
128GB RED MXCR2LL/A
256GB RED MXVK2LL/A

United States – T-Mobile

64GB White MX9E2LL/A
128GB White MXCM2LL/A
256GB White MXVF2LL/A
64GB Black MX9D2LL/A
128GB Black MXCL2LL/A
256GB Black MXVE2LL/A
64GB RED MX9F2LL/A
128GB RED MXCN2LL/A
256GB RED MXVG2LL/A

Canada

64GB White MX9P2VC/A
128GB White MXCX2VC/A
256GB White MXVQ2VC/A
64GB Black MX9N2VC/A
128GB Black MXCW2VC/A
256GB Black MXVP2VC/A
64GB RED MX9Q2VC/A
128GB RED MXCY2VC/A
256GB RED MXVR2VC/A
iPhone SE A2296
Description

The iPhone SE A2296 is called the global version since it is released in a majority of countries around the world apart from China and North America.

Countries & Carriers

United Kingdom

3
BT
EE
Giffgaff
O2
Sky
talkmobile
Truphone
Virgin Mobile UK
Vodafone

Andorra

Armenia

Australia

Austria

Bahrain

Belgium

BASE
Orange
Proximus
Telenet

Bulgaria

Croatia

Cyprus

Czech Republic

Denmark

Estonia

Finland

France

Bouygues
Coriolis
Free Mobile
NRJ Mobile
Orange
SFR
Virgin Mobile

Georgia

Germany

1&1
O2
Telekom
Truphone
Vodafone

Greece

Greenland

Guernsey

Hungary

Magyar Telekom
Telenor
Vodafone

Hong Kong

3
1O1O
csl
China Mobile Hong Kong
China Telecom Hong Kong
China Unicom Hong Kong
HKBN
SmarTone
Truphone

Iceland

India

Airtel
Idea Cellular
Reliance Jio
Vodafone

Ireland

Isle of Man

Israel

Cellcom
HOT mobile
Partner
Pelephone

Italy

Japan

Jersey

Kazakhstan

Kuwait

Latvia

Liechtenstein

Lithuania

Luxembourg

LuxGSM
Orange
Tango Mobile

Malaysia

Celcom
Digi
Maxis
U Mobile

Malta

Mexico

Monaco

Netherlands

KPN
T-Mobile
Truphone
Vodafone

Norway

Oman

Poland

Orange
Play
T-Mobile
Truphone

Portugal

Puerto Rico

Qatar

Romania

Russia

Beeline
MegaFon
MTS
Sberbank
Tele2
Yota

Saudi Arabia

Singapore

Slovakia

Slovenia

A1 Slovenija
Telekom Slovenije

South Africa

Spain

Movistar
Orange
Truphone
Vodafone
Yoigo

Sweden

Switzerland

Mobilezone
Salt
Sunrise
Swisscom
UPC

Taiwan

APT
Chunghwa Telecom
FarEasTone
Taiwan Mobile
Taiwan Star

United Arab Emirates

du
Etisalat
Virgin Mobile

Cellular Bands

GSM/EDGE (850, 900, 1800, 1900 MHz)
UMTS/HSPA+/DC-HSDPA (850, 900, 1700/2100, 1900, 2100 MHz)
FDD-LTE (Bands 1, 2, 3, 4, 5, 7, 8, 11, 12, 13, 17, 18, 19, 20, 21, 25, 26, 28, 29, 30, 32, 66)
TD-LTE (Bands 34, 38, 39, 40, 41, 42, 46, 48)

Part Numbers

United Kingdom

64GB White MX9T2B/A
128GB White MXD12B/A
256GB White MXVU2B/A
64GB Black MX9R2B/A
128GB Black MXD02B/A
256GB Black MXVT2B/A
64GB RED MX9U2B/A
128GB RED MXD22B/A
256GB RED MXVV2B/A

Hong Kong

64GB White MX9T2ZP/A
128GB White MXD12ZP/A
256GB White MXVU2ZP/A
64GB Black MX9R2ZP/A
128GB Black MXD02ZP/A
256GB Black MXVT2ZP/A
64GB RED MX9U2ZP/A
128GB RED MXD22ZP/A
256GB RED MXVV2ZP/A

Japan

64GB White MX9T2J/A
128GB White MXD12J/A
256GB White MXVU2J/A
64GB Black MX9R2J/A
128GB Black MXD02J/A
256GB Black MXVT2J/A
64GB RED MX9U2J/A
128GB RED MXD22J/A
256GB RED MXVV2J/A
iPhone SE A2298
Description
The iPhone SE A2298 is the exclusive version for China Mainland.
Countries & Carriers

China

China Mobile
China Telecom
China Unicom

Cellular Bands

GSM/EDGE (850, 900, 1800, 1900 MHz)
UMTS/HSPA+/DC-HSDPA (850, 900, 1700/2100, 1900, 2100 MHz)
CDMA EV-DO Rev. A (800, 1900 MHz)
TD-SCDMA 1900 (F), 2000 (A)
FDD‑LTE (Bands 1, 2, 3, 4, 5, 7, 8, 12, 13, 14, 17, 18, 19, 20, 25, 26, 29, 30, 66, 71)
TD‑LTE (Bands 34, 38, 39, 40, 41, 42, 46, 48)

Part Numbers

China

64GB White MXAN2CH/A
128GB White MXD72CH/A
256GB White MXW12CH/A
64GB Black MXAM2CH/A
128GB Black MXD62CH/A
256GB Black MXW02CH/A
64GB RED MXAP2CH/A
128GB RED MXD82CH/A
256GB RED MXW22CH/A
If you have any question relating to the iPhone SE 2020, feel free to leave a comment below.
Disclosure: We might earn commission from qualifying purchases. The commission help keep the rest of my content free, so thank you!