Apple released two Pro versions for the iPhone 11 in September 2019, so we have the iPhone 11 Pro and Pro Max with the price tag of $999 and $1099 respectively. The iPhone 11 Pro has the same specifications as the iPhone 11 Pro Max, except the screen size and battery.
The iPhone 11 Pro comes with a 5.8-inch Super Retina XDR OLED display with the same pixel density and contrast ratio as the Pro Max. Due to the smaller display and battery, the iPhone 11 Pro is much more manageable and lightweight. Specifically, it weighs 6.63 ounces (188 grams) and measures 5.67″ x 2.81″ x 0.32″ (144.0 x 71.4 x 8.1 mm).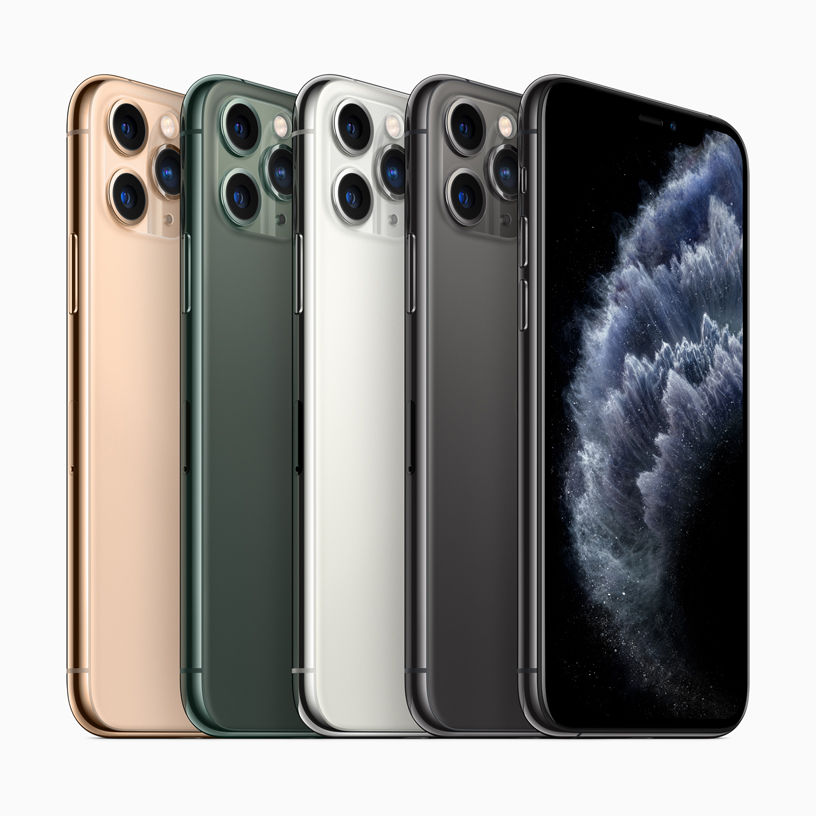 The rest of the hardware is the same with A13 Bionic chip, textured matte glass and stainless steel body, 64/256/512GB of internal storage, dual-SIM capabilities, a USB-C 18W wall charger, and U1 chip for new location tracking features. It also features the triple camera setup with a 12MP wide-angle camera (f/1.8), a 12MP ultra-wide-angle camera (f/2.4), and a 12MP telephoto camera (f/2.0). There are 4 color options for you to choose; We have the new Midnight Green color apart from familiar colors like Gold, Space Gray, and Silver.
Read also: iPhone 11 Pro Max Model Number A2161, A2218, A2220 Differences
The iPhone 11 Pro comes in some different model numbers, including the A2160, A2215, and A2217. The model number will tell you the cellular bands of a specific phone; Apple has to divide to three model numbers because one modem and antenna setup can't cover all 4G LTE bands used by countries around the world. To understand more about country of origin, carrier, storage and color option, you can take a look at part numbers in the tables below.
Since there is a huge black market for the iPhone 11 Pro, the version you buy on eBay or Craigslist might not work properly in the United States. Besides, if a foreigner buy an iPhone in North America and bring it to his home country, his phone also can't have the best coverage. Therefore, we highly recommend you to check these models carefully before paying sellers.
iPhone 11 Pro A2160
Description
The iPhone 11 Pro A2160 is the model released in North America and it works on both GSM and CDMA networks. In the United States, Canada and Puerto Rico, you will receive the A2160 when ordering the SIM-free factory-unlocked version at Apple Store. The model supports dual SIM (eSIM and nano-SIM card) but some carriers block this feature when you buy it from their stores. Therefore, you should buy the unlocked version to make sure the dual-SIM feature works properly.
Countries & Carriers

United States

Alaska GCI
Altice Mobile
Appalachian Wireless
AT&T
Bluegrass Cellular
Boost Mobile
C Spire
Carolina West Wireless
Chat Mobility
Consumer Cellular
Credo Mobile
Cricket
Cross
Metro by T-Mobile
Nex-Tech Wireless
Northwest Missouri Cellular
Panhandle Wireless
Pioneer Wireless
Sagebrush
Silver Star Wireless
Spectrum Mobile
Sprint Wireless
Strata
T-Mobile USA
Thumb Cellular
Ting
TracFone / Straight Talk
Triangle Mobile
Truphone
Ultra Mint
Union Wireless
United Wireless
US Cellular
Verizon Wireless
Viaero
Virgin Mobile
Visible
West Central Wireless
Xfinity Mobile

Canada

Bell
eastlink
Fido
Fizz
Freedom Mobile
Koodo
Lucky Mobile
MTS (Canada)
Rogers
Sasktel
TbayTel
Telus
Videotron
Xplornet

Puerto Rico

AT&T
Sprint Wireless
T-Mobile USA

U.S. Virgin Islands

Cellular Bands

GSM/EDGE (850, 900, 1800, 1900 MHz)
UMTS/HSPA+/DC-HSDPA (850, 900, 1700/2100, 1900, 2100 MHz)
CDMA EV-DO Rev. A (800, 1900 MHz)
FDD‑LTE (Bands 1, 2, 3, 4, 5, 7, 8, 12, 13, 14, 17, 18, 19, 20, 25, 26, 29, 30, 66, 71)
TD‑LTE (Bands 34, 38, 39, 40, 41, 42, 46, 48)

Part Numbers

United States – Unlocked SIM-free

64GB Space Gray MWCH2LL/A
256GB Space Gray MWCM2LL/A
512GB Space Gray MWCR2LL/A
64GB Silver MWCJ2LL/A
256GB Silver MWCN2LL/A
512GB Silver MWCT2LL/A
64GB Midnight Green MWCL2LL/A
256GB Midnight Green MWCQ2LL/A
512GB Midnight Green MWCV2LL/A
64GB Gold MWCK2LL/A
256GB Gold MWCP2LL/A
512GB Gold MWCU2LL/A

United States – Verizon Wireless

64GB Space Gray MWAM2LL/A
256GB Space Gray MWAT2LL/A
512GB Space Gray MWAX2LL/A
64GB Silver MWAP2LL/A
256GB Silver MWAU2LL/A
512GB Silver MWAY2LL/A
64GB Midnight Green MWAR2LL/A
256GB Midnight Green MWAW2LL/A
512GB Midnight Green MWC12LL/A
64GB Gold MWAQ2LL/A
256GB Gold MWAV2LL/A
512GB Gold MWC02LL/A

United States – Sprint

64GB Space Gray MWA62LL/A
256GB Space Gray MWAA2LL/A
512GB Space Gray MWAG2LL/A
64GB Silver MWA72LL/A
256GB Silver MWAD2LL/A
512GB Silver MWAH2LL/A
64GB Midnight Green MWA92LL/A
256GB Midnight Green MWAF2LL/A
512GB Midnight Green MWAL2LL/A
64GB Gold MWA82LL/A
256GB Gold MWAE2LL/A
512GB Gold MWAJ2LL/A

United States – AT&T

64GB Space Gray MW9C2LL/A
256GB Space Gray MW9G2LL/A
512GB Space Gray MW9L2LL/A
64GB Silver MW9D2LL/A
256GB Silver MW9H2LL/A
512GB Silver MW9M2LL/A
64GB Midnight Green MW9F2LL/A
256GB Midnight Green MW9K2LL/A
512GB Midnight Green MW9P2LL/A
64GB Gold MW9E2LL/A
256GB Gold MW9J2LL/A
512GB Gold MW9N2LL/A

United States – T-Mobile

64GB Space Gray MW9Q2LL/A
256GB Space Gray MW9V2LL/A
512GB Space Gray MWA12LL/A
64GB Silver MW9R2LL/A
256GB Silver MW9W2LL/A
512GB Silver MWA32LL/A
64GB Midnight Green MW9U2LL/A
256GB Midnight Green MW9Y2LL/A
512GB Midnight Green MWA52LL/A
64GB Gold MW9T2LL/A
256GB Gold MW9X2LL/A
512GB Gold MWA42LL/A
iPhone 11 Pro A2215
Description

The iPhone 11 Pro A2215 is the global released in almost all countries in Europe and Asia including big markets like the United Kingdom, France, Singapore, Taiwan, etc.

There is no longer an exclusive version for the Japanese market, so you will also receive the A2215 in this country; It is fully compatible with au, SoftBank, and Docomo. Besides, there is still a shutter sound when taking pictures with this iPhone.

It supports dual-SIM cards (1 eSIM and 1 nano-SIM card).

Countries & Carriers

United Kingdom

3
BT
EE
Giffgaff
O2
Sky
talkmobile
Truphone
Virgin Mobile UK
Vodafone

Andorra

Armenia

Australia

Austria

Bahrain

Belgium

BASE
Orange
Proximus
Telenet

Bulgaria

Croatia

Cyprus

Czech Republic

Denmark

Estonia

Finland

France

Bouygues
Coriolis
Free Mobile
NRJ Mobile
Orange
SFR
Virgin Mobile

Georgia

Germany

1&1
O2
Telekom
Truphone
Vodafone

Greece

Greenland

Guernsey

Hungary

Magyar Telekom
Telenor
Vodafone

Iceland

India

Airtel
Idea Cellular
Reliance Jio
Vodafone

Ireland

Isle of Man

Israel

Cellcom
HOT mobile
Partner
Pelephone

Italy

Japan

Jersey

Kazakhstan

Kuwait

Latvia

Liechtenstein

Lithuania

Luxembourg

LuxGSM
Orange
Tango Mobile

Malaysia

Celcom
Digi
Maxis
U Mobile

Malta

Mexico

Monaco

Netherlands

KPN
T-Mobile
Truphone
Vodafone

Norway

Oman

Poland

Orange
Play
T-Mobile
Truphone

Portugal

Puerto Rico

Qatar

Romania

Russia

Beeline
MegaFon
MTS
Sberbank
Tele2
Yota

Saudi Arabia

Singapore

Slovakia

Slovenia

A1 Slovenija
Telekom Slovenije

South Africa

Spain

Movistar
Orange
Truphone
Vodafone
Yoigo

Sweden

Switzerland

Mobilezone
Salt
Sunrise
Swisscom
UPC

Taiwan

APT
Chunghwa Telecom
FarEasTone
Taiwan Mobile
Taiwan Star

United Arab Emirates

du
Etisalat
Virgin Mobile

Cellular Bands

GSM/EDGE (850, 900, 1800, 1900 MHz)
UMTS/HSPA+/DC-HSDPA (850, 900, 1700/2100, 1900, 2100 MHz)
FDD-LTE (Bands 1, 2, 3, 4, 5, 7, 8, 11, 12, 13, 17, 18, 19, 20, 21, 25, 26, 28, 29, 30, 32, 66)
TD-LTE (Bands 34, 38, 39, 40, 41, 42, 46, 48)

Part Numbers

United Kingdom

64GB Space Gray MWC22B/A
256GB Space Gray MWC72B/A
512GB Space Gray MWCD2B/A
64GB Silver MWC32B/A
256GB Silver MWC82B/A
512GB Silver MWCE2B/A
64GB Midnight Green MWC62B/A
256GB Midnight Green MWCC2B/A
512GB Midnight Green MWCG2B/A
64GB Gold MWC52B/A
256GB Gold MWC92B/A
512GB Gold MWCF2B/A

Japan

64GB Space Gray MWC22J/A
256GB Space Gray MWC72J/A
512GB Space Gray MWCD2J/A
64GB Silver MWC32J/A
256GB Silver MWC82J/A
512GB Silver MWCE2J/A
64GB Midnight Green MWC62J/A
256GB Midnight Green MWCC2J/A
512GB Midnight Green MWCG2J/A
64GB Gold MWC52J/A
256GB Gold MWC92J/A
512GB Gold MWCF2J/A
iPhone 11 Pro A2217
Description
The iPhone 11 Pro A2217 is the version released for China and Hong Kong. Notably, this is the only edition featuring physical Dual-SIM card tray. The eSIM feature is not supported by you can insert two nano-SIM cards to this tray.
Countries & Carriers

China

China Mobile
China Telecom
China Unicom

Hong Kong

1O1O and CSL
3
China Mobile Hong Kong
China Unicom Hong Kong
HKBN
SmarTone
Truphone

Cellular Bands

GSM/EDGE (850, 900, 1800, 1900 MHz)
UMTS/HSPA+/DC-HSDPA (850, 900, 1700/2100, 1900, 2100 MHz)
CDMA EV-DO Rev. A (800, 1900 MHz)
TD-SCDMA 1900 (F), 2000 (A)
FDD‑LTE (Bands 1, 2, 3, 4, 5, 7, 8, 12, 13, 14, 17, 18, 19, 20, 25, 26, 29, 30, 66, 71)
TD‑LTE (Bands 34, 38, 39, 40, 41, 42, 46, 48)

Part Numbers

China

64GB Space Gray MWD92CH/A
256GB Space Gray MWDE2CH/A
512GB Space Gray MWDJ2CH/A
64GB Silver MWDK2CH/A
256GB Silver MWDF2CH/A
512GB Silver MWDK2CH/A
64GB Midnight Green MWDD2CH/A
256GB Midnight Green MWDH2CH/A
512GB Midnight Green MWDM2CH/A
64GB Gold MWDC2CH/A
256GB Gold MWDG2CH/A
512GB Gold MWDL2CH/A

Hong Kong

64GB Space Gray MWD92ZA/A
256GB Space Gray MWDE2ZA/A
512GB Space Gray MWDJ2ZA/A
64GB Silver MWDK2ZA/A
256GB Silver MWDF2ZA/A
512GB Silver MWDK2ZA/A
64GB Midnight Green MWDD2ZA/A
256GB Midnight Green MWDH2ZA/A
512GB Midnight Green MWDM2ZA/A
64GB Gold MWDC2ZA/A
256GB Gold MWDG2ZA/A
512GB Gold MWDL2ZA/A
If you have any question regarding the iPhone 11 Pro model numbers, feel free to leave a comment below.